How We Zeroed in on Super Investor Kenneth Andrade's Stock Pick - Honda Siel
May 31, 2019
Last year was a terrible one for the Indian stock markets. The BSE Sensex was subdued and the smallcap index was battered.
2019, although better, has seen some rocky months too.
One of the reasons for this was the uncertainty surrounding the elections. But with Modi now securing a landslide victory, those fears have been put to rest.
Now, we get to the basics. Growth in corporate earnings.
Despite economic growth not really taking off in Modi's first term, there are great expectations now. He has a chance to turn things around in his second term.
Once the economy gets kicking, growth in corporate earnings is bound to follow.
And for many super investors Sarvajeet and I track... growth in corporate earnings is what matters.
Kenneth Andrade of Old Bridge Capital, had this to say on the topic:
Everyone talks about growth in earnings. You can have growth only if the size of the opportunity is large. Everyone also talks about earnings multiples. I need both of those to work for me. I need a price to earnings (P/E) multiple of 10x to expand to a PE of 40x. And I need the company's earnings to grow from Rs 10 to Rs 100. That way I compound both together.
Kenneth typically prefers companies which operate in an industry where competition is low, profitability shows improvement, and future capital needs are low.
More importantly, he stays out of businesses that have too much debt.
Given that his investment philosophy closely matches ours, we are keen followers of his stock-picking ideas. We had already published a Smart Money Secrets report on a stock which had caught his interest. The stock in question is none other than Honda Siel Power Products.
How did we come across this particular stock?
Because Kenneth Andrade bought shares in the company in a bulk deal.
This is one of the ways how Sarvajeet and I narrow down the universe of stocks we consider for Smart Money Secrets.
You see, it's not just Kenneth Andrade. We follow 39 other super investors.. We look for bulk or block deals they have entered into. Or if they have more than 1% stake in any particular stock.
In a way, all of these top investors are part of one big exclusive club. A club whose participants have built immense wealth.
Therefore, we are greatly interested in the stocks that they invest in.
But of course, we do not blindly copy them. We have developed our very own Smart Money Score. We recommend only those stocks that have pass this checklist.
Honda Siel Power Products has a Smart Money Score of 8.9/10.
But it is just one stock I wanted to write about today. There are many more.
In fact, we just published a report on Monday, 27 May. We recommended a stock in which another super investor who we track - Akash Prakash - has a substantial stake.
If you haven't signed up for Smart Money Secrets, you can do so here.
Chart of the Day
Honda Siel Power Products first came to our attention when super investor Kenneth Andrade bought a stake in the business through a bulk deal.
In the last five years, for the most part, the stock outperformed the Smallcap index by a clean margin, barring the last couple of years.
Of course, this was the time when the Smallcap index itself was battered and a lot of stocks fell.
But this in no way suggests the fundamentals of every company - including Honda Siel - were poor. Quite the contrary.
We liked Honda Siel Power Products for many reasons.
Does our view on the stock still hold in Smart Money Secrets?
If you haven't signed up for Smart Money Secrets, you can find out by signing up here.
Is There More Steam in This Kenneth Andrade Stock?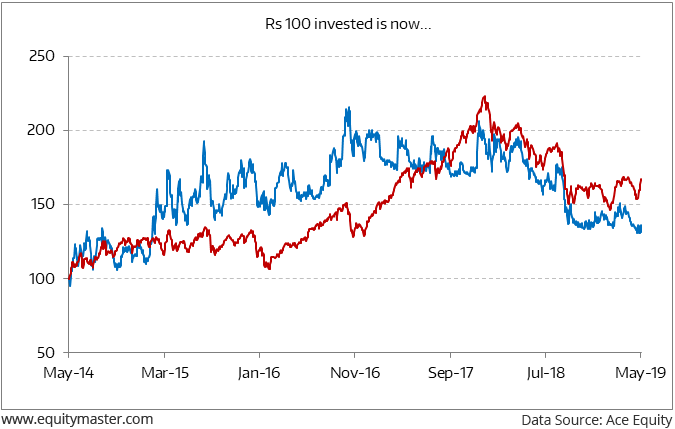 Warm regards,



Radhika Pandit
Co-editor and Research Analyst, Smart Money Secrets
PS: Radhika Pandit and Sarvajeet Bodas, co-editors of Smart Money Secrets, have recommended their latest stock! If you haven't subscribed to Smart Money Secrets yet... you can do so here.
Recent Articles