Is the Stock Market a Good Place to Invest These Days?
Jun 1, 2017
In this issue:

» Notebandi impact slows down GDP growth
» Government meets its fiscal deficit target for FY17
» Market roundup
» ...and more!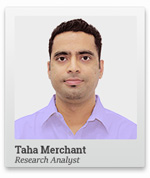 Not even the sweltering, energy-sapping heat, nor the packed-like-sardines crowds of Mumbai's local trains are enough to stop them.
Necks strained and arms stretched, they won't spare a chance to gaze at their mobile phones.
And what is this pressing business that so many seem to desperately need attending to on the trains these days?
Ah, stock trading...
Candy-crush is out. The falling candies have been replaced by scrolling stock quotes. Everyone seems to be hooked these days. And what's on the screen is their favourite stock trading app.
And no, this phenomenon is by no means restricted to Mumbai's local trains.
A bewildered friend told me his house-help recently asked him how to buy and sell stocks. Another friend said the guy who delivers coffee beans to her office was telling her how he has a 'great feeling' about the stock of a certain wind turbine company (it's actually in quite bad shape!).
And just like that, everyone is a stock expert.
Oh, and my aunt called me today. She told me the markets are very good, and all her friends have been making so much money. And since I'm 'in' the market, she wanted to know which stocks I thought she should buy.
It's all around. The eager newspaper headlines. The constant stream of IPOs. The songs of the glorious place called the 'stock market'. We're seeing a newfound love for the market.
What do I make of all this? Has the stock market suddenly become a great place to be?
Well, quite the opposite actually. All of these are typical signs of a frothy, overheated market. It was the same in 2006, 2008, 2010, 2015, and countless times before that. And it's happening again.
When the markets rise for a while, investors who don't have a good grip on Mr Market's mood swings get all excited and eager to invest. The more markets rise, the more excited they get.
When actually, they should be doing exactly the opposite.
But they can't. They don't know any better. The stock market is like a maze. You need a blueprint to navigate it successfully. Without a blueprint in hand, these lost investors rely on hearsay. Usually from other lost investors. None of whom even know they're lost.
This is the worst way to invest in the stock market.
There is a better way.
You must first find a successful, tried-and-tested blueprint for stock investing. Spend some time understanding this blueprint. Then and only then take the plunge.
You need to know what to do. You need to know how to do it. You need to know when to do it. Only then can you expect to make money in the market and keep it too.
Luckily, my colleagues Rohan and Kunal have spent months working on a project that can help.
Their 'super investor project' has taken them across India for personal meetings with highly successful and experienced super investors who've made pots and pots of money in the market. As was revealed in these rare encounters, each of these super investors has a 'success-blueprint' that they stick very closely to.
We've published their conversations - along with Rohan and Kunal's own detailed notes and takeaways from these exclusive interviews - in a new ebook.
Download your free copy of The Super Investors Of India today. There's no better place to find a stock market success-blueprint that works.
--- Advertisement ---
EXCLUSIVELY Published For Our Readers...Claim Your Copy Today!

You will never find this in a bookstore...

Nor will it be available on Amazon...or anywhere else.

Our Latest Special Guide has been published EXLCUSIVELY for our readers and it can ONLY be claimed through this invitation.

It is a must-read guide that reveals the secret investing strategies of India's Super Investors.

And today, you can get instant access to an Absolutely Free Downloadable Copy.

Click Here To Download Your Free Guide (Worth Rs 950) More than 24,000 readers have already downloaded their copies...Hurry
------------------------------
02:30

Chart of the Day

While investor sentiment is at an all-time high, the Indian economy stumbled to clock a GDP growth of 6.1% in the fourth quarter of 2017. This was the fourth consecutive quarter of fall in GDP growth number in the year. The notebandi impact was fully felt across various sectors. Construction sector was the most affected and declined by 3.7%. The expansion was much lower than analyst estimates of 6.5-7.8%.
Slowdown in GDP growth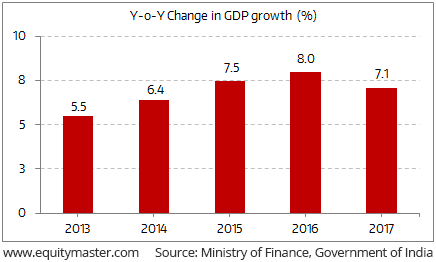 Credit rating agency Moody has projected India's economy to grow at 7.5% in 2017-18 and 7.7% in 2018-19. Moreover, GST is expected to boost India's GDP going forward on a sustained basis.
It will be interesting to note RBI's stance on interest rates with the current GDP numbers. Will it keep interest rates unchanged to encourage consumption? Or will it assume the notebandi impact to be over and increase interest rates to control inflation?
The government managed to achieve its target of maintaining fiscal deficit at 3.5% of GDP for FY17. The government has done well to claw back fiscal deficit from its heady levels at the start of the year. At the end of the July 2016, fiscal deficit was at 73.7% of its annual target. One sector which does not benefit from government's efforts to cut down fiscal deficit is the PSU sector.
The seventh pay commission recommendations and shortfall in direct tax collections are the major reasons for the rising fiscal deficit of the government. Therefore, to increase the revenue, government is taking the routes such as disinvestments, cutting subsidies, receiving massive dividends from PSUs and the cash received from the share buybacks by PSUs.
In FY17, oil marketing companies like Hindustan Petroleum Corporation (HPCL), Bharat Petroleum Corporation (BPCL) and Indian Oil Corporation declared second interim dividends totalling Rs 45.7 billion. Meanwhile, Hindustan Zinc was recently in the limelight for giving the highest dividend given by a corporate in a single financial year, which for FY17 stood at Rs 271.6 billion.
While buybacks and dividend pay-outs are legitimate ways to return cash to shareholders, PSUs doling out dividends without meaningful growth in profitability is a matter of concern for minority shareholders.
The Indian stock markets were trading on a flat note at the time writing on the back of sustained buying activity across most index heavyweights. At the time of writing, the BSE-Sensex was trading up by around 5 points. Gains were largely seen in healthcare stocks and auto stocks.
04:56

Investment Mantra of the Day

"Risk comes from not knowing what you're doing." - Warren Buffett
Today's Premium Edition.
Expensive Valuations Are Keeping Us Away from This Megatrend Opportunity
A production shift from China to India augurs well for this company.
Read On... | Get Access
Recent Articles