A Thousand IPOs To Make You Rich?
Jun 2, 2017
In this issue

» IPO Market on a Roll
» Secret Behind the Bull Run
» Market Update
» And more...
Have you heard of Sequelsoft India, Prosoft Technologies, Synfosys Business Solutions, or Hifunda.com?
If not, you are not alone.
These are some of the stocks that debuted on the bourses at the peak of dotcom bubble. Newbie tech stocks comprised the bulk of the IPOs we analysed in the year 2000. And needless to say, none survived the dotcom bust.
It wasn't until 2003 that investor interest began to return to IPOs. One of the issues that aroused our interest that year was Maruti Udyog. We bet on Suzuki's management and technological edge.
Maruti went on to return 4,300% to its IPO investors over the next fourteen years. Stocks like UCO Bank, Indian Overseas Bank, and TV Today, which listed within months of Maruti's IPO, got nowhere close.
2004 saw a flood of issues from promising businesses in the banking, power, oil and gas, pharma, and media sectors. Imagine having to choose from the issues of ICICI Bank, ONGC, GAIL, NTPC, Biocon, and NDTV!
For us, TCS stole the show. The fact that TCS was better hedged against political backlashes in the US, even back then, was one of the reasons we recommended the IPO. And anyone who chose TCS over the other big IPOs that year made a brilliant decision. TCS has returned 1,050% since listing.
2008 is remembered as the year of the Reliance Power IPO. The thousands of small investors who lost their shirts are etched in our memories. But we forget that Rural Electrification Corp, which listed less than a month later, went on to become a four-bagger.
In 2010, such was the IPO frenzy that we had to analyse at least two or three issues every month. Tons of real estate stocks made a beeline for the bourses. And we had to pour over their opaque balance sheets. But among the chaff was Jubilant Foodworks. While most of its IPO contemporaries have faded into obscurity, by mid-2015, Jubilant had become an eight bagger for its IPO investors.
I could go on with the history of blockbuster and failed IPOs. But the takeaway is that every IPO is different. The problem is few investors take the pains to discern the differences.
2017 will likely be remembered for the DMart IPO (and possibly for some big insurance IPOs yet to list).
The chief of Bombay Stock Exchange believes a 1,000-odd companies will queue up to list once GST kicks in. The tax reform, he says, will force companies to become more transparent with their financials and encourage them to cash in on their newly acquired formal status through listing.
So while hundreds of new businesses will vie for our attention, just a handful of IPOs will join the ranks of Maruti and TCS. Investors who assume the rest of this year's IPOs will have DMart-like fortunes are fooling themselves.
We don't need thousands of IPOs to get rich. That's not how super investors make their fortunes. But a few good IPOs could certainly become the multibaggers in your portfolio in a few years.
Download this FREE report now and discover How to Get Rich with IPOs. This guide will show you how to safely profit from the 2017 IPO rush.
--- Advertisement ---
EXCLUSIVELY Published For Our Readers...Claim Your Copy Today!

You will never find this in a bookstore...

Nor will it be available on Amazon...or anywhere else.

Our Latest Special Guide has been published EXLCUSIVELY for our readers and it can ONLY be claimed through this invitation.

It is a must-read guide that reveals the secret investing strategies of India's Super Investors.

And today, you can get instant access to an Absolutely Free Downloadable Copy.

Click Here To Download Your Free Guide (Worth Rs 950) More than 25,000 readers have already downloaded their copies...Hurry
------------------------------
02:30

Chart of the Day

The IPO market has been on a firm uptrend since FY15. In FY17, the amount of money raised through 25 IPOs nearly doubled to Rs 282 billion. The IPOs were well received, with a majority (15 of them) getting oversubscribed by over 10 times.

A striking feature of the IPOs that hit the market during the fiscal was that a large chunk of Rs 109.5 billion or 39% of the total amount constituted offers for sale by promoters. Offers for sale by PE and venture capital investors at Rs 42.4 billion made up 15% of the total IPO amount. This means that a little more than 45% of the funds raised through IPO were meant for deployment in the business.

After a bumper year in FY17, abundant liquidity has fueled expectations that fund raising through IPOs would remain robust in FY18. And may even surpass the amount raised in FY17. The fiscal started with 26 offerings in the first three months. In fact, India was the most active regional market in the Europe, Middle East, India and Africa (EMEIA) region as per a quarterly report by consultancy firm Ernst and Young.
IPO Market Buzzing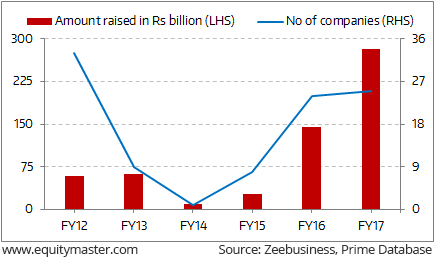 Strong foreign capital inflows seem to be providing the resilience to the markets. As per data from Institute of International Finance, India received US$ 17.5 of net capital inflows till date in 2017 which has already exceeded 60% of the amount it received in 2016. This at a time when the fund flows to the emerging markets have slowed down. In fact, China has witnessed a net capital outflow of US$ 41.9 billion till date in 2017 on deteriorating corporate sector indebtedness. Therefore, as domestic equity markets heat up, it is all the more important to exercise caution and follow a bottom-strategy in stock picking.
Vivek introduced the Indian Economic Thermometer (IET) in a recent issue of The Vivek Kaul Letter. The IET is made up of 24 economic indicators. These are real numbers which tell us the real state of the Indian economy.
The way the IET works is very simple. Vivek looks at how an economic indicator has performed over a given period of three months during the course of this year in comparison to the same period in the previous year.
For a detailed understanding of how the IET works click here (requires subscription).
With 14 of the 23 economic parameters losing steam this year, Vivek concludes that the economy remains on a weak footing.
Indian equity markets opened the day on a firm note. At the time of writing, BSE Sensex was trading higher by 151 points and NSE-Nifty was higher by 51 points. Both the mid cap and small cap indices are trading up by 0.7% and 0.6%, respectively. Stocks from the healthcare and metal sectors are the major gainers.
04:56

Investment Mantra of the Day

"It's almost a mathematical impossibility to imagine that, out of the thousands of things for sale on a given day, the most attractively priced is the one being sold by a knowledgeable seller (company insiders) to a less-knowledgeable buyer (investors)." - Warren Buffett

This edition of The 5 Minute WrapUp is authored by Tanushree Banerjee (Research Analyst) and Madhu Gupta (Research Analyst).
Today's Premium Edition.
The IPO Game is Rigged against the Retail Investor
Not all IPOs are a win-win proposition.
Read On... | Get Access
Recent Articles