Mr Shaktikanta Das, We Need a 50-bps Rate Cut. Can You Do It?
Jun 5, 2019
I think, this is the right time to frontload a 50 basis points (bps) rate cut for an economic revival.
Let me start my argument by quoting Dr Ravindra Dholakia, one of the members of the monetary policy committee (MPC).
This is what he had to say in the previous MPC meeting:
In my opinion, there are not even remote chances for the headline inflation to breach the medium-term target of 4 percent substantially in foreseeable future for two consecutive quarters or even one quarter. On the other hand, there are serious concerns about the growth performance of economy.

For 3 to 4 quarters in a row, from Q3:2018-19 to Q2:2019-20, the Indian economy is most likely to register a sub-seven percent real growth thereby substantially opening up an output gap exerting downward pressure on wage and price inflation.
Well, the fourth quarter GDP numbers seem to suggest the same.
India's GDP growth slowed to a five-year low of 5.8%. Similarly, the overall growth for FY19 slumped to a five-year low of 6.8% compared with 7% projected earlier.
---

Advertisement

---

Are You Ready to Profit From Small Caps On A Rebound Post Modi's Victory?

Post Modi's victory…or rather, right after the exit poll results were out…many small cap stocks that were down earlier started on their rebound path.

But not all of these small cap stocks are good. And not all will continue to rise in the long run.

Finding the right small cap companies to benefit from in the long run requires a proven and effective strategy.

And we not only possess the strategy, but also 4 small companies identified using the same strategy that you could consider investing in.

To get the full details on the 4 stocks and our proven strategy, just click here…
------------------------------
The latest GDP numbers tell the story of economic slowdown. It's primarily due to poor performance in the agriculture and manufacturing sectors.
If you look at the recent results of the FMCG sector, all major companies reported a single-digit volume growth. These companies have emphasised the slowdown in rural demand. This is on the back of a decline in farm income, liquidity crunch, and low consumer confidence.
The same is the story with auto companies.
In May, car sales declined by 19%. This is the eleventh consecutive month since July 2018 when car sales have declined.
Even, if you look at India's exports, it has been hovering around US$ 300 billion for the last six years. It has not been able to give a boost to economic growth.
Considering this, a rate cut is necessary.
But why a deep cut of 50 bps?
Well, inflation continues to be very low. Since August last year, inflation has stayed below the RBI's target of 4%.
Mind you, the RBI adopted an inflation target of 2% to 6% (i.e. 4% with +/-2% range) for the next five years under its monetary policy framework.
Even if inflation exceeds 4% in the near-term, the RBI would still have a headroom considering the upper limit of 6%.
At this crucial juncture, if the RBI goes for a 50-bps rate cut, it would certainly help the economy to come out of the slump. It could give a sustained boost to the economy.
If you look at capacity utilisation levels, currently it is just above the 75% level. This is a crucial level as companies typically start expanding their capacities once the capacity utilisation rises above 75%.
A 50 bps rate cut would certainly help to revive much needed private capex.
There is another important aspect as well.
Despite the RBI's two interest rate cut this year, banks have barely transmitted the rate cuts. The borrowing cost remains high at pre-policy levels.
However, with a 50-bps rate cut, banks will be forced to pass-on this rate cut.
A 50-bps rate cut will send a clear signal from the central bank about its intention to revive the economy. With this, banks would follow a faster transmission of rate cuts.
The concluding remark of Dr Ravindra Dholakia is apt to describe the current situation.
This is the right time to act decisively. When the pitch is favourable and no possibility of bouncers or googlies coming in, a well-set batsman has to score and not miss the opportunity to build the total by defending unnecessarily.
It's high time that the RBI cut interest rate by 50 bps.
Mr Das, the million-dollar question is, can you do it?
---

Advertisement

---

How to Rake In HUGE Profits From The Market's Faith In Modi…

Modi is India's PM once again…

And we believe the market's faith in him and his governance could push the Sensex all the way to 100,000 in the coming years.

Now in our view, the best way to profit from the market's faith in Modi is to make a handful of solid investments and let the market do the rest for you.

Yes! Our Co-Head of Research, Tanushree Banerjee, has identified 7 specific stocks that are potentially best placed to benefit greatly from this coming surge as the Sensex heads to 100,000.

But these stocks may not remain in the buy range for long.

So hurry, just click here for full details now…
------------------------------
Chart of the Day
The six-member monetary policy committee (MPC) of the RBI will announce its decision on interest rate on Thursday.
With the expectation of a rate cut, the yield on the 10-year government bond yield closed below 7% for the first time since November 2017.
Bond Yields Falls Below 7%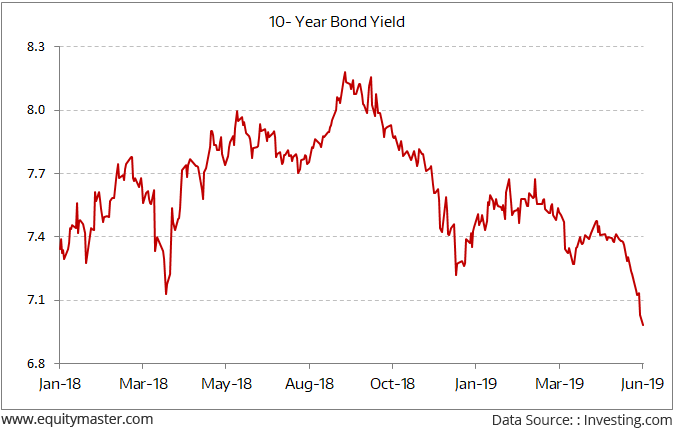 Besides expectations of a rate cut, other factors such as a decline in crude oil prices, fears of weaker global growth, and a fall in global bond yields impacted domestic bond yields.
A fall in yields would benefit the banking sector.
A reduction in the interest rate creates a conducive environment for lending. This would help to revive demand and growth in the economy.
Also from the banks' perspective, a fall in yields would help to increase investment income on its bond portfolio. This would reflect in their quarterly earnings. This is because bond yields and bond prices move in opposite directions.
Our latest Smart Money Secrets recommendation is set to benefit from falling bond yields.
We recommended the stock last week.
Subscribers can access the recommendation report here.
If you haven't signed up for Smart Money Secrets, you can do so here.
Warm regards,


Sarvajeet Bodas ,
Co-editor and Research Analyst, Smart Money Secrets
PS: Sarvajeet Bodas and Radhika Pandit, co-editors of Smart Money Secrets, have recently recommended an exciting stock. If you haven't subscribed to Smart Money Secrets yet... you can do so here.
Recent Articles