The 30% Stock Market Crash Is Almost Here...
Jun 7, 2018
A gentleman in my vicinity is an active market participant. I say market participant because I'm not sure if he's an investor or a trader, or both.
I bump into him quite often and we exchange small talk about the markets. Usually, he does most of the talking and I do the listening.
I have known him for many years now. And looking at his mood I can almost tell what's going on in the markets.
When the markets are bullish and his stocks do well, he is bubbly and jovial. He tells me about his winners, some market gossip, and makes a few predictions.
But when his stocks don't do well, he becomes almost invisible. The conversations are shorter. No mention of his stocks. Just some mumbles about the market.
When I met him recently, he carried a nervous demeanour.
As if reading his mind, I talked about the sharp correction in small and mid cap stocks, and how it had taken Indian investors by surprise.
To this, he was quick to respond. Lamenting how ruthlessly small and mid cap stocks had been beaten down, he said that the Sensex gave no hint that such a steep correction was underway.
This got me thinking. A lot of investors I know often talk about the Sensex as if it represents the whole stock market.
Often, it may have nothing to do with the stocks in their portfolio. And yet, they'd look at the Sensex to get a sense of what they could expect for their portfolio.
So I decided to lay bare all the myths about the Sensex for you, dear reader.
I'll not only show you how skewed and biased a market barometer it is, I'll also show you how it is conveniently hiding the truth about the market correction right now.
The Sensex Is Skewed Towards a Single Sector
The BSE Sensex has 30 stocks. Together, they account for about 42% of the total market capitalisation of all listed companies on the BSE.
That's fairly representative, right?
Now, consider the fact that of the 30 heavyweight stocks, nine belong to the banking and finance industry. Together, this single sector accounts for 41.38% of the weight in the Sensex.
In short, the Sensex tells a very skewed story of a narrow set of companies and sectors.
And in doing so, it fails to be a good reflection of the overall market.
Now, I'm not saying this is absolute rubbish. It's not. It does have an impact on the market direction.
But for the average retail investor with a diverse stock portfolio of small, mid, and large cap stocks, the Sensex is the wrong barometer.
This is the reason why I pay more attention to the BSE 500 index. It has a fair mix of stocks across market segments.
An Inherent Survivorship Bias...
As you may be aware, dear reader, the Sensex constituents change from time to time.
Index additions are made according to size and liquidity. A stock that drops in market value tends to get excluded from the index.
For instance, Lupin and Cipla were excluded from the Sensex in December 2017, and were replaced by Yes Bank and IndusInd Bank.
In short, stocks that don't perform get thrown out. So, effectively, the Sensex tells a biased story of only winners and survivors.
Broader Markets Have Corrected Way More than the Sensex
Now, coming to the moot point...
How much have the Indian stock markets really corrected?
At around 35,000 levels, the Sensex is down just 3.5% from its all-time high closing level of 36,283 (29 January 2018).
If an outsider looked at the Sensex, this is what he would say about the Indian stock markets: The Indian stock markets are close to their all-time highs. There's some profit booking recently. But no major correction in sight.
Now, let me show you the true picture...
I did some quick number crunching and found that the average (i.e. mean) correction of the BSE 500 index stocks has been 28% from their respective 52-week highs. (More on this in today's Chart of the Day).
This correction number is in stark contrast to what the Sensex seems to suggest. It's clear the benchmark index is not telling you the true story.
At my premium newsletter Insider, I'd been warning my readers about the red flags that had been hinting at a likely market correction. This is the reason I've been cautious and selective about the stocks I pick for them.
Now, I cannot say how long or how steep the market correction will be. Nobody has an answer to that.
And it is precisely this uncertainty and volatility that makes supernormal gains in the stock markets possible. The ones who embrace this truth about the markets will be the ultimate winners in this game.
If the market correction gets deeper from here, it will be undoubtedly painful. But it will also throw up some fantastic long-term value buying opportunities.
So, instead of panicking over the notional loss that you're seeing on your stock portfolio, do your best to safeguard your capital now and take advantage of any further correction in stock prices.
Chart of the Day
I wanted to find out the extent of the market correction in the broader markets. I was convinced that the Sensex wasn't offering a true picture.
I looked for a sample set that was more representative of the overall markets and picked the constituents of the BSE 500 index.
I pulled out some data and evaluated how much each stock of the BSE 500 index had corrected from its respective 52-week high. This I believed would offer a better view of where the markets were standing right now.
Here's what I found...
The average (i.e. mean) correction of the BSE 500 index stocks has been 28% from their respective 52-week highs.
I also found the median correction to be 26%.
BSE 500 Stocks Are Down 28% from Their 52-Week Highs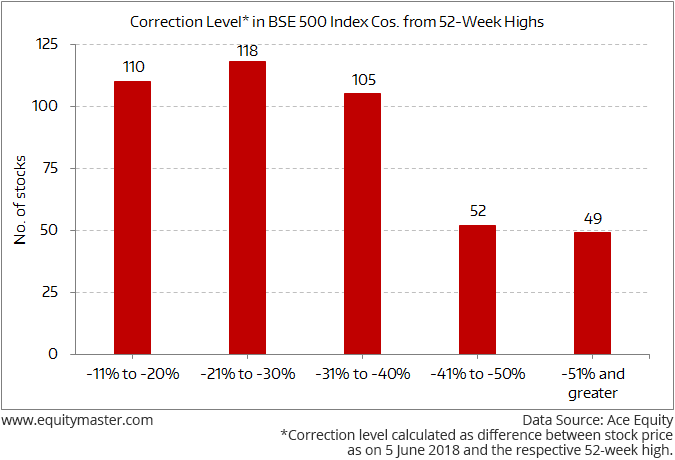 I arranged the 500 companies based on the extent of their correction from their respective 52-week highs. And I came across some insightful revelations...
Of all the BSE 500 companies, not a single company was at its 52-week high.
More than 20% of the BSE 500 stocks had corrected in excess of 40%.
45% of the companies had corrected between 21% to 40%.
Just 66 companies had shown relative resilience and had corrected 10% or less.
All of them, clear signs of a market correction...
Happy Investing,



Ankit Shah (Research Analyst)
Editor, Equitymaster Insider
PS: For over 16 years, members of the exclusive Bombay Investing Society have received safe stock recommendations that generated double, even triple digit returns! This society is currently accepting new members. Click here to find out how you can join...
Recent Articles