How to Bet on Smart Investors with Skin in the Game
Jun 8, 2017
In this issue:

» RBI Refuses to Let Its Guard Down
» Spotting IPOs That Could Become Multibaggers
» Market roundup
» ...and more!
You could drink a quart of it and it won't hurt you,' claimed so-called environmentalist Robert Moore in a popular YouTube video, referring to Monsanto's Roundup weed killer.
But when the interviewer asked him to drink a glass, his said, 'No, I'm not an idiot.'
In the world of investing and finance, we hear similar bold-faced proclamations from economists, policymakers, credit rating agencies, so called stock experts, lead managers for IPOs...this list goes on. They make broad and sure claims yet bear none of the risk they say is trivial. They are paid to talk, present papers, and seem knowledgeable and authoritative.
Unfortunately, people believe them. Unsuspecting victims bet their hard-earned money based on hollow claims. And lose of course.
But what else can you expect when you follow salesmen masquerading as experts? These people operate on a completely different incentive system and have no skin in the game.
We must be very wary in choosing our heroes.
That's why Rohan and Kunal were very particular about the list of super investors they would track as part of their super investor project.
They rejected some big names whose philosophies they did not believe in. Only those whose value systems gelled well with theirs made the cut. Some of these super investors are lesser known names who've consistently outperformed markets while maintaining a low profile.
It may surprise you that Rohan and Kunal's list includes promoters (a big part of their job is to too sell, after all).
But who better to track than insiders with huge skin in the game?
Besides, the aim of the project isn't for Rohan and Kunal to blindly follow their heroes. Even super investors are prone to mistakes. And while big investors may have the capacity to suffer, you would want to avoid that situation.
Rohan and Kunal knew tracking smart money wouldn't be enough. So, they developed their proprietary stock filtering system - Equitymaster's Smart Money Score (ESMS)TM - to add a layer of filter to the selection and research process.
The culmination of Rohan and Kunal's work - a premium recommendation service called Smart Money Secrets - is like having a team of super investors working for you. But you don't have to pay them any fees.
Interested?
Check out the Rohan and Kunal's first recommendation.
02: 00

Chart of the Day

Urjit Patel is a man of few words. He lacks the charisma of the former RBI Governor Raghuram Rajan and his bluntness in calling a spade a spade. As Rajan stepped out, there were huge doubts if Mr Patel would be able to fill in his shoes. And whether RBI will remain as independent as it was in Mr Rajan's reign.

With RBI's yesterday's decision to keep rates unchanged, some of these concerns have been put to rest.

While the Government is busy coining slogans and marketing them to lift the sentiments, RBI seems to have somewhat different opinion. And it intends to communicate it.

As per the policy statement - The current state of the economy underscores the need to revive private investment, restore banking sector health and remove infrastructural bottlenecks. Monetary policy can play a more effective role only when these factors are in place.

As suggested in an article in Livemint, unless the basic issues are taken care of, rate cut could flare already strong consumption demand and stoke inflation. Already, the median household inflation expectations remain higher than the levels in December last year.
RBI Keeps Its Guard Up Amid Inflation Concerns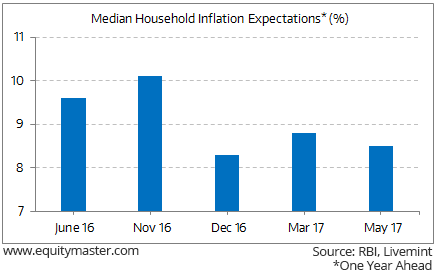 Be it private investments, bad debts situation or infrastructural gaps - the fundamentals are in a bad shape. Indeed, there is a lot that needs to be fixed before rate cut plays any positive role towards any sustainable growth. It's better to be in a wait and watch mode than to take premature decisions at this stage.
While macroeconomic data and earnings trend leave a lot to be desired for Indian economy, markets are in a euphoric mode. And it's not about the hot money flooding Indian markets. According to the Association of Mutual Funds of India (Amfi), equity-oriented MFs received net investor flows of Rs 107 billion in May and Rs 109 billion in April. The recent gains in the stock markets have brought retail investors back in the game.
Will they make money this time?
History suggests us that retail investors are terrible at market timing. Most of the times, they are late entrants to the party. Higher investor enthusiasm, as such, is a sign of caution. One needs to act accordingly.
Another factor drawing retail investors to markets is revival of the IPO market. What you saw until now was just a trailer. As per the chief of Bombay Stock Exchange, a 1,000-odd companies are planning to get listed once GST kicks in.
Needless to say, a lot of these IPOs are likely to go Reliance Power way.
That said, a few good IPOs could certainly become the multibaggers in your portfolio in a few years. Download this FREE report now and discover How to Get Rich with IPOs. This guide will show you how to safely profit from the 2017 IPO rush.
At the time of writing, share markets in India were trading marginally lower. Sectoral indices were trading on a mixed note with stocks in the IT sector and telecom sector witnessing maximum selling pressure. Metal stocks were trading in the green.
The BSE Sensex was trading down 34 points (down 0.1%) and the NSE Nifty was trading down by 5 points (down 0.1%). The BSE Mid Cap index was trading up by 0.2%, while the BSE Small Cap index was trading up by 0.3%.
04:56

Investment Mantra of the Day

"It's almost a mathematical impossibility to imagine that, out of the thousands of things for sale on a given day, the most attractively priced is the one being sold by a knowledgeable seller to a less-knowledgeable buyer." - Warren Buffett

This edition of The 5 Minute WrapUp is authored by Richa Agarwal (Research Analyst).
Today's Premium Edition.
RBI Policy Changes Don't Affect Our View on Stocks... Here's Why
Why we prefer the bottom-up approach rather than speculating on macro cues.
Read On... | Get Access
Recent Articles