Why I Strongly Believe Small-cap Stocks Will Go Up
Jun 10, 2019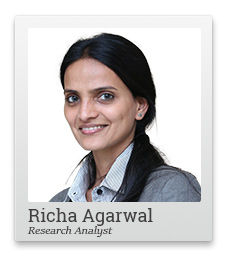 I've always believed that when it doubt - step back and have a look at the situation. You get more clarity by rising above the day-to-day and looking at the bigger picture.
In the same vein, have a close look at this chart of the BSE Small Cap Index since 2003...
What stands out the most?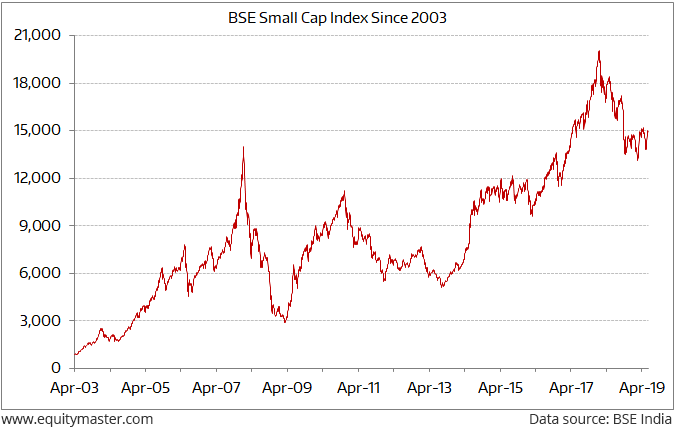 For me, two things are clear:
Over the last 15 years, the index has seen several massive fluctuations.
Despite these occasional large fluctuations - the overall trend of the index has been upwards.
---

Advertisement

---

How to Find the NEXT Stock That Has the Potential to Make One A Crore… Or More

Do you ever regret missing some big opportunities in the stock market?

The opportunities which could have made one a Lakhpati…

Heck, even a Crorepati…

Opportunities like Wipro, MRF, Titan which could have made one a Crorepati had he taken timely action.

Of course, we can't go back in the past and tap into those opportunities.

But we can look for the next one.

So, how do you find the NEXT stock that has the potential to make a crore…or maybe even more?

Join my first-ever 'One Stock Crorepati' MEGA summit on 24th June for full details…

This time don't miss the opportunity of finding one stock that could make one rich.

Click Here to Claim Your FREE Pass for this MEGA Summit…

Here's another reason why you need to block your seat today…

At this MEGA Summit, Research Analyst Richa Agarwal will reveal details of what she calls a 'crorepati' stock.

Yes…a single stock that has the potential of making one a crorepati in the long term.

It's happened in the past.

And if Richa is right, this could happen again.

So, we strongly recommend you don't miss this MEGA Summit…

Click Here to Claim Your FREE Pass…
------------------------------
Beginning from when the small cap index was calculated i.e. April 2003 to now, it has appreciated almost 18 times over these 15 years.
That's a percentage return of 1,690%.
And a compounded annual return of 19.5%.
That's an amazing return by any standards!
This underlying upwards bias of the index stocks has meant that even if you just passively bought the index stocks over this period and just forgot about all the ups and downs that happened in the interim - including the fall this year - you'd still be sitting today on a very lucrative result.
Further, if you'd picked the right fundamentally strong small caps - you'd likely be sitting on an even better result.
So why has the market's overall trend been upwards? Will this continue?
For the uninitiated, the movement in the BSE Small Cap Index is nothing but the movement of the market value of all stocks that make up the index put together.
And it shows in as clear a fashion as possible the growth in the market value of Indian companies over time.
It exemplifies that as the Indian economy grows in size, this combined market capitalization moves up.
Why?
Well, it's pretty simple.
Growth in the economy is nothing but growth in consumption by the people. As Indians consume more goods and services over time - corporate India is going to sell more to them over time.
And as their business volume increases, so will their profits. And with rising profits come higher market valuations.
Thus, as the chart shows, this trend of rapidly increasing market values of Indian companies that has been happening since 2003 will continue in the years to come.
---

Advertisement

---

Right Conditions + Right Measures = Explosive Growth In Modi 2.0

We saw it happen earlier in the US, China, Japan…and many believe we could see the same happening in India now too in Modi 2.0.

Yes! In each of those countries, the right conditions combined with the right measures led to explosive multi-decade growth.

In the same way…

With the successful re-election of Modi…and with all measures he has already taken and could take in the future…many believe the stage is set for potentially explosive growth in Modi 2.0.

One that could even push the Sensex to 100,000 sooner than expected.

Now in our view, the best way for one to get the maximum out of this is by getting into companies that are best-placed to benefit from this rapid surge.

The good news is our Co-Head of Research Tanushree Banerjee has identified 7 stocks that could rise sharply from this combination of right measures and right conditions.

But these stocks won't remain in the BUY range forever.

So don't delay…

Click here for full details now...
------------------------------
Yes, there will be ups and downs in the short run... in the near future...
But over the long term, it is headed only up.
Only if Indians as a whole stop aspiring to live better lives, or if India changes dramatically in a way that prevents people from doing so - is the only way in which this process will stop.
And we don't see any reason whatsoever for that to happen.
That's precisely why the Indian markets - and along with that small cap stocks - can go in only one direction over the long term: Up.
And with a strong government with a clear mandate at the Centre, this process is all set to rapidly accelerate.
What's a good place to start?
These highly attractive 3 small cap stocks I believe are ready for a turnaround, and yet are resilient enough to withstand a correction.
If you are willing to wait for a few years for big gains... I believe this is the best time to buy these 3 businesses at a huge discount.
Warm regards,



Richa Agarwal
Editor and Research Analyst, Hidden Treasure
PS: Small cap stocks are back in the news. With Modi's election victory, sentiment has turned positive for this segment of the market. I recommend you listen to our small cap expert Richa Agarwal. She has picked the top 3 small-cap stocks in the market.
PPS: Dear, reader is it possible to become rich with a single stock? Before you say no, listen to Richa Agarwal, our small cap expert. She has a lot to say about this. Join Richa at the One Stock Crorepati MEGA Summit. Do not miss this opportunity. FREE registration ends shortly. Click here to sign up...
Recent Articles