The Great Indian NBFC Bubble Has Burst but I Will Still Recommend These Safe NBFCs
Jun 11, 2019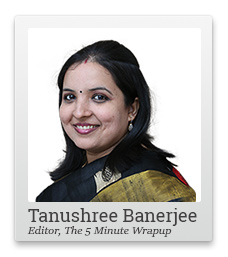 IL&FS and Dewan Housing Finance defaults.
Impairments of debt mutual funds.
Penalty on rating agencies.
Ban on audit firms.
Ideally, all this could have been avoided.
If only the RBI and other regulators had seen this one chart published by us in 2016.
FREE REPLAY: Discover What Richa Revealed in Her Smallcaps Summit
It showed how NBFCs were flush with funds from banks, insurance companies, and asset management companies i.e. mutual funds.
It indicated how, without the necessary restrictions, NBFCs could become reckless in deploying the funds.
Which unfortunately, they did!
One Chart that Predicted the NBFC and Mutual Fund Crisis Back in 2016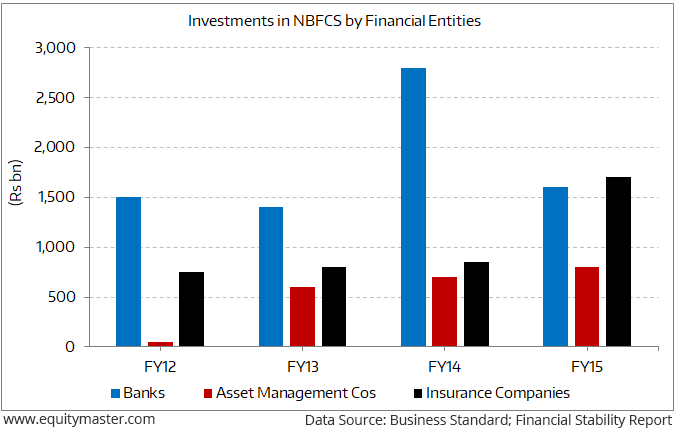 Let's look back at 2016...
Banks, mutual funds, and insurance companies were competing with each other to lend to NBFCs.
And why not?
Not only were the fast growing NBFCs hungry for funds, they also offered attractive yields.
In fact, the NBFCs were the market darlings back then. They had come into their own between 2014 and 2016.
--- Advertisement ---
Replay Available: Super Smallcaps Summit

Today, we went LIVE with Richa Agarwal's Super Smallcaps Summit.

Richa revealed details about the 3 'dark horse' stocks that could potentially hand you hundreds or even thousands of percent in gains over the long term.

However, you missed the Exclusive event for some reason.

And because we don't want you to miss out on this rare opportunity, we have a replay of the event arranged for you.

Click the link below to watch the replay now.

Watch the Replay

or click here to read the transcript
------------------------------
The RBI offered them some regulatory advantages over banks. The companies had more capital and wider reach.
And most importantly, they had found their niche.
They were no longer just a substitute for banks. Some NBFCs specialised in home loans, others in gold loans or vehicle loans. Yet others in loans for micro businesses.
This niche presence helped them grow their loan books multifold. Some even enjoyed an asset quality at par with the best banks.
The NBFCs took more risk than banks by lending without collaterals. But they charged higher interest rates; which meant their margins remained far higher than that of banks.
It's no wonder the NBFCs caught everyone's fancy. In fact, between 2013 and 2016, the top NBFCs saw their valuation multiples move up three to eight times.
With so much liquidity chasing growth opportunities and PSU banks stuck in the bad loans crisis, the NBFCs started borrowing short-term to lend long-term.
Then came the IL&FS crisis in September 2018.
Infrastructure Leasing & Financial Services (IL&FS) defaulted on a Rs 10 billion loan from SIDBI. Its subsidiary defaulted on another Rs 5 billion. It was the first instance of an infrastructure development and finance company, with pan-India presence, defaulting on its debt.
The massive size of default and the scale of evergreening of bad loans got all the regulators to sit up and take notice.
Just as the market was coming to terms with the IL&FS crisis, yet another NBFC blew up in 2019.
This time, it was Dewan Housing Finance (DHFL). It is in the housing finance businesses, typically considered to be safe and conservative.
Debt mutual funds from DHFL Pramerica, Tata Mutual Fund, UTI Mutual Fund, and Reliance Mutual Fund that had almost a third of their funds parked in DHFL bonds, had to mark down the value of their assets by 40 to 50%.
Rating agencies also downgraded the ratings of DHFL debt, although there were no warnings earlier.
The big losers in this NBFC debacle are the investors seeking safety of their capital along with lucrative returns.
Their investments in the asset classes like bonds and debt mutual funds have only brought them agony.
Moreover, they are now living in the fear of seeing their hard-earned savings getting wiped off.
The problem in the NBFC sector is far from over.
But even as the RBI tightens the noose on the sector, I believe the good quality NBFCs, and housing finance companies will continue to flourish.
Stay tuned to know more. about how the crisis in the NBFC sector will pan out.
Which other 'safe asset classes' like debt mutual funds could be the victims of the crisis?
And how can you make the most of the opportunity to buy the safest NBFCs.
Warm regards,



Tanushree Banerjee
Editor and Research Analyst, The 5 Minute WrapUp
PS: Dear reader, Tanushree believes this is the right time to buy the best 7 stocks in the market before they run up. Read more about these 7 stocks here...
Recent Articles