Kenneth Andrade Would Like Our Real Estate Stock Recommendation with Triple Digit Upside
Jun 12, 2019
Leadership is always established at the bottom of the cycle. - Kenneth Andrade
This quote is from the Equitymaster Investor Hour with Kenneth Andrade.
Kenneth is the Founder and Chief Investment Officer of Old Bridge Capital Management.
In his earlier stint, he managed IDFC Premier Equity mutual fund from 2005-2015.
The fund produced a stellar gains of 616% over a decade. The benchmark Midcap index returned 201% during the same period.
He is one of the super investors Radhika and I follow in Smart Money Secrets.
One of Kenneth's most powerful ideas is to invest in a market leader when the entire industry is struggling. He says:
I go for an industry that is consolidating (the number of players are shrinking), where 65-70% of the industry participants are losing money. And you probably got the bottom of the cycle there. I want to allocate my money to the leadership in that segment. A leader who has survived with the highest return on capital in a down cycle. Return on capital of 8-10% is fine. And when you are doing that the valuations are always in your favour. So, you don't lose much, and risk-reward is in your favour.
I see a similar pattern emerging in one of our recommendations. We recommended a company from the real estate sector in Smart Money Secrets.
Mind you, the real estate sector witnessed several headwinds in recent times.
Demonetisation, RERA, GST... all came in its way.
---

Advertisement

---

Top 7 Stocks to Consider Buying Right Now…

Our Senior Analyst and Co-Head of Research, Tanushree Banerjee, has identified 7 stocks one could consider buying right now.

These 7 stocks are best-placed to benefit from a once-in-2000 years economic phenomenon. And could potentially generate HUGE returns for investors in the long run.

What's more, Modi's successful re-election could also speed up the growth of these 7 stocks greatly.

So hurry, just click here for full details…
------------------------------
Project delays as well as delays in getting possession have shaken the confidence of home buyers.
And finally, the NBFC crisis struck a massive blow. It sucked out liquidity and brought loan disbursals to a grinding halt.
Due to all these reasons, the number of developers have reduced and this has created consolidation in the market.
Typically, such a reduction in investment in an industry i.e. contraction of supply, paves the way for a recovery of profits.
On the demand side, there is an interesting aspect which will help the sector.
You see, the real estate sector has witnessed a 'time correction'.
By that I mean, real estate prices have remained at similar levels or marginally declined in the last 4-5 years. Whereas, the salaries have increased during the same period.
This has improved affordability.
Not to mention, the recent rate reductions by the RBI would also help to revive demand.
So, the equation looks like this...
Supply side: consolidation + demand side: improved affordability = Revival in the real estate sector
Our recommended company is showing good signs of revival. Its booking numbers are improving. Its inventories are reducing. It's not dependent on NBFC loans.
The management is focused on delivering existing projects despite facing tough times. This has created a strong brand name and goodwill for the company.
I believe, at the current price, the risk-reward equation for this stock is most favourable and according to us, it offers triple-digit upside.
This stock is a part of our five best stock picks of super investors that we recommended in our special report - The Thousand Crore Club.
In this report, you will find details of the top 5 stocks favoured by a highly elite group of stock market investors, the super investors of India.
Smart Money Secrets subscribers can access the report here.
If you haven't subscribed to Smart Money Secrets, you can do so here.
Chart of the day
The real estate stock we recommended in Smart Money Secrets is currently trading at an attractive level.
We valued the company based on its price to book.
Today's chart shows the price to book multiple from 2010.
This Real Estate Stock is Trading at a Discount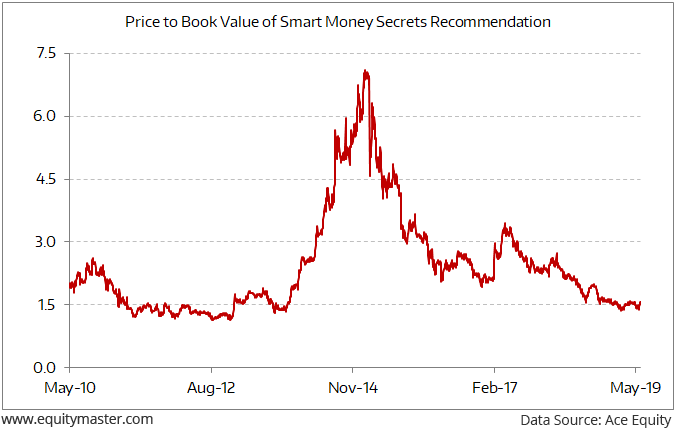 Currently, the stock is trading at 1.6 times price to book. That is a discount of 34% compared to its last nine years average valuations.
What's more, its total asset base (which includes land, unsold inventory, and cash & cash equivalents) is more than the current market capitalisation (at market value).
This provides safety on the downside.
This stock is a part of our five best stock picks recommended in our special report - The Thousand Crore Club.
Smart Money Secrets subscribers can access the report here.
If you haven't subscribed, you can access the report by signing up here.
Warm regards,


Sarvajeet Bodas ,
Co-editor and Research Analyst, Smart Money Secrets
PS: Sarvajeet Bodas and Radhika Pandit, co-editors of Smart Money Secrets, have recommended a great real estate stock with triple-digit upside. If you're a subscriber, then just log in to find out their latest view on the stock. If you haven't subscribed to Smart Money Secrets yet... you can do so here.
Recent Articles