How to Make Every Year a Great Year for Microcaps
Jun 14, 2017
In this issue

» IPOs of Venture Capital owned firms in the pipeline
» Accounts responsible for a fourth of banking system's bad loans
» Farmers deliberately default on payments
» and more!
They seem cheap. They seem abundant - nearly a third of BSE stocks belong to this category. And, above all, they seem to offer the best returns...life-changing, multibagger, mega returns.
Microcaps, without doubt, offer huge appeal to investors and traders alike.
And statistics show the past year has been for microcaps. Over the past fourteen months, 581 stocks, a quarter of the 2,360 small and microcap stocks on the BSE, have doubled or more. Eighty percent of these stocks were microcaps. And nearly 90% of the 172 stocks that tripled in this period were microcaps.
What's that? Do I hear you grinding your teeth in frustration for missing this opportunity?
The returns are indeed enviable. Even a monkey throwing darts could have picked some ultra-high return microcaps for you last year.
But here is what you must remember...
Most of these microcaps - despite their meteoric rise - are either loss making or backed by very poor fundamentals.
It's also important to remember most microcaps have very little liquidity. Meaning they offer limited exit opportunities if markets were to crash.
Furthermore, information on microcaps is not just difficult but nearly impossible to come by. Determining business moat and management quality is like navigating a minefield - you're lucky if you can do it.
The challenges of investing in microcaps haven't changed in seventy years.
Benjamin Graham, the father of value investing, faced these very challenges back in '50s. This led him to lay down his revolutionary rules for picking the safest microcaps. Graham left no room for speculation; his rules ensured his microcaps were relatively undiscovered yet sported a solid balance.
He backtested his rules over a fifty-year period. The model portfolio based on his simple rules consistently showed returns of more than 15% per annum, nearly double the Dow Jones Industrial Average over the same fifty-year period.
Our own experience with Graham's microcap strategy in India is no less amazing. The Microcap Millionaires team started recommending microcaps in early 2014, when no one wanted to touch them. Companies like Titagarh Wagons, Lloyd Electric, and Navin Fluorine added gains like 545%, 176%, and 170% within months. And unlike other microcap buying strategies, the Graham strategy has not disappointed even during market crashes.
Bad Budget, Brexit, and Trump sent the markets plunging. But the gains in our basket of microcaps stayed intact.
Demonetisation struck like a bolt from the blue in November 2016. Most analysts were busy cutting their estimates for microcaps. For these, they assumed, were likely to be the businesses worst affected by the cash crunch. The Microcap Millionaires team did nothing to their basket of recommended stocks. And do you know why? Because all risk aversion measures were built into the buying strategy itself.
The result is an outperformance of the benchmark index by nearly 3x since 2014!
Come crash or calamity, we are confident the strategy will hold its own in most any market environment.
Editor's note: If you missed the microcap rally this past year, it's not too late. The most recent Microcap Millionaires report has several buying opportunities you can act on right away.
02:10

Chart of the Day

According to an article in Livemint, the Securities Exchange Board of India (SEBI) is set to make it easier for companies which are majority owned by private equity (PE) and venture capital (VC) firms to list on stock exchanges.

As per the current rules, companies are identified as promoter driven or professionally managed. In the first case, promoters must contribute at least 20% of post-issue shareholding and have a lock-in period of three years on this stake. At the same time, they get some rights, such as the ones to appoint a majority of the directors or control the management or make policy decisions.

However, in case of professionally managed companies, such as the ones majority owned by PE and VC firms, there is no such lock-in period. Thus, when PE or VC owned firms list, there is an exit of stakeholders who oversaw the growth phase of these companies, which is a key factor in such companies being hesitant to come to the market.

With the planned relaxation of norms, such firms will be allowed to list without their majority shareholders being classified as promoters. This will add obligations such as a lock-in period for shareholding, and grant rights akin to what promoters hold.
Private Equity and Venture Capital Deals in Recent Years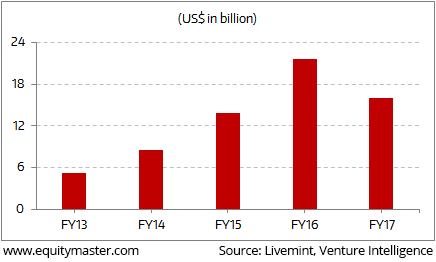 According to a study by Venture Intelligence, private equity deals in unlisted firms have increased from US$ 5.2 billion in FY13 (39% of overall deals) to US$ 16 billion FY17 (73% of overall deals). A change in norms, will no doubt act as a catalyst enabling similar companies to come out with their Initial Public Offering (IPOs) and list on the bourses.
With hundreds of new IPOs set to hit the market, it is prudent to be ready with a strategy to take advantage of the opportunity, in the safest possible way.
We have come up with a guide show you how to safely profit from the 2017 IPO rush.
Download this FREE report now and discover How to Get Rich with IPOs.
In what could be a step towards resolution of the non-performing assets (NPA) mess in India's banking sector, the Reserve Bank of India (RBI), said it has identified 12 accounts for immediate proceedings under the Insolvency and Bankruptcy Code (IBC). Interestingly, these 12 accounts made up for 25% of the banking system's bad loans, amounting to a mammoth Rs 1.7 trillion.
The RBI internal committee recommended referring to IBC all loan accounts greater than Rs 50 billion, with at least three-fifths (60%) classified as non-performing in FY16. For other bad loans that do not fall in this category, banks will have six months to come up with a resolution plan. Failing which they would also land up in the bankruptcy courts.
While these are positive steps towards resolving the NPA crisis, the problem of bad loans is systemic and not just related to a few accounts or companies. This became amply clear after a recent RBI notification mandated banks to report diversion in their reported and audited NPA numbers (varied more than 15%), with multiple private banks reporting large variations.
Speaking of loans, after various state governments announced plans to waive off agricultural loans, farmers across the country have begun to deliberately default on their payments. In fact, this has prompted farmers, even those with repaying capability, to stop repaying loans. For the public-sector banks that are already burdened with bad loan pile up, the potential delinquencies in agri loans poses a huge challenge.
Our big picture expert Vivek Kaul had predicted this in his Diary:
The economist Alan Blinder in his book After the Music Stopped writes that the "central idea behind moral hazard is that people who are well insured against some risk are less likely to take pains (and incur costs) to avoid it."

This basically means that once the farmer sees a loan being waived off today, he will wait for elections in the future for the newer loans he takes on to be waived off as well. Essentially, he will see little incentive in repaying loans that he takes on in the future.
Indian share markets are presently trading marginally higher. Sectoral indices are trading on a mixed note with stocks in the metal sector and FMCG sector are trading in red. Energy stocks are trading in the green.
The BSE Sensex is trading up 55 points (up 0.2%) and the NSE Nifty is trading up by 12 points (up 0.1%). The BSE Mid Cap index is trading down by 0.1%, while the BSE Small Cap index is trading down by 0.4%.
04:55

Today's Investing Mantra

"Risk comes from not knowing what you're doing." - Warren Buffett

This edition of The 5 Minute WrapUp is authored by Tanushree Banerjee (Research Analyst).
Today's Premium Edition.
Tejas Networks IPO - Our View
Is this your best bet on India's smartphone and data consumption boom?
Read On... | Get Access
Recent Articles