The Growing NBFC Crisis: Here's How You Can Profit from It
Jun 14, 2019
If you have some money put aside in debt mutual funds, you are probably wondering why some of those schemes have lost value.
It's because of the DHFL (Dewan Housing Finance) crisis. DHFL is an NBFC or a non-banking entity.
A leading business daily reported that as many as 165 mutual funds had some exposure to DHFL at the end of April.
Many of these MFs would have chosen to write-off these exposures, thus eroding their value.
So what exactly is the crisis brewing in this sector?
It has a lot to do with funding. Unlike banks, NBFCs cannot raise deposits from the public. So, they have to look at other ways to raise funds.
One way DHFL did this was by issuing non-convertible debentures (NCDs).
The NBFC crisis deepened when it missed an interest payment deadline on these debentures. Immediately, its credit rating was downgraded.
---

Advertisement

---
50 Reasons Why Regular Folks Could Get Rich In Modi 2.0 And Beyond… (FREE Book)
The convergence of multiple economic forces has created a opportunity where regular folks could become super rich in Modi 2.0 and beyond.

So to guide you in profiting from it, our Co-Head of research Tanushree has revealed the full details in her book titled, "50 Reasons Why The Rebirth of India Is Inevitable".

This book is currently selling for Rs 1,950 on Amazon. But by acting fast, you could get a copy delivered to your address in India for virtually FREE.

More than 1,000 copies of this hardbound book have been claimed already.

Click here to find out how to grab your virtually FREE copy now…
------------------------------
Now, the NBFC crisis is not entirely new. The IL&FS crisis in late 2018 had already brought to the fore the problems faced by these entities.
The DHFL saga has only highlighted the fact that the issues NBFCs are facing are not likely to go away anytime soon.
Indeed, funds are very hard to come by for NBFCs these days. Many of them have not been able to borrow at all!
The sector is depending heavily on low-cost, short-term debt financing. This has created a situation where their assets (the long-term loans they provide) are not matching their liabilities (the short-term debt they raise).
Also, NBFCs are also not regulated the same way banks are. So there is a lot of uncertainty in this sector at the moment when it comes to guidelines for infusing fresh capital.
This is why in Smart Money Secrets, Sarvajeet and I have not recommended NBFC stocks.
This also aligns with our core strategy for the service. Even if we are interested in looking at stocks where the 'smart money' is present, we do not blindly copy them.
Many mutual funds may have invested in NBFCs but we are not keen to do so yet.
The liquidity crunch could persist beyond the short-term. The asset liability mismatch is a big no-no for us.
This is why, we have increasingly preferred high-quality banking stocks. These are banks that have a strong liability franchise, diversified loan book, and good asset quality. Indeed, we have already recommended two such banks in Smart Money Secrets.
We recommended one of them as recently as last month. It was trading at reasonable valuations with the potential upside in the stock being more than 40%.
So, for the time being, we are staying away from NBFCs.
But, we are looking to recommend more quality banks in Smart Money Secrets as and when an opportunity arises.
So, if you haven't subscribed to Smart Money Secrets yet, you can sign up here.
Chart of the Day
The DHFL crisis may have highlighted once again the issues plaguing the NBFC sector most notably the difficulty in raising funds.
But this has not necessarily dampened the performance of their stocks on the bourses in the last one year. The bigger NBFCs especially have delivered healthy returns in this period.
DHFL, not surprisingly, has been taken to the cleaners.
Stocks of a lot of the mid and small NBFCs were badly hit when the IL&FS crisis deepened in October 2018.
Since then, the recovery in prices has been pretty robust.
Not All NBFC Stocks Have Fared Badly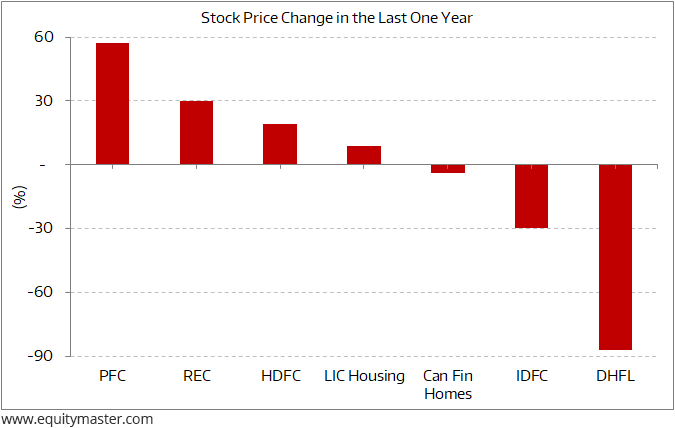 Warm regards,



Radhika Pandit
Co-editor and Research Analyst, Smart Money Secrets
PS: Dear reader, Radhika Pandit and Sarvajeet Bodas, co-editors of Smart Money Secrets, have published a special report on the top 5 stocks favoured by the Thousand Crore Club. If you haven't signed up for this report yet... you can do so here.
PPS: Is it possible to become rich with a single stock? Before you say no, you must listen to what Richa Agarwal, our small cap expert, will say about it at the One Stock Crorepati MEGA Summit. Do not miss this opportunity, dear reader. Click here to register for free.
Recent Articles