A Pharma IPO in a Market That Loves IPOs but Hates Pharma
Jun 15, 2017
In this issue:

» Are IPOs a sure shot way to make money?
» Short term transition pains likely due to GST
» Market roundup
» And more!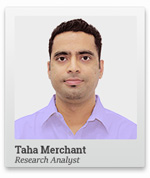 We live in a time of extremes. Investors seem to either love blindly or hate completely. Middle ground is hard to find.
Take Indian pharmaceutical companies on one hand.
They've gone from being a classic 'defensive' sector (a bad economy won't affect them) to being outright hated.
Because of the USFDA, a new pricing policy, and other regulatory uncertainties the BSE Healthcare Index has lost about a quarter of its value - down from a two-year high of about 18,500 to 14,250 levels currently.
Meanwhile, the BSE Sensex has marched upward to all-time highs.
It's been a bitter pill for Indian pharma.
On the other hand, we have the ongoing initial public offering (IPO) boom. No matter the company, fundamentals, or valuations, Indian investors are oversubscribing most IPOs.
And now, as The Economic Times reports, 2017-18 is expected to be one of the best years in India's IPO history. With upwards of 50 IPOs, companies will be looking to raise as much as Rs 400 to 600 billion.
That could make this IPO frenzy even more frenzied than the previous high of 2007-08, when 84 companies raised Rs 410 billion.
The say love is blind. Seems to be the case in the Indian IPO market.
Now, considering the market's current love-hate extremes, tomorrow's IPO of pharma company, Eris Lifesciences, will be interesting indeed.
The issue opens tomorrow. But don't worry...today's 5 Minute WrapUp Premium tells you all you need to know to make an intelligent decision on the IPO.
And if you're new to the 'lovely' world of IPOs, we have something for you...
Our new and completely free report - How to Get Rich with IPOs - will tell you how to find those money spinning IPOs and avoid the disasters in the coming year and beyond.
Editor's Note: The 5 Minute WrapUp enters its 10th year tomorrow. And we have an anniversary gift for our readers. Stay tuned...
02:15

Chart of the Day

IPOs have caught the frenzy of investors. Looking at the performance of IPOs listed in 2017, one could see the reason why. Almost 75% of the IPOs listed in 2017 till date have given positive returns. Although we are nowhere near the euphoria of 2007, we are slowly but surely getting there.
Are IPOs a Sure Shot Way to Make Money?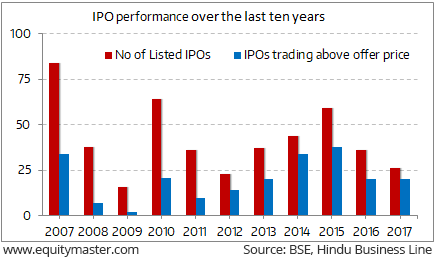 According to Hindu Business Line, till June 2016, only 40% of the IPOs launched between 2004 and 2011 were trading above their issue price. One then wonders if it makes sense if the euphoria is justified. Billionaire investor Warren Buffett certainly doesn't think so....
"It's almost a mathematical impossibility to imagine that, out of the thousands of things for sale on a given day, the most attractively priced is the one being sold by a knowledgeable seller (company insiders) to a less-knowledgeable buyer (investors)."
Investors need to understand the purpose behind IPO listing. It is either to raise money for the business or as an exit route for private equity investors or owners. In both the cases, the owners of the company tend to overprice the value of their business since they are aware of the hoopla surrounding the IPO and the number of investors waiting to lap it up.
Value investors rarely if ever look at IPOs as a way of making easy money. For them, valuation and business fundamentals are all that matters.
India is all set to rollout one of its biggest tax reforms on 1st of July 2017, the Goods and Services Tax (GST). While there is widespread consensus that GST will be a game-changer for the Indian economy, there is bound to be short term turbulence for Indian firms.
Most of the listed firms have hinted at muted growth for the upcoming quarter citing GST. They have mentioned de-stocking from customers due to confusion regarding GST taxes. Most of them are confused as to how goods manufactured before July 1st would be treated under GST.
There is also ambiguity about the implementation procedure. While large companies will smoothly transition towards the GST regime, small suppliers are yet to do the same. As a result, there's a possibility that the supply chain might be disrupted.
Most of the sectors have started offering discounts to dispose their goods before 1st July. As a result, there's bound to be a shortage of supplies leading to inflation before things normalise.
We had mentioned how implementing something like GST had resulted in a temporary spurt in inflation globally. However in the long run, a single tax regime has benefitted these countries.
Keeping that in mind, implementation of GST could prove beneficial if the Indian government keep a tab on how prices move after imposition of the tax. It must also ensure that all the tax reductions under the GST regime get properly passed on to the end consumer.
At the time of writing, share markets in India were trading marginally lower today. The sectoral indices have opened the day on a mixed note with realty stocks and energy stocks leading the gainers while information technology stocks and bank stocks in the red.
The BSE Sensex is trading lower by 15 points while the NSE Nifty is trading lower by 16 points. The BSE Mid Cap and BSE Small Cap index have opened the day up by 0.1% and 0.2% respectively.
04:56

Investment Mantra of the Day

"Only buy something that you'd be perfectly happy to hold if the market shut down for 10 years." - Warren Buffett

This edition of The 5 Minute WrapUp is authored by Taha Merchant (Research Analyst) and Girish Shetty (Research Analyst).
Today's Premium Edition.
Eris Lifesciences IPO - Our View
Exposure to high margin specialty products offers promising growth prospects. But do valuations price in the uncertainty surrounding the sector in terms of pricing pressure and regulatory issues?
Read On... | Get Access
Recent Articles