If You're Thinking of Buying a 'Cheap' PSU Bank Stock... I Have a Better Idea
Jun 15, 2018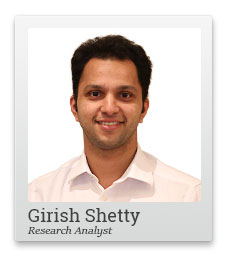 I recently wrote to you about SBI's bad loans issues and how we managed to come out unscathed. Not only SBI, other PSU banks have also found the going tough.
But the recent efforts by the Reserve Bank of India (RBI) have given them new hope. It's been a year since the RBI cracked the whip on the top 12 defaulters.
Since then, there have been a structural shift in the way these banks do business.
You see, the banks were until now, at the mercy of defaulting corporates. But not anymore.
Let me explain...
You are a promoter of a large company. Your business is going through tough times. You are having problems generating cash from your business. You have to pay your employees, suppliers, and banks who have lent money to you.
Who do you pay last?
--- Advertisement ---


How to Get Access to Solid Safe Stocks…

Research analyst, Tanushree Banerjee has been providing members of the Bombay Investing Society with solid safe stocks recommendations, for over 16 years.

Recommendations that went on to generate double…even triple digit returns!

Click here to benefit from her research…
------------------------------
If you don't pay your employees, your day to day operations will suffer if they stop working. Likewise, with suppliers since they will stop their supplies to you.
But what about the banks?
In the worst case, they will drag you to court. They might file a case to find someone who is ready to pay for this.
Now, in times of distress, the banks will be ready to take a 30-40% discount over the amount they were to receive. This case will drag on for months or even years.
The business cycle would have slightly improved by then. You go ahead and pay the banks more than the highest bid which might be 30-40% less than the actual bid.
You have thus paid the bank last. A great situation for you.
Now, not all businesses will take this route but when your business is in stress, this seems to be the best option.
But this won't happen anymore.
The recent tweak to the insolvency process aims to fix this loophole. The Insolvency and Bankruptcy Code (IBC) prevents defaulters from bidding for their own assets. Promoters will have to think twice about paying their lenders last.
So will the bad loans issue finally get resolved?
Not exactly.
While they will be able to recover the amount due to them, the extent of their lending amount that they will have to forego (i.e. the haircut) might be significant.
Recently, banks were able to recover Rs 352 billion following the Tata Steel-Bhushan Steel deal. This implies a 37% haircut for the banks.
Looking at the bids coming in for other entities, this looks like the best possible deal for banks. The highest bid for Alok Industries currently has banks losing 84% of the actual debt.
How will this affect the balance sheets of these banks?
Well, one good thing is that banks have already made provisions for a lot of these stressed assets. Their resolutions will add to the bank's profitability going forward.
But what happens after that?
Old habits die hard.
What will stop banks from making the same mistakes again? The risk is even more for Public Sector Banks (PSBs). With a change in leadership every few years, the management of PSBs have very low accountability for their actions.
So do we stop looking at banking stocks or lending institutions in general?
Not at all.
Look at lenders who are cautious while lending.
The biggest mistakes are made very early in the process. Banks or NBFCs can take an easy route to fast growth by lending to big corporates. This will result in high ROE's initially but is a definite warning sign.
On the other hand, a bank or a NBFC moving their focus from corporate lending to retail lending is a good sign.
These are basic points we look at when considering financial stocks to recommend.
And I believe, Richa might have just found one that ticks all the right boxes.
So while most PSBs might look 'cheap' on paper, they are cheap for a good reason. It's better to focus on quality financial stocks rather than fall into value traps.
Chart of The Day
The recent bids received for the top defaulters under the RBI's resolution plan has been a mixed bag.
Bhushan Steel, the top defaulter in terms of the borrowed amount has received a bid at a 37% discount. This seems reasonable compared to other defaulters.
Recovery of Banks' Stressed Assets Gathers Pace
Alok Industries, received a bid of just Rs 48 billion against an outstanding amount of Rs 295 billion. The bid was submitted by Reliance Industries - JM Financial ARC.
The committee reviewing the Insolvency and Bankruptcy code (IBC) has made amendments to speed up the resolution process. A key suggested change is to reduce the share of votes needed for approval from 75% to 66%.
The Reliance - JM bid was rejected earlier since it received a 71% approval from the creditors. These kind of bids will pass through post the amendment. While this is good news for the resolution process, banks might have to forego a significant amount of their lending amount.
Regards,


Girish Shetty
Research Analyst, ValuePro
PS: In these times of market volatility, do you wonder what the best investors in India are doing with their portfolios? Well, wonder no more. Let the top 40 investors in India do the hard work of picking the right stocks. All you need to do is follow them. You can start here.
Recent Articles