The Power of 5 Minutes
Jun 16, 2017
In this issue:

» The Economics of Farm Loan Waiver
» The real woes of the Pharma Industry
» Market update
» And more...
Dear Reader,
Today, I write to you on behalf of the entire research team at Equitymaster.
It's been nine years since the Indian share markets crashed in the aftermath of the global financial crisis. It was one of the worst crashes we'd seen since Equitymaster was founded in 1996.
Investors were caught in a raging storm. They were seeing their investments capsizing.
The worst hit were the small investors. Many a brokers and so-called advisors who had lured them with big promises were now deserting them. Someone had to do something.
We took up the challenge and started a whole new chapter in our journey.
Our mission was simple...
We wanted to empower the Indian retail investor and help them navigate the Indian share markets safely and profitably.
That was indeed a bold and ambitious mission. There were no shortcuts. And it required the right investing approach...the right ideas...the right mindset...the right knowledge...without any biases or hidden agendas.
Our answer to this big mission was a simple idea: Five Minutes.
Yes, just FIVE minutes a day. We are big believers in the power of compounding...be it money or knowledge. We wanted Indian investors to invest five minutes every day in sensible, long-term investing ideas and insights.
Our humble journey commenced on 16 June 2008 with the launch of our free investing newsletter The 5 Minute WrapUp.
And with this began our ever-evolving relationship, with you, dear reader. We wanted to give you the information we'd want if our roles were reversed.
So we told you about Buffett's advice to investors post 2008 crash...
About scams Indian investors had never heard of...
About CEOs who deserved to be behind bars - including Vijay Mallya...
About the crisis in waiting for India's banks well before NPAs became staple newspaper headlines...
About how to profit from Sensex' steepest pre-budget correction in seven years...
The very first signs of Sensex 40,000...
Whether to buy today's or tomorrow's Page Industries...
Over the last nine years, we have expanded our reach to more than 1.8 million readers across 72 countries.
And with the trust that millions of readers like you have bestowed on us, we recommit ourselves to bringing you the most profitable, credible, and contrarian investing ideas. Well before the mainstream media gets a whiff of them.
So what you can expect from us in the days, months, and years ahead? Here are the ideas we are most excited to share with you...
Now, as a thank you gift, for being with us, we have hand-picked and collated some of our best issues of The 5 Minute WrapUp.
Here's our sincere invitation to stick with us on this wealth-compounding journey...
Five minutes a day...
One day at a time.
Download The Best of The 5 Minute WrapUp - 10th Anniversary Special Edition.
And do send us your feedback on The 5 Minute WrapUp. It's hearing from you - your suggestions, comments, compliments, questions, and even critiques - that keep us going.
Happy investing from the entire research team at Equitymaster!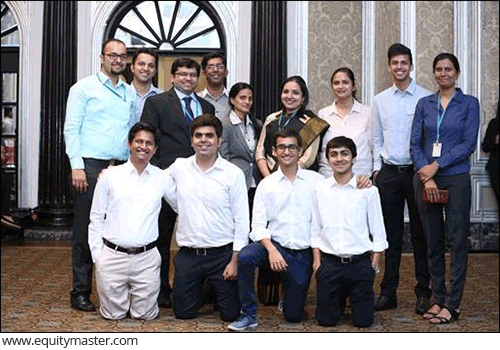 Best regards,
Tanushree Banerjee
Co-head of Research
02:30

Chart of the Day

Successive governments have tried to address the malaise afflicting the Indian farmers with band-aid measures. They have just looked for the symptoms with without getting to the root of the problem. Farm loan waivers continue to remain the most popular measure to win the rural vote bank. This is a sad irony as it does not resolve the actual problems faced by small and marginal farmers. And at the same time adversely impact the asset quality of banks.

The Uttar Pradesh farm loan waiver of over Rs 300 billion was used as a poll plank to win the 2017 state elections. And it's now threatening to turn into a contagion. With the Maharashtra government recently approving a farm loan waiver of the same size, nearly half a dozen states are following suit. These loan waivers would collectively burn a hole of over rupees three trillion in the state exchequer. But its efficacy in addressing the problems remains clouded as only one third of the small and marginal farmers actually have access to formal channels of financing. This means that a majority still depend upon money lenders and relatives. So the farm loan waiver will not benefit them at all.

Moreover, this short-term bailout fails to address structural issues faced by farmers such as lack of adequate irrigation and better prices for farm produce. At the same time, it spoils the credit discipline translating into higher slippages for public sector banks already burdened with bad loans of over Rs 7 trillion.
Inefficacy of Farm Loan Waivers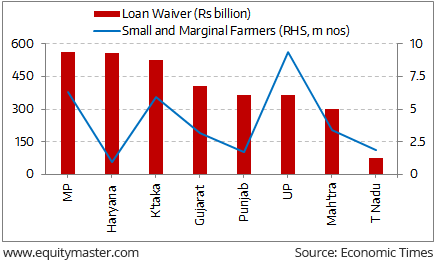 Lately, pharmaceutical companies have been facing a surfeit of problems in the largest generic market, the US. Rising competition and consolidation in the distribution channel have led to price erosion and delayed approvals for them. But the root cause in many cases lies within. Companies such as Ranbaxy that went lax on the USFDA regulatory compliance were hit the hardest. Therefore, instead of blaming the changing business landscape in the US for the growing business concerns, pharma companies need to set their house in order first. In other words, pharma companies that have continued to focus on maintaining the compliance standards will be able to tide the competitive pressure and generate wealth for shareholders.
Away from the regulatory stranglehold of the US market, Eris Lifescience, a pure domestic pharma company, opened its IPO today. The company is one of the fastest growing players in the acute and chronic segment and has a product profile of 80 mother brands. Even as other export focused pharma companies have been facing the regulatory heat in developed markets, is this company relatively better placed.
Yesterday's issue of The 5 Minute Premium laid out all the financial details of Eris Lifesciences, our view on whether to apply and the risks to the IPO. Do take a look, if you haven't already.
Indian equity markets opened the day on a firm note but have pared the gains since then. At the time of writing, BSE Sensex was trading higher by 7 points and NSE Nifty was higher by 8 points. Both the mid cap and small cap indices are trading up by 0.3% and 0.4%, respectively. Stocks from the realty and FMCG sectors are the major gainers.
04:56

Investment mantra of the day

"Price is what you pay. Value is what you get." - Warren Buffett

This edition of The 5 Minute WrapUp is authored by Tanushree Banerjee (Research Analyst).
Today's Premium Edition.
Stay Away from PSU Bank Stocks Right Now
Snowballing farm loan waivers will hit the already ailing Indian banking sector.
Read On... | Get Access
Recent Articles