What Does the Guy Who Made a 23,105% Return Have to Say about Investing?
Jun 17, 2017
In this issue:

» Are India's Solar Power Tariffs Headed Further Lower?
» Roundup of the Week's Market Action
» ...and more!
00:00

Chart of the Day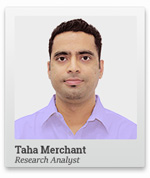 We've written before to some of our subscribers about one Mr Walter Schloss. If you haven't heard of him before, here's the best introduction I can give you...
If you'd invested Rs 100 in the S&P 500 at the start of 1956, a little under three decades later, in 1983, that money would have turned into Rs 987...including the dividends that you got along the way.
That's almost ten times your money. Not bad, eh?
However...if you'd given that Rs 100 to Walter Schloss instead, by 1983, that Rs 100 would have become Rs 23,205.
Whoa!
Here's how it panned out...
Walter Schloss' Investing Record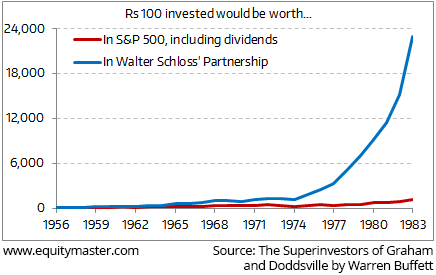 He worked at Graham-Newman - Benjamin Graham's money management firm - but left in 1955 and immediately started managing money on his own. Still based on Graham's techniques, of course.
And those were the results he got.
Considering those returns were the result of 28 years of stock picking...in hundreds-and-hundreds of different stocks...you can be sure his success was no stroke of luck. In a market full of one-hit-wonders, Schloss obviously had a formula that worked. Through the thick-and-thin of the market.
Here's Schloss on his investing philosophy:
Most look at earnings and earnings potential. Well, I can't get into that game.

I like to buy basic businesses, not high flyers that sell at huge multiples.

I'm not very good at judging people. So I found that it was much better to look at the figures rather than people.

We don't own stocks that we'd never sell. I guess we are a kind of store that buys goods for inventory (stocks) and we'd like to sell them at a profit within four years if possible.
It's also important to note that Schloss used no connections or access to company managements. He just looked up company numbers in the manuals available at the time. He was far less interested in the underlying nature of the business and far more interested in the quantitative attractiveness of a stock.
Walter Schloss seems to have had a strong aversion to loss. Which is probably why he stuck so closely to Graham's principle of margin of safety.
In the end, Waler Schloss identified securities that sell at considerably less than their value...
And that's all he did.
All he thought of was: 'If a business is worth a dollar and I can buy it for 40 cents, something good may happen to me.'
And he did it over and over and over again.
Schloss' unconventional perspectives on investing are very insightful for today's investors...and quite unlike how most on Dalal Street think.
Editor's Note: If Schloss' mantras seem to have an uncanny resemblance to the principles behind Microcap Millionaires (MCM), it's because MCM is also directly inspired by Graham's prescriptions. It's not exactly how Schloss did his investing, which is a good thing. But this very quantitative, deep-value style of value investing is also behind MCM's impressive track record.
US president Donald Trump announced the withdrawal of United States from the recently held Paris climate deal. Despite few major individual states in the US openly declaring their continued support for renewable energy. Overall, things look dim for renewables market in the US. The country's demand for the solar modules too is expected to weaken.
China, one of the largest manufacturers and exporters of the solar modules is the key supplier to the United States. This has meant a renewed focus by the Chinese manufacturers to look at other prospective markets in greater detail. The Chinese firms also supply modules to India as well. Most solar power developers in India are able to procure these modules and equipment from China at a cheaper cost. According to data from Livemint, solar modules generally account for nearly 60% of solar power project's total cost and their prices fell by 26% in the year 2016.
Now, India's focus on increasing the share of renewable energy has resulted in solar power generation capacity to increase over four fold to 12.2 GW from 2.6 GW in 2014. Lower global demand, cheaper capital and equipment availability will provide a big boost to the solar powered renewable energy in India. In addition, as and when technology improvements come through, solar power tariffs are expected to fall further. The tariff has already reduced to Rs 2.4 per unit six months back. Domestic solar module manufacturers per Livemint accounting for only 10.6% market share. They face an even stiffer test to stay competitive in India. India might just have to resort to anti-dumping duties to protect them. One thing looks even more likely now, a further reduction in solar power tariffs in India. It looks like this sudden move by President Trump likely lower demand from solar cells from the US may just have moved the floor on solar power tariffs lower.
Global financial markets ended the week on a negative note. This is on the back of soft US economic data, a relatively hawkish Federal Reserve and a media report that US President Donald Trump is being investigated by a special counsel for possible obstruction of justice.
Despite inflation coming in below the Fed's target, the central bank said it would raise the benchmark interest rate by 25 basis points. The Fed also provided greater detail about how it would unwind its massive balance sheet. The US markets were up 0.5% for the week gone by.
Following the Fed's rate hike, China's central bank left interest rates for open market operations unchanged on Thursday. Earlier on Thursday, The People's Bank of China injected a net 90 billion yuan into the financial system via open market operations. China's benchmark one-year lending and deposit rates have remained unchanged since October 2015. The stock market in China was down by 1.1% for the week gone by.
Back in Europe, the Bank of England (BOE) left rates at 0.25% and bond purchases at £435 billion. The BOE's decision was the first since the UK's general election resulted in a hung parliament. The stock market in the UK was down by 0.8% for the week gone by.
The Bank of Japan kept monetary policy steady on Friday and upgraded its assessment of private consumption for the first time in six months, signalling its confidence in an export-driven economic recovery that is gaining momentum. The Nikkei fell 0.3% for the week gone by.
Crude prices stumbled near a six-week low as doubts grew over OPEC's ability to cut oil supplies, weighing on stocks worldwide and adding to worries over the resilience of sectors most geared to economic growth.
Back home, the Indian indices closed marginally lower over the week. The market continued to consolidate due to lack of major triggers to support the up move. The BSE Sensex was down by 0.7% for the week. Midcap and Smallcap stocks outperformed the frontline indices to gain 0.04% and 2.3%, respectively.
Performance During the Week Ended 17th June, 2017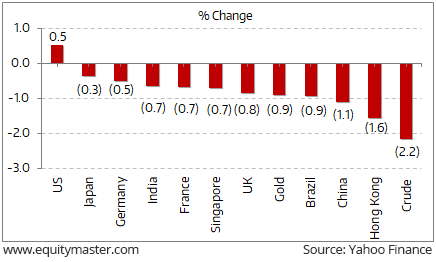 04:56

Investment Mantra of the Day

"If you have more than 120 or 130 I.Q. points, you can afford to give the rest away. You don't need extraordinary intelligence to succeed as an investor." - Warren Buffett

This edition of The 5 Minute WrapUp is authored by Taha Merchant (Research Analyst).
Today's Premium Edition.
Today being a Saturday, there is no Premium edition being published. But you can always read our most recent issue here...
Recent Articles