The Kenneth Andrade Way to Multibaggers
Jun 19, 2017
In this issue:

» The Bonanza of IPOs in Indian Markets
» CDSL IPO Opens Today
» GST Council Affirms the Roll Out
» Market roundup
» ...and more!
A couple of months back, Kunal and I met with 'India's Peter Lynch', super investor Kenneth Andrade, CIO of Old Bridge Capital Management.
IDFC Premier Equity, the fund Andrade managed from 2005-2015 before joining Old Bridge, produced a stellar absolute return of 616%
During that time, the benchmark index returned 201%. A worthy Indian successor to the legendary Peter Lynch indeed.
In our meeting with Kenneth, we covered his investment style, stock selection process, and a number of topics relating to finding potential multibaggers (subscription required).
Here's what you must appreciate about multibaggers: They evolve over time.
That is why, according to us, they must be termed 'potential' multibaggers. Nothing in investing is certain from the start.
But super investors - by definition - have a knack for finding multibaggers. The forty-odd super investors we know and track have rock-solid processes in place to identify these stocks early and then ride them till they evolve into mature multibaggers.
'Okay,' you might be thinking, 'but these are super investors...the best in all of India. How can the aam investor find potential multibaggers?'
It all begins with finding quality stocks.
Today, I will introduce you to four 'rules' Kenneth follows when he selects stocks at Old Bridge.
Here are four factors Kenneth looks for in potential multibagger companies. Remember, they aren't just factors; they are rules. A company that satisfies three of these rules has much less potential to become a multibagger.
The four rules are:
Capital efficiency

The first rule seeks to identify companies able to generate consistently higher returns on their shareholders' equity going forward. The idea is the more profitable the company gets, the more value it will create.
Low leverage

The second rule seeks companies with minimal debt. The idea here is to look for businesses consistently reducing their external loans and borrowings.
Profitable with low capex scheduled

The third rule looks for companies that have already done the hard work of building plants and machinery for future growth. They are now in a ripe phase to benefit from their efforts.
Undervalued

The fourth rule seeks businesses that are 'out of favor', where the markets are taking a dim and depressed - yet incorrect - view of the future of the stock.
Take the example of Page Industries.
Page has had an average return on equity of 50% per year over the past ten years!
It has steadily reduced its debt from 2.05 in March 2004 to almost zero today. It employs its plant and machinery more efficiently than ever. In fact, it was available at a price to earnings ratio as low as 12.7 times in 2009.
Editor's Note: The Hidden Treasure team also identified this stock...back in Jan-09.
On meeting the management pre-IPO, Kenneth was mighty impressed.
Now, the share price of Page Industries has multiplied many times over in the past decade and patient shareholders have witnessed huge wealth creation.
In an interview with The Economic Times, here's what Kenneth had to say about identifying Page:
We met the promoters of Page Industries before the company's IPO (in 2007). We fathomed through our interaction with the company that here is a single-product company with a very strong franchise and never sold a product but basically sold a lifestyle.
Kenneth is always in search of companies that have the potential to compound capital over the long run. He tempers this watchfulness with an extreme wariness of overpaying for quality stocks. Here's Kenneth:
We remain prudent about paying infinite valuations for great quality businesses and are wary of companies taking large financial risks. For this we look at businesses early into a cycle and are willing to be patient as they emerge. Low valuations and low leverage in our portfolio choices help us focus on managing risk. Economic cycles and markets provide us with the upsides.
Now, Kenneth Andrade's way to multibaggers is just one way. We strongly believe there are many ways to find quality stocks. For example, we agree with Professor Bakshi's teachings on success and failure patterns; we too constantly seek success patterns to replicate and failure patterns to avoid.
This has been our endeavor since day one at Smart Money Secrets: mastering the best of what the best have already figured out.
And we want to invite to into this world of Smart Money...where we track the best investment ideas from India's top money-making gurus and from there cherry pick only the most lucrative opportunities.
Editor's Note: The Smart Money team has already identified some smart money on the move and is out with their first report and stock idea. Click here for more details.
03:10

Chart of the Day

Initial Public Offerings (IPOs) have got a good attention of Investors these days. Looking at the performance of IPOs listed in 2017, one could see the reason why. Almost 75% of the IPOs listed in 2017 till date have given positive returns. In fact, IPOs like D-mart have given birth to new investors in the market.

Although we are nowhere near the euphoria of 2007, we are slowly but surely getting there. The big question: Is this euphoria justified?
The Bonanza of IPOs in Indian Markets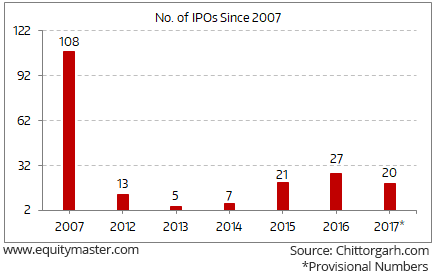 Billionaire investor Warren Buffett certainly doesn't think so....
"It's almost a mathematical impossibility to imagine that, out of the thousands of things for sale on a given day, the most attractively priced is the one being sold by a knowledgeable seller (company insiders) to a less-knowledgeable buyer (investors)."
One need to understand the purpose behind IPO listing. It is either to raise money for the business or as an exit route for private equity investors or owners. In both the cases, the owners of the company tend to overprice the value of their business since they are aware of the hoopla surrounding the IPO and the number of investors waiting to lap it up.
Value investors rarely if ever look at IPOs as a way of making easy money. For them, valuation and business fundamentals are all that matters.
However, there are some exceptions to the rule. And to help you understand those exceptions and how to approach the world of IPOs, we have something for you...
Our new and completely free report - How to Get Rich with IPOs - will tell you how to find those money spinning IPOs and avoid the disasters in the coming year and beyond.
Talking about the IPOs, today's IPO of a depository, CDSL, will be interesting to watch out. Our team has analyzed the company and written a detailed note on the same. Consider this:
CDSL is the second largest securities depository in India, after NSDL, with a 44% market share in terms of demats accounts. But it is a leading depository in terms of incremental growth of Beneficial Owner (BO) accounts with a 60% market share.
The issue opens today. But don't worry...today's 5 Minute WrapUp Premium tells you all you need to know to make an intelligent decision on the IPO.
There have been many speculations about the implementation of the GST given the complex compliance requirements. If not rolled out in July, it needs be deferred by at least one quarter.
However, according to Live Mint, The GST Council on Sunday paved the way for the implementation of the goods and services tax (GST) starting 1 July, but gave companies more time to file detailed returns for the first two months of July and August. Here's our Finance Minister:
"We don't have the luxury of time to defer implementation of GST. The council decided categorically that it will be implemented from 1 July."
Although there is bound to be short term pain in the markets, as far as GST is concerned, we believe it is one of the biggest structural reforms to be implemented in the Indian economy. It will also provide a level playing field to the organised players from sectors with a high proportion of the unorganized segment. Its implementation promises to transform India into a single common market and there are many sectors which will gain immensely from this transition.
After opening the day marginally higher, share markets in India have continued their momentum. Sectoral indices are trading on a positive note with stocks in the energy sector and FMCG sector witnessing maximum buying interest.
The BSE Sensex is trading up 156 points (up 0.5%) and the NSE Nifty is trading up by 38 points (up 0.4%). The BSE Mid Cap index is trading up by 0.2%, while the BSE Small Cap index is trading up by 0.1%
04:55

Today's Investing Mantra

"I insist on a lot of time being spent, almost every day, to just sit and think. That is very uncommon in American business" - Warren Buffett

This edition of The 5 Minute WrapUp is authored by Rohan Pinto (Research Analyst) and Kunal Thanvi (Research Analyst).
Today's Premium Edition.
CDSL IPO - Our View
Is this a great opportunity to ride the digitisation wave in India?
Read On... | Get Access
Recent Articles