Does Your Stock Pass the Amazon Disruption Test?
Jun 20, 2019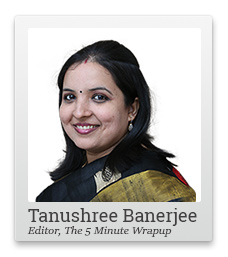 There's one thing common among most conquerors of the past...
They started small.
Take the British raj for instance. They started as traders in the 1600s. It was not until 1757 that British started to make giant strides through the East India Company.
There are many such stories. In these stories the conqueror was initially dismissed as not a threat...until it was too late.
Conquerors bide their time and wait carefully for the right moment to strike.
In today's day and age, it is the global disruptor that is to be feared. Today, that big disruptor is Amazon.
Amazon has started taking small steps in India in areas people have barely noticed.
We all know about its dominance in eCommerce...
But its investments in the India's financial space has gone mostly unnoticed. In April 2018, Amazon invested Rs 1.4 billion in e-Lending firm Capital Float. It followed up with an investment in Acko, a digital insurance provider. It also has a stake in BankBazaar, an online market aggregator.
---

Advertisement

---
A Chance to Save Rs 1,950 And Also Potentially Make LOT of Money…
Tanushree Banerjee's new book reveals all about a once-in-2000 years economic phenomenon she calls the Rebirth of India.

Firstly, you can save Rs 1,950 when you get this book virtually FREE now.

And then, the information revealed in this book could help you potentially make a LOT of money from the Rebirth of India phenomenon in the long run.

So two ways in which you could benefit from this book.

And nearly 2,000 copies of it have been claimed already. So don't delay.

Find Out How to Grab your FREE copy now!
------------------------------
Amazon is spreading its wings. The only question is, where will it move next?
And if it does, how will it impact your stocks, dear reader? Do the stocks that you hold pass this Amazon disruption test?
Last week, I wrote to you about sectors prone to technological disruption. You can add the Amazon threat as an additional filter when you choose stocks.
Can the businesses you own be disrupted by Amazon? Yes or no?
Is there a 'moat' surrounding the business that even Amazon will find it hard to breach?
The threat of disruption in this era is something you cannot ignore. The way I look at safe stocks now is different from how I used to look at them a decade back.
For me, safe stocks are businesses that will survive and become stronger in the disruption era.
I have picked 7 such stocks for my premium subscribers.
While their competitors fall by the wayside, these are the stocks that will take the Sensex to 1,00,000.
These are the top stocks I believe will be part of a transformation I call the Rebirth of India.
These companies have strong business models and are run by able management teams.
I believe, these 7 stocks can withstand any attack by the Amazons of the world.
Chart of the Day
The growth story of Amazon over the last two decades has been nothing short of impressive.
Valued at US$ 438 million during listing, the stock is up more than 2,000 times and is valued at US$ 936 billion today.
It continues to be the chief disruptor of our times and has spread its wings across the globe.
India - Next Growth Driver for Amazon?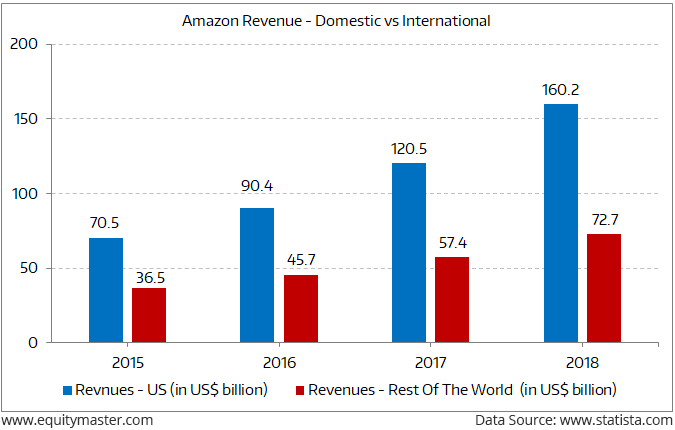 Revenues outside the US now comprises 31% of overall sales. Despite its low base, revenues outside the US has grown at a slower pace compared to the US.
Amazon is now looking at emerging nations for its next leg of growth. Currently, India contributes less than 1% of Amazon's overall sales.
India's demographic dividend and urbanisation shift makes it a very lucrative market for Amazon.
Apart from all this trend toward disruption, there are 50 other irreversible trends that is bound to drive the Rebirth of India.
Trends that not only Amazon, but businesses in India will benefit from in the near future.
Warm regards,



Tanushree Banerjee
Editor and Research Analyst, The 5 Minute WrapUp
PS: Dear reader, Tanushree has identified the best 7 stocks in the market that can not only survive but also thrive in this era of technological disruption. However, these stocks won't be cheap enough to buy for much longer. You will need to buy them before their prices run up. You can read more about these 7 stocks here...
Recent Articles