Why Super Investor Kenneth Andrade is Bullish on Agri Stocks...and So Are We
Jun 21, 2019
Now that Modi has secured a thumping election victory, all eyes are on him and his plans for what lies ahead.
In this regard, the BJP manifesto gives a fair idea of the vision of the party in power.
One area that figures prominently is agriculture.
The manifesto cites many objectives. The 2 key objectives are...
Doubling the farmers' income by 2022.
Providing finance to them and emphasising irrigation to reduce the dependence on monsoons.
So clearly, the government intends to invest a lot in this space.
What does that mean for agri companies? Is this the time to invest in them? After all, they will get a big shot in the arm if the government intends to invest in agriculture.
Super investor Kenneth Andrade is certainly bullish on the sector. He spoke to us on the Equitymaster Investor Hour.
This is the crux of what he said about agriculture:
In most of the developed world, agriculture accounts for 5% of GDP. In India, agriculture still accounts for 15% of GDP. Now as the gradual transition from a developing to a developed country takes place, the agriculture industry is bound to shrink. So, the competitive intensity will reduce, which is a big plus for the stronger players present in this space.

The second favour of the industry is ramp up in automation given that India still has some of the most archaic farm systems in the world.

Third, when you look at the cost structure, 50% of it is labour, the next big cost is interest. Therefore, irrigation, equipment, fertilizers and other technology is less than 20% of total farm cost.

If you put this equation together, labour cost has to come down, as the labour also shifts to other areas for better wages and opportunities. Also, with shrinking land, yields have to move up. Thus, in both these scenarios, introducing technology or farm mechanization will play a big role.
Clearly, farm mechanisation and yield productivity will bolster agricultural growth going forward. This will bolster farmer incomes in the process.
So which stocks are likely to benefit from this trend?
For our Smart Money Secrets subscribers, Sarvajeet and I have recommended two agri stocks. Both have the potential to deliver healthy returns.
One of these stocks is a strong play on farm mechanisation. The company's products include tillers, pump sets, sprayers, and so on, which it sells to farmers at affordable prices.
The other is a market leader in branded agro-chemicals. Its product range is vast - insecticides, fungicides, herbicides, and specialty products. These are high-potential innovator molecules for the Indian market.
This stock is already up 55% since we recommended it in June 2018.
Indeed, Kenneth Andrade makes an important point, one which we also believe in. According to us, although farm mechanisation in India is still at a nascent stage, the scope for growth is huge.
So, the key is to zero in on the right stocks in the agri space to make big profits.
Sarvajeet and I have already recommended two such picks for our Smart Money Secrets subscribers. We will be on the lookout for more such quality plays in the agri space.
If you haven't signed up for Smart Money Secrets, you can do so here.
Chart of the Day
Agriculture can be a challenging field to focus on. Business can be lumpy.
But the strong players can still provide healthy returns of capital to shareholders.
Here, we look at two stocks in the agri space that we have recommended in Smart Money Secrets.
One is focusing on agro chemicals, while the other is focusing on products that can bolster farm mechanisation.
As can be seen, the agro chemical company has done well in terms of providing healthy return on capital to shareholders. It's the stock that has done particularly well since we recommended it (up 55%) in Smart Money Secrets.
Two Agri Stocks with Strong Return Ratios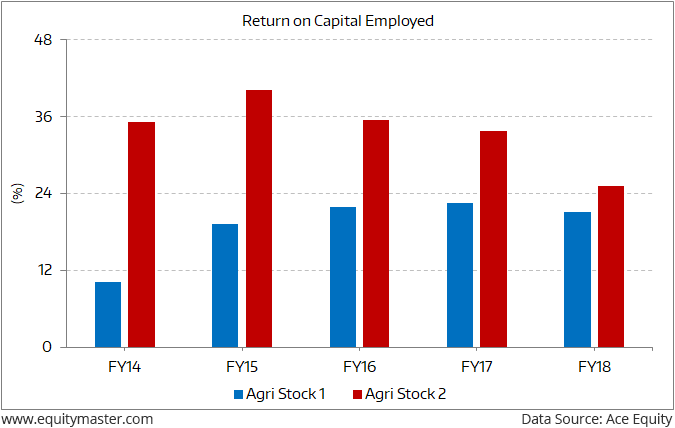 We believe both these stocks have the potential to deliver healthy returns in the long-term.
If you haven't signed up for Smart Money Secrets, you can do so here.
Warm regards,



Radhika Pandit
Co-editor and Research Analyst, Smart Money Secrets
PS: Radhika Pandit and Sarvajeet Bodas, co-editors of Smart Money Secrets, are ready to recommend their next stock. If you haven't subscribed to Smart Money Secrets yet... you can do so here.
Recent Articles