The 'Multibagger IPOs' You Should Be Betting On
Jun 22, 2017
In this issue:

» The Key to Spotting Money Spinning IPOs
» Can Bitcoin Be Considered for Serious Long-Term Investment in India?
» With Manufacturing Sector Contracting, Market Valuations May Not Sustain
» ...and more!
00:00

Chart of the Day
It's raining IPOs. Fund raising for the year has crossed Rs 100 billion mark. That's only happened twice before!
Buoyancy in the markets has given fundraising a boost. Positive sentiments have attracted investors in hordes. And retail investors are active like never before, taking oversubscription to insane levels. With issues like Avenue Supermarts (DMart) and CDSL , oversubscription of 100 times or more seems to be the new norm.
IPO Frenzy Continues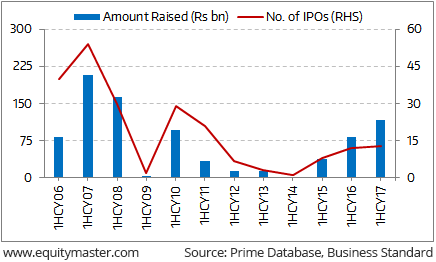 Note: 2017 data includes IPOs of GTPL Hathway (Subscription Required) and AU Small Finance which are yet to close
And this might just be the beginning. As per The Economic Times, at least fifty more companies are likely to come out with IPOs this year, raising between Rs 400 and Rs 600 billion. To put that in perspective, in 2007-08, 84 companies raised Rs 410 billion via IPOs.
The markets were buoyant then too, trading at an average PE of 21 times. Today, the PE is 22 times.
The sense of deja vu is strong. And that's not a good thing...
Following the 2007-08 IPO frenzy was a 60% drop in the Sensex, and a similar fall in index valuations.
More than 70% of the IPOs listed in 2007 and 2008 are in the red, even today when the Sensex is at lifetime highs.
Will this time be different?
We fear history will repeat, with retail investors witnessing a massive erosion of their wealth. Indian equity markets are trading around lifetime highs. Overcapacity, high debt, depressed earnings...there is little fundamental support to sustain these valuations. Liquidity and sentiment are driving this market. But neither of these can be counted upon. The recent addition of China in MSCI, which could lead to an outflow of FIIs in India, is a blunt reminder of the slippery terrain we're on.
Should You Stay Away Then?
While we have always been cautious on IPOs, we do not believe you should completely ignore this space.
For every Reliance Power-like issue, there have been issues like Maruti, TCS, and Jubilant Foodworks Ltd (with returns over 4,000%, 1,000% and 500% respectively) that have made investors rich.
The percentage of such issues, unfortunately, is very low (Do refer to the IPO performance snapshot). The odds are stacked against a retail investor.
A careful evaluation of each IPO on its merits - its fundamentals, and most importantly, valuations - is the only way to spot future multibaggers. To learn how to navigate the treacherous world of IPOs, do read our special report on finding money-spinning IPOs.
Indian share markets are trading near all-time highs again. Sentiments are buoyant and the markets seem to be chasing the next big milestone. However, when it comes to one of the key growth drivers of the economy - manufacturing - the real picture seems out of line.
In the Industrial Outlook Survey (IOS) conducted by the Reserve Bank of India (RBI), most trends point to a contraction in the manufacturing sector since 2010-11. Expectations of increase in orderbooks of manufacturers have seen a steady decline -from 46.5% increase in FY11, to 38% in FY14 and further down to 35.1% in Q4FY17.
Thus, while markets are flying high, they are ignoring the underlying rot in the manufacturing sector. With suspect fundamentals and sky-high valuations, stocks are likely to correct.
We believe investors can shield themselves from a potential correction with safe stocks. In fact, with the right strategy, downturns can provide a great opportunity to invest. How? Tanushree and her StockSelect team know. Click here to find out.
With stock market offering little opportunities to enter, should you look beyond equities?
Bitcoin is all the rage these days. It has been able to generate a lot of interest from mainstream media especially since the Japanese government announced that the cryptocurrency would be accepted as a legal payment method back in April 2017. Bitcoin price has rallied significantly after that and there is no looking back.
Bitcoin is a cryptocurrency, or simply put - digital money. You can use it to send payments directly over the internet without an intermediary like a bank. Its transaction records are not maintained by any single entity. They are maintained by miners who are distributed globally. Miners compete with each other to solve complex mathematical puzzles by using massive computation power. They also verify and record all the transactions. In return, they earn newly generated cryptocurrency tokens - bitcoins.
While arguably it is the most popular, Bitcoin is not the only cryptocurrency around. According to Coinmarketcap.com, a website that tracks cryptocurrencies, as on 20th June, there were 757 cryptocurrencies in existence.
Of the many cryptocurrencies, bitcoin tops the list, followed by ethereum and ripple.
These cryptocurrencies are making new headlines with their phenomenal gains and a promise of a store of value. However, do they have the potential to replace real physical assets like gold?
My colleague Ankit Shah has written an excellent piece examining whether bitcoin can be considered as a serious long-term investment in India, and its comparison with gold in a recent edition of Vivek Kaul's Inner Circle (Subscription Required). It also contains insights from Bitcoin experts all around the world. It's a must read.
At the time of writing, Indian share markets were trading in the green. BSE Sensex is trading up by 61 points (up 0.2%) and the NSE Nifty is trading up by 20 points (up 0.2%). Meanwhile, the BSE Mid Cap index is trading down by 0.4%, while the BSE Small Cap index is trading down by 0.3%. The rupee is trading at 64.53 to the US$.
04:56

Investment Mantra of the Day

"It's almost a mathematical impossibility to imagine that, out of the thousands of things for sale on a given day, the most attractively priced is the one being sold by a knowledgeable seller to a less-knowledgeable buyer." - Warren Buffett

This edition of The 5 Minute WrapUp is authored by Richa Agarwal (Research Analyst).
Today's Premium Edition.
The Fundamental Side of the Indian Pharma Stocks Downtrend
The best mispriced investing opportunities arise during high pessimism.
Read On... | Get Access
Recent Articles