GST Creating Distorted Valuations...and Opportunities
Jun 27, 2017
In this issue:

» Domestic Airlines Fly High in Foreign Skies
» RBI Asks Banks to Keep Higher Provisions for All Cases Referred to the Insolvency Process
» Market Update
» And more...
They say GST has become the third most difficult puzzle to crack. The top two still being the Duckworth Lewis system and, of course, the mood of your spouse.
It's just one of hundreds of GST wisecracks going around. It's difficult to have a business conversation these days and not bring up GST. It's even a common topic on social media. Not even demonetisation could generate the frenzy that the upcoming tax reform has spun.
And not without reason. Scheduled for a 1 July launch, the Goods and Services Tax is set to revolutionise the way we do our taxes. It's a comprehensive, multi-stage, destination-based tax levied on every value addition. And it will make India, our humungous country, a single market for the first time.
Nervousness around its implementation notwithstanding, even GST's harshest critics can't deny its potential long-term benefits. If executed properly, it could set the cash registers ringing not just for the consumers and the economy but for the producers as well.
And if all the economic stakeholders benefit...company shareholders can't be far behind - or so the logic goes.
It has not escaped anyone's notice that benchmark indices are currently trading at a premium. A lot of it has to do with the benefits of a successful implementation of GST.
Well, not to be a party pooper...but investors get overly optimistic at their own peril.
Remember the economic reforms of 1992? They were as big-bang as the upcoming GST if not bigger. Investors had every reason to be as optimistic as they are now.
But did the optimism 25 years ago translate into stock market gains?
Well, the investors who bought stocks in the name of the reforms in 1992 were in for a rude shock. The stock markets remained nearly flat for a large part of the next twelve years...even dropping 50% at one point!
It's not that the '92 reforms didn't deliver. They certainly did. They brought all the benefits that were expected of them. But the stock markets didn't perform because of one big reason...
That's right: valuations.
Investors forgot to ask if they were paying too much. And they certainly were. The valuation levels in the early 1990s were and are among the highest ever. So even though the economy grew and the earnings of India Inc went up, stock markets couldn't deliver for twelve long years.
The stock markets today are nowhere close to those insane valuations. But there's always the risk of investors getting too enthusiastic and paying too much for a stock.
Be it liberalisation, a new government, GST, or a great monsoon, you always have to ask the all-important question: All things considered, am I paying too much for this stock in relation to its intrinsic value?
Concerning their latest stock pick, the Smart Money Secrets team doesn't think so.
The stock is off from its highs because of near-term GST concerns. In fact, it is one of those rare good quality companies whose stock price is down and not up because of GST. Our Smart Money Secrets team is not complaining.
The team sees this as a fantastic entry point as the stock has a great long-term future thanks to its unique positioning in the packaging industry.
Whether you're a Smart Money Secrets subscriber or not, you too would do well to invest in companies trading at a discount to their long-term intrinsic value. And never let yourself give a company a premium valuation just because of some big upcoming reform.
02:30

Chart of the Day

India's aviation industry is on a high-growth trajectory. India's domestic air passenger traffic has almost doubled in the past six years. This is on the back of strong economic growth and emergence of low-fare airlines. Indian carriers have now set their sights on International traffic. Indian carriers have been slowly increasing their market share. It is important to note that foreign carriers still dominate international traffic to and from India.
Domestic Airlines Fly High in Foreign Skies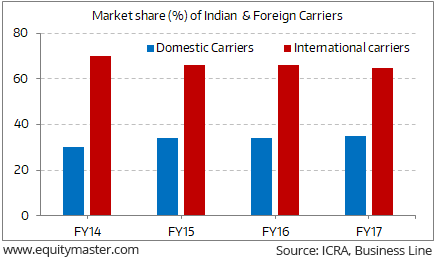 As per the report by rating agency ICRA, the share of domestic airlines in India's international traffic increased from 30.1% in FY14 to 35.1% in FY17. In the coming years, this share is expected to increase as the government replaced the 5/20 rule with 0/20 rule. The 5/20 rule mandates that airlines need to fly at least 5 years domestically and should possess 20 aircraft. The new 0/20 rule does away with the five-year requirement, but carriers will still need to demonstrate a fleet of 20 aircraft.
Why are air carriers focusing on international traffic? Indian carriers are chasing international routes to increase their revenues and profit margins. International routes traditionally deliver higher margins for airlines.
But does this mean international routes are more profitable than domestic ones? Not really. If you see the recent results of air carriers such as Jet Airways and Indigo, the international segment did worse than the domestic business in FY17. This is due to higher competition, weak international market (particularly Gulf region) and higher cost.
It is important to note that certain industries have relatively dull economics compared to others. And investors would do well to keep this in mind, particularly in the case of aviation. Investors need to understand the industry dynamics before buying up aviation stocks.
The Reserve Bank of India (RBI) has directed banks to keep higher provisions against all cases referred for bankruptcy proceedings. The central bank told banks to set aside 50% of the loan amount as likely losses for all cases referred to the National Company Law Tribunal (NCLT).
RBI also said that provisioning should be 100% in those cases that fail to get resolved under the insolvency proceedings and instead are forced into liquidation.
Banks will have to make higher provisioning on 12 large loans being referred to NCLT under the Insolvency and Bankruptcy Code, 2016 (IBC). Although banks have already made some provisions, the additional provisioning will eat into the bottom line of banks in the coming quarters.
The Indian stock markets were trading lower at the time of writing on the back of sustained selling pressure, mainly in the auto and bank sectors. At the time of writing, the BSE Sensex was trading down by around 91 points. Both the mid cap and small cap indices are trading down by 0.94% and 1.09%, respectively.
04:55

Investment Mantra of the Day

"We don't have to be smarter than the rest. We have to be more disciplined than the rest." - Warren Buffett

This edition of The 5 Minute WrapUp is authored by Rahul Shah (Research Analyst).
Today's Premium Edition.
AU Small Finance Bank IPO - Our View
Despite promising fundamentals, this small finance bank appears to be priced for perfection.
Read On... | Get Access
Recent Articles