What Buffett's Recent Buys Tell Us about the Prospects of Indian Small Caps
Jun 28, 2017
In this Issue:

» Pitfalls of Herd Mentality
» Bankruptcy Law, a losing proposition
» Market Update
» And more...
Berkshire Hathaway has consistently earned 20% for the last 51 years, doubling the S&P 500's 10% returns during the same period.
It's an amazing accomplishment. Yet Warren Buffett still openly rues the fact that his company's size prevents him from betting on small companies, where wealth multiplying opportunities are even better...
It's a huge structural advantage not to have a lot of money. I think I could make you 50% a year on $1 million. No, I know I could. I guarantee that.

The universe I can't play in has become more attractive than the universe I can play in. I have to look for elephants. It may be that the elephants are not as attractive as the mosquitoes. But that is the universe I must live in.
Berkshire's last big deal - the US$32 billion acquisition of Precision Castparts Corp - was completed in 2015.
But now, two years later, sitting on US$100 billion in surplus cash, and in the absence of attractive large deals, small businesses no longer seem to be off the table for Berkshire Hathaway.
Sensing an attractive value proposition, Warren Buffett recently invested in two small businesses. One a US$377 million deal with Store Capital Corp, a real estate investment trust focused on health clubs and preschools. The other company is Home Capital, a home financing company facing some regulatory problems.
Unsurprisingly, the stock prices of both companies soared after the deal announcement. But with limited opportunities, this must have seemed the most sensible path forward for Buffett and Berkshire.
Warren Buffett's reputation of investing in undervalued stocks and riding on them is well known.
The situation in India is not much different. Given their heady valuations, most well-known Indian companies are necessarily off the radar of a typical value investor.
The real opportunities today are in lesser-known - but blooming - businesses that are likely to do well with the structural changes unfolding in the Indian economy.
Richa, managing editor of Hidden Treasure, knows this too well:
If you are relying on the so-called bull rally to make your millions, you could be heading for trouble. Sooner or later, investors will come back to their senses and dump companies that don't offer value. The real money-making opportunity in these markets is in lesser-known stocks.

...

Demonetisation was just the beginning. Accounting norms are likely to become clearer and stricter for all, and tax evasion will be more difficult. Meanwhile, India is expected to take further steps in the direction of a cashless economy. With GST close on the heels, the story of India, for listed small companies, has become better at the cost of the unorganised segment.
Driving the returns of these quality small caps won't be the growth story, but the re-rating potential (once a big investor gets in and more people get interested in the stock).
So the key is to identify these companies before the big investors. It is equally important to avoid unknown companies at frothy valuations, as you are now operating in the most risky and volatile zone in equity investments.
The hidden growth potential of these lesser-known companies, if harnessed at the right time, could offer multibagger returns. A doubtful proposition for the illustrious larger companies.
Editor's note: Richa and her team recently recommended a small-cap company to their Hidden Treasure subscribers. It's unlikely you've heard of this company, but it's well placed to benefit from the outsourcing trend in a niche industry (hint: it's not IT). Refer to their recommendation report to know more about this actionable opportunity.
02:30

Chart of the Day

In a recent move, the Oracle of Omaha, Warren Buffett acquired stake in home financing company, Home Capital Group Inc. However, the company has struggled to maintain its reputation. The regulator recently accused the company of extending loans to dozens of people who had falsified documents. Post the regulator's accusations, the stock fell by 80%.

Nevertheless, Buffett endorsed the company stating that it had strong assets which makes it a very attractive investment. However, it is pertinent to note that Buffett entered the stock through a private placement at a considerable discount resulting in intra-day gains of around 90%. Getting Buffett on board, the company tried to restore its credibility.

Post the Buffett stamp of approval, the stock rose as much as 18%. However, historically it is seen that following Buffett blindly does not bode well for the investors. Buffett's earlier picks, Goldman Sachs and Bank of America, acquired during the financial crisis have given below par returns to the shareholders.
Stocks that Failed to Live up to the Buffett Magic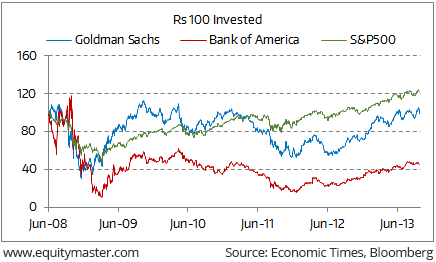 Therefore blindly following investment gurus can backfire at times.
Over the last few months, my colleagues Rohan Pinto and Kunal Thanvi have put in a lot of efforts in meeting and seeking the process followed by super investors of India. They do not blindly recommend the stock picks of these fund managers. Rather they follow the process which is being used by these super investors.
They have developed a proprietary filtering tool, Equitymaster's Smart Money ScoreTM, to narrow down the stocks these gurus are investing in to the creme de la creme.
Their goal is simple. Catch these super investors early in action. Use the smart money tool to filter out the best stocks they are buying. And if the stock has sufficient upside, recommend it.
Their first Smart Money Secrets recommendation - in which super investor Ashish Kacholia, not to mention DSP Blackrock Microcap Fund, have increased their holdings - is already up about 7%. Nearly three thousand have already signed up. You can get access to Smart Money Secrets here.
Reserve Bank of India's (RBI) new directive to set aside provisions of at least 50% of the loan amounts for accounts referred to bankruptcy courts has set the cat among the pigeons.
The new bankruptcy code aims at speeding up the bankruptcy proceedings by resolving the matter within a period of 180 days. As per the data provided by World Bank, it takes around four long years to resolve an insolvency matter in India. Thus, the new law is likely to expedite the recovery of bad loans.
However, it seems that the bank will have to pay a hefty price in the form of higher provisioning to ensure a faster recovery of bad loans.
This could be a big blow for the banks who are opting for bankruptcy proceedings. Their profitability could come under pressure as they set aside money to provide for higher provisioning. As banks get wary to initiate bankruptcy proceedings against errant borrowers, the efficacy of the Insolvency and Bankruptcy Code to resolve bad loans has come under scanner.
Indian equity markets opened the day weak and further slipped in the red. At the time of writing, BSE Sensex was trading lower by 103 points and NSE Nifty was lower by 21 points. Both the mid cap and small cap indices are trading down by 0.2% and 0.1%, respectively. Stocks from the realty and metal sectors are trading in the green.
04:56

Investment Mantra of the Day

"Whether we're talking about socks or stocks, I like buying quality merchandise when it is marked down." - Warren Buffett

This edition of The 5 Minute WrapUp is authored by Madhu Gupta (Research Analyst).
Today's Premium Edition.
Sensex Near All-Time Highs: A Quick Sanity Check
A trading stock should not become a long-term holding simply because of unfavourable price movements.
Read On... | Get Access
Recent Articles