How I Knew Cox and Kings was a Disaster Waiting to Happen
Jul 1, 2019
Finally, it happened.
Travel and tour company Cox & Kings (C&K) defaulted on the payment of commercial papers due to cash flow mismatch.
In addition, the company saw rating downgrades.
This sudden default hasn't been surprising at all. This was in the making for the last few years. I identified the failure pattern of the business in 2016.
In the premium edition of The 5 Minute WrapUp, this is what I wrote about Cox and Kings...
To expand and grow business, C&K implemented an acquisition-led growth strategy. These acquisitions were funded by debt and C&K paid a premium to acquire various companies.
Acquisition-Led Growth Strategy
| Name of Subsidiary (Acquired company) | Country of origin | Year of Acquisition | Consideration |
| --- | --- | --- | --- |
| East India Travel Company Inc | United States | FY10 | US$22 million |
| Quoprro Global Limited, UK | United Kingdom | FY10 | Rs 2.2 million |
| MyPlanet Australia Pty Ltd | Australia | FY10 | The consideration based on earn-out mechanism |
| Bent ours International Pty Ltd | Australia | FY10 | The consideration based on earn-out mechanism |
| Holidaybreak Ltd | United Kingdom | FY11 | 323.4 million pounds |
| Meininger Travel Holdings Gmbh (24% Stake) | Germany | FY13 | Increased stake upto 74% (Holiday break already owns 50% stake) Rs 2.48 billion for 24% stake |
| Meininger Travel Holdings Gmbh (26% stake) | Germany | FY14 | Rs 2.56 billion for 26% stake |
| Laterooms Group | United Kingdom | FY15 | 8.5 million pounds |
Source: Annual Report
What is the impact of acquisition-led growth?
Well, let the numbers speak for themselves.
The Impact of Aggressive Acquisition
| Key Ratios | Before aggressive Acquisition (FY10) | After aggressive Acquisition (FY16) |
| --- | --- | --- |
| Adjusted EPS (Rs) | 10.6 | 3 |
| PAT Margin (%) | 33.8 | -0.1 |
| ROE (%) | 26.2 | -0.3 |
| ROCE (%) | 22.6 | 6.4 |
| Total Debt/Equity(x) | 0.6 | 1.7 |
| Interest Coverage | 7.9 | 1.6 |
Source: ACE Equity
Debt-funded acquisitions have implications.
First, the debt-to-equity ratio shot up to 3.92 in FY12, and in FY16, it stood at 1.7.
Not only did this impact profitability, but return ratios began to collapse as well. Similarly, the interest coverage ratio stood at a thin margin of 1.6x.
In FY16, C&K reported a net loss of Rs 80 million.
This is mainly a result of the goodwill write-off of Rs 7.47 billion from the sale of businesses. Goodwill impairment charges don't hurt current year cash flows, but these charges are a clear indication of the management's past mistakes.
Selling Begins...
Name of Subsidiary (Selling company)
Country of origin
Year of Selling
Consideration
Profit/Loss
Holidaybreak Limited- Camping Division
United Kingdom
FY15
89.2 million pounds
Net loss of Rs 2.02 billion
Holidaybreak Limited- Explore Worldwide adventure travel division
United Kingdom
FY15
25.8 million pounds
Net Loss of Rs 3.03 billion
Late Room UK Ltd
United Kingdom
FY16
20 million pounds
Holidaybreak Limited- Superbreak business
United Kingdom
FY16
9.25 million pounds
Source: Annual Report, Equitymaster
An acquisition-led growth strategy has limitations. One cannot indefinitely use debt to acquire companies at a premium.
No wonder, Cox & Kings share price has lost 87% since 2018 and fallen 78% since the beginning of this year.
Sure, the travel & tourism industry has a great runway for growth ahead.
India is likely to become the third-largest tourism economy in the next 10 years. Not to mention, all the key triggers are in place for this industry to take off.
Rising disposable incomes. A rapidly expanding the middle class. Urbanisation. Easy access to technology. The expansion of budget airlines.
However, to ride this industry tailwinds, your side-car investing journey has to be in the company with a strong track record, ethical management and strong financials.
Otherwise, it could lead to an unfortunate accident.
Happy and Safe Investing!
Chart of the Day
The stock of Cox & Kings has been a falling knife in the last few years. The stock is down more than 80% in the last 5 years.
Whereas, the stock that we recommended in Smart Money Secrets has been a consistent performer.
Just look at the chart below.
Divergence in Stock Performance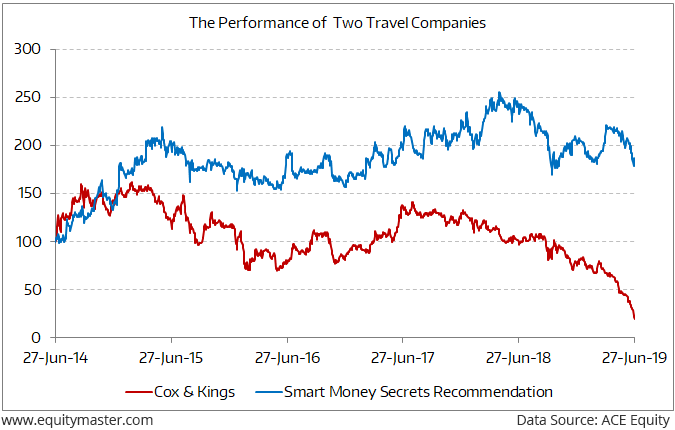 In Smart Money Secrets, we prefer companies which are run by excellent management, showing prudent capital allocation, businesses which have scalability, and a competitive advantage.
We recommended one such travel company last October.
Why this particular company?
Strong brand name, market leadership, great runway for growth, run by professional management, low capex requirements, and the ability of the company to generate free cash flows are some of the reasons.
With the recent market correction, the stock is available at reasonable valuations.
Warm regards,


Sarvajeet Bodas ,
Co-editor and Research Analyst, Smart Money Secrets
PS: Sarvajeet Bodas and Radhika Pandit, co-editors of Smart Money Secrets, have recommend an exciting stock from India's booming travel and tourism sector. If you haven't subscribed to Smart Money Secrets yet... you can do so here.
Recent Articles