You Won't Lose Your Job to a Machine at This Company
Jul 3, 2017
In this issue:

» Rise in Foreign Direct Investment Augurs Well for India
» GST Has the Potential to Draw out Few Big Winners in the Long Run
» Market roundup
» ...and more!
Last week, my colleague Sarvajeet and I visited companies in the southern part of the country.
It was a long trip and we covered some ground on many small companies. Two of them were banks.
However, today I want to tell you about an amazing manufacturing facility that eats and breathes automation.
Now, robots and automation have their own set of opportunities and threats. The general sentiment is negative as automation could mean fewer jobs. However, that is not always the case.
It is possible for automation to increase productivity and efficiency while maintaining the human workforce. At least, this is true for at the company we visited recently.
Against a backdrop of heavy rains and lush greenery, I was excited to meet an owner-operator who has the two qualities I seek in a management: unconventional and passionate.
The world may love him or hate him for his extreme enthusiasm and unorthodox methods. But we see an 'intelligent fanatic' at work.
After a fascinating two-hour conversation with this Intelligent fanatic, we were permitted to visit the plant, which is a real marvel.
It's spread over thirty-six acres. To achieve higher efficiencies and productivity, the company has backward integrated its operations.
We were blow away by the high level of automation. All operations are either fully automated (robots working in place of humans) or require minimum human intervention.
The high level of automation has rationalized the workforce to a great extent.
We talked to some workers at the plant. Here's a conversation with one of the machine operators:
Kunal: How do these machines and robots help the company?
Operator: Sir, the old machinery needed eight employees and had lower output. This fully automated machine just requires one employee and the output is way higher.
This was strange coming from a machine operator in an age where machines are eating up jobs. In general, employees resist automation. But that's not the case at this company.
Automation is increasing productivity at each level of the company. Yet the company has not laid off any employees on account of automation. All it has done is decreased its employee cost by increasing the productivity and efficiency.
The speed and precision with which the company manufactures goods has helped it gain standing in the global market. It has received many awards from its global customers for its quality goods and timely delivery.
At Smart Money Secrets, we look for companies that have an advantage over the competition that is difficult to replicate. With automation, this company has not only kept domestic competitors at bay; it has also outpaced global other manufacturers in terms of quality and precision.
This has also helped the company achieve industry best profitability. It commands operating margins that are almost double its competitor in India make. In fact, it has gone debt free this year and is planning to double capacity in the next two to three years
But here's the best part: One of our Super Investors recently increased his stake in the company. We are in the process of running the company through our comprehensive Smart Money ScoreTM (Subscription Required) proprietary filtering system.
Will the company become a Buy?
Stay tuned for the results...
03:10

Chart of the Day

Foreign Direct Investments (FDI) plays an important role in the economic development of a country. It is a source of long term capital that helps build critical infrastructures in the economy. It also aids in technology knowledge transfers, fosters innovation and helps raise productivity too. In short, having a steady flow of FDI inflows would help India to achieve necessary investments that will help accelerate economic growth and development.

In addition, the inflows acts as a catalyst for domestic industrial development. Since 2014, the Modi led government has laid a great emphasis on welcoming global best practices to be employed in India.
Rising Foreign Direct Investments Augurs Well for India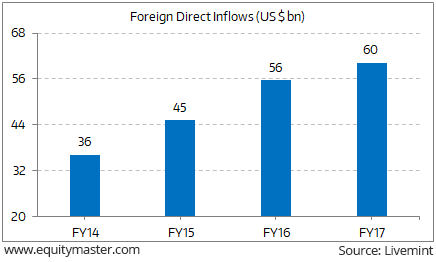 The government began this with the launch of 'Make in India' initiative in September 2014. Further, the government has carried out FDI reforms in sectors like rail infrastructure, defence and in financial sector, medical devices and construction sectors etc.
In addition, initiatives such as introduction of composite caps in the FDI policy and raising the FIPB approval limit were also undertaken to promote ease of doing business in the country.
All of this has meant ever rising inflows of FDI into India. FY17 saw the highest inflows at US $60 billion in the past four years. It will be crucial for the country going forward to maintain this momentum of inflows to help drive the economic development of the Indian economy.
After many speculations about the requirement to defer the implementation of the Goods and Services tax i.e. GST, the government has finally gone ahead and implemented GST across the country. This has resulted in some extreme polarization of views regarding the effectiveness and impact of GST on the Indian economy.
While the long term view is that the country will benefit from the simplified tax regime, the short term is expected to be chaotic and a bumpy ride. There is a sense of negativity on the impact of GST in the short run. We too think there is bound to be short term pain in the markets as far as GST is concerned.
However, we believe it is one of the biggest structural reforms to be implemented in the Indian economy. It will also provide a level playing field to the organised players from sectors with a high proportion of the unorganized segment. In fact, there is a total change in the economy expected fundamentally. The transformation of our tax regime has the potential to create few big winners in the long run. The markets don't seem to be factoring all of this while they are evaluating some businesses.
In the long run, the country's economic development will depend on not only one factor i.e. GST, but also the incremental changes that the government has brought into the country. Be it crackdown of black money, Real Estate Regulatory Act, Benami Transactions Act, demonetisation of high valued currency notes, etc. These cumulative changes over the long run is akin to collecting a snowball and letting it roll down a high mountain top.
After opening the day on a strong note, share markets in India have continued their upward movement. All sectoral indices are in the green with FMCG stocks and consumer durables stocks leading the pack of gainers.
The BSE Sensex is trading higher by 160 points while the NSE Nifty is trading higher by 45 points. The BSE Mid Cap Index and BSE Small Cap index opened the day up by 0.3% & 0.2% respectively.
04:55

Today's Investing Mantra

"I insist on a lot of time being spent, almost every day, to just sit and think. That is very uncommon in American business" - Warren Buffett
Today's Premium Edition.
It's Time to (Finally) Get Serious about Cybersecurity
A virtual attack halted operations at India's largest container port in Mumbai. You could be the next target...
Read On... | Get Access
Recent Articles