Has A Bank Ever Told You Its Deposits are Riskier than Stocks? These Should Have...
Jul 3, 2018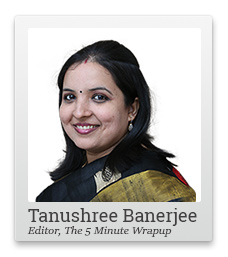 The value of your fixed deposit in ABC Bank crashed by 95% at today's closing prices.
Has your bank ever sent you such messages?
Do you find the idea ridiculous?
Well, not if you expect your bank to be completely honest with you. And believe that it should worry about its own bankruptcy.
Today, more than half the public sector banks do not have the capital to pay back depositors.
Believe it or not, the losses of these banks are several times the value of the deposits they owe you. And if they must shut down, they could simply not repay depositors. Unless the government makes good their losses and capitalises them.
So, left on their own, they might have to mark down the value of deposits by 90% to 100%.
In that case, your banker would have to tell you about a crash in your fixed deposit value, like your broker tells you about your stocks.
Reminds you of the crash in smallcaps, doesn't it?
The problem is that we think about stocks and fixed deposits very differently.
We take it for granted that stocks are perpetually at high risk, for their returns are not guaranteed.
And the guaranteed return from fixed deposits makes us complacent about their risk, especially if the deposit is in a public sector bank!
--- Advertisement ---


How Would You Feel if We Said…

You can now access cherry picked investment ideas from 8 of our most premium services that others pay Rs 314,000 per year for full access per year…

By paying JUST Rs 950 per month...

Now we know some will find this difficult to believe…and as a result may miss out this opportunity of a lifetime.

But if you are serious…

Here are full details of this extremely lucrative opportunity…
------------------------------
If you remember, I asked this question in an issue of the Wrapup earlier this year.
Are the Stock and Deposits of State Bank of India Equally Risky Today?
The deposits of State Bank of India (SBI) enjoy a sort of sovereign guarantee. So, they are considered the gold standard for a low risk asset in India.
But is that true for every public sector bank? And should you blindly assume that your deposits in them carry no risk?
Well, you won't, if you take a look at this...
Banks on the Verge of Bankruptcy
Data source: Companies
11 out of the 21 public sector banks in India have net non performing assets (NPA) higher than or almost equal to their networth. In an ideal case, their depositors would be warned and the entities would be wound up. Offering deposits in the garb of safe assets, in near bankrupt entities, is mis-selling.
If this was the case with a private sector non banking entity, you would have voluntarily given up the idea of getting your deposits back. Or at least tried to redeem them as soon as possible. But these banks - with blessing of the government - manage to keep depositors in the dark.
So when you think of risk, make sure you don't rule out asset classes.
Even the seemingly safest ones could carry a high degree of risk. And even the much-feared ones, like stocks, could, in fact, be a safe haven.
Black Swan author, Nicholas Taleb says that anyone who survived in the risk-taking business lives by a version of Warren Buffett's sermon 'in order to succeed, you must first survive'.
Taleb's version is...never cross a river if it is, on average, four feet deep.
Mine is...to finish first you must first finish.
Which is why I look for a big margin of safety even in risky asset classes like stocks. And having recommended safe stocks for over a decade, can confidently tell you, that the risk of losing money in them is less than that of deposits of some banks.
So, dispel the myth that bank deposits do not carry risks. Check if your bank is telling you the truth.
If you still aren't convinced, ask yourself if the best stocks (bought at their best valuations) are really as risky as bank deposits, over the long-term. Just look at that NPA data again.
To finish first and to finish your investing journey well, embracing Safe Stocks for the long term, is the way to go.
Chart of the Day
Ask an average Indian investor about the next best thing after safe bank deposits. I can bet they would tell you about LIC policies. For generations Indians have treasured LIC policies in their safe deposit lockers like their gold and fixed deposit receipts.
Life Insurance Corp. of India (LIC) meanwhile, has been acting like the government's ATM for years. It has bailed out public issues of scores of PSUs. And helped the government milk by buying a majority stake in several state-owned lenders. The latest attempt to bail out the troubled IDBI Bank is a classic case of the state insurer buying toxic assets.
In fact, given the high stakes that LIC owns in the most troubled banks, the government needn't even consider the proposal of setting up a 'Bad Bank'. It could just turn LIC into one. At least then the investors owning investments in LIC policies, would know the real risk they carry
LIC - The Default Bad Bank?
Warm regards,



Tanushree Banerjee (Research Analyst)
Editor, The 5 Minute WrapUp
PS: Every day the markets are open, Ankit Shah cherry picks one idea from our 8 premium publications, the one he considers the best moneymaking opportunity. He shares this one idea with an exclusive group of readers on his 'Insider' list. Today, you have the chance to join this exclusive group by clicking here.
Recent Articles