Gold is Rising but You Shouldn't Be Happy About It
Jul 3, 2019
Editor's note: Dear reader, today in The 5 minute WrapUp, I would like to introduce you to Vijay Bhambwani - the best trader I know. I can attest that his knowledge of the markets is second to none. Even better, he loves to share all the wisdom that has made him so successful. He writes to you today about the price of Gold...and what it means for you. I hope you enjoy reading this as much as I did.
---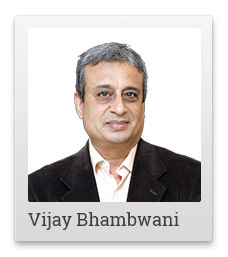 During the Second World War, there was a popular saying among the rich and powerful in England - when you hear the wails of the air raid sirens or the klaxons, buy Gold.
There was wisdom in this argument. For 3,000 years, mankind has taken shelter in gold. Both as a store of value and as an investment. Gold is not called "God's own currency" without a reason.
Let's get to something more recent, an event you will recollect - the world trade centre attacks on 9/11. Gold traded at sub US$ 275/ounce back then.
Here is what happened to gold prices in the aftermath...
US$ 290 four days later
US $ 277 a quarter later
US $ 324 a year later
US $ 383 two years later
US $ 640 five years later
What is my point?
I can give you anecdote after anecdote, whether it is the London bombings, or the govt in Cyprus confiscating its citizens money, or the ISIS entering the global terror scene...
---

Advertisement

---

An Opportunity to Build Wealth That Literally Lasts Generations…

There are 2 ways people can go about building their wealth in the coming years…

Run after the next hot stock and settle for tiny gains here and there.

Or bet on long-term stocks that could benefit greatly from the Sensex's rise to 100,000…and build wealth lasting generations in the process.

Our Co-Head of Research Tanushree Banerjee has identified 7 stocks that hold the potential to grow substantially in the coming years as the Sensex rises to 100,000.

Full details of these 7 stocks are included in Tanushree's special report.

Click here to know how you could get this report for FREE now…
------------------------------
Gold is the cave investors hide in, when the mind is overwhelmed with fear and alternate investment ideas run out.
The Indian investor in gold is a breed apart. He must contend with the local currency peg as well. It's a well-known fact that the INR has a history of depreciating between 3.5% to 5% per annum on a long period average (LPA) basis. Every time the INR falls versus the Dollar, gold rises on currency considerations alone. This is why gold is off its peak in Dollar terms but it's near lifetime highs in INR. Any further depreciation and gold rises.
Let's take a look at the kind of data we are getting of late...
The M3 money supply (broad indicator of bank deposits of all types of accounts, currency notes, coins and trade receivables) has shrunk from 10.5% to 10.1% in a fortnight alone. The Bank deposit growth rate has fallen to single digits at 9.9% last week. Depositors are clamping up as interest rates fall. Look at the Indian 10-year benchmark bond yields. It has fallen to levels below 7%. People are willing to sacrifice capital appreciation for the comfort of central government guarantee.
This risk aversion indicates resistance on the part of investors to deploy their capital in high risk securities. Naturally gold which stood the test of time for 3,000 years, comes to mind as top of the mind recall.
There is another aspect as well - The ongoing trade wars and Brexit.
While a decline in cross border trade is the natural fallout, governments of the day have learnt lessons from financial market history. The Southeast Asian currency crisis of 1997 saw local currencies crashing against the US dollar and Central governments reaching the brink of bankruptcy.
Their overseas debt suddenly became unsustainable because of the currency collapse. This time around, the central governments want a gold buffer to keep their currencies strong. So the central banks of China, South Korea, India, and Singapore among others are adding gold to their balance sheets by the tons.
Now this points towards a nationalised or an internationalised fear factor. The magnitude is gigantic. If you take the micro view, gold is going up. That's good for gold buffs.
But the macro view is that sentiments across nations are taking a hit. This means your portfolio of other asset classes will probably erode in value.
Even safe havens like fixed income will yield lower returns. Remember, central banks around the world try to keep economies buoyant by cutting interest rates.
Look around you, that exactly what's happening today. America, Asia, Europe, the Pacific... To my seasoned mind, that's an admission of weakness in the economies across borders.
When I watch the gold price rising on my trading terminal screens, my mind's eye visualises the air raid sirens and the klaxons wailing loudly about the impeding attack.
Only this time, the target will be financial assets.
Have a profitable day.
Warm regards,

Vijay L Bhambwani
Editor and Research Analyst, Weekly Cash Alerts
PS: Dear reader, Tanushree believes this is the right time to buy the best 7 stocks in the market before they run up. Read more about these 7 stocks here...
Recent Articles