My First Tryst with GST
Jul 4, 2017
In this issue:

» Manufacturing slows to a 4-month low
» Fresh investment declines in the June quarter
» ...and more
Yesterday evening, I left the office for my usual evening tea.
As I handed the receipt to the cashier, he stopped me.
'Sir, you would have to pay a few bucks more from today,' he whispered apologetically.
It didn't take long to figure out what was going on. 'GST?' I asked. He nodded.
Woah...
In one fell swoop, my monthly tea budget shot up 18%.
'But no, something is amiss,' I said to myself. GST can't be this inflationary.
This restaurant has an air-conditioned section, which I have frequented before, and I do remember paying a 6% service-tax in there.
But yesterday I had my tea outside, in the standing section, and I don't remember paying service tax there before.
At least, it is not mentioned in the bill separately.
Part of the mystery was resolved when I read that all restaurants classified as air-conditioned will have to pay 18% GST, irrespective of whether you eat in the comfort of an AC or not.
However, I still wondered why I wasn't charged service tax before...and now, suddenly, this 18% charge.
Hmm...could it be that the owners didn't report revenues from patrons who consume outside and don't sit in AC?
Could indeed be the case.
This experience, coupled with stories I have been hearing and reading, is making it abundantly clear that underreporting and cheating won't be easy in the GST era.
And if the unorganised sector will be forced to report and pay taxes on everything they sell, the price differential with the organised sector is really going to narrow, giving a big boost to the latter.
This is perhaps why - when most of us are nervous about the roll out of this big-bang reform - stock markets are surging. They were up yesterday and they are up today as I write.
Are they ignoring the near-term uncertainty and focusing on the long-term benefits for a change?
And make no mistake, the long-term benefits could be huge. The more organised or formal an economy gets, the more its productive capacity goes up. Its workforce gets more skilled and the total intellectual and physical capital goes up.
After all, it doesn't take a genius to figure out that when you need to paint your house, you are more likely to use paints from Asian Paints or Berger Paints instead of a small paint factory in your town.
Your neighbourhood grocery store or the local baniya will never be able to offer the variety and convenience of Amazon or a Flipkart.
All of this is formalisation in action. Formalisation is good for the economy, good for consumers, and good for the government too. In fact, it is a long-term positive for all stakeholders. And if everyone benefits, stock markets can't be far behind.
The process, however, certainly won't be glitch-free. There will be pain in the short term as the informal economy could see job losses and decreased demand.
Besides, underestimate Indian jugaad at your own peril. People could use all sorts of tricks to game the system and resist change.
However, the optimist in me strongly believes the positives will far outweigh the negatives in the long term...even if I have to pay more for my evening tea.
02:30

Chart of the Day

Meanwhile, more pessimistic news on the manufacturing front.

The growth in India's manufacturing sector fell to a four-month low in June amidst a slowdown in new order and production ahead of the implementation of the goods & services tax (GST). The Nikkei India Manufacturing Purchasing Managers' Index (PMI) slipped to 50.9 in June from 51.6 in May. A reading above 50 implies an expansion, while one below 50 denotes a contraction.
Manufacturing PMI at Four-Month Low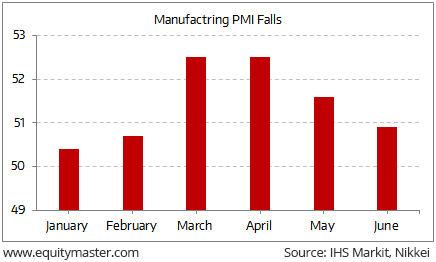 PMI data highlighted a slowdown in growth across India's manufacturing sector during June. As per the survey report, challenging economic conditions, water shortages and the implementation of the GST reportedly hampered growth.
However, this is not surprising given the way businesses were struggling with the GST implementation. As the 1 July deadline approached, there were reports of destocking and supply-chain disruption in various sectors. Thus, an adverse impact on production cycles was largely expected.
On a brighter side, the PMI survey showed strong foreign demand for Indian-manufactured products in June. With the impact of demonetisation largely over, Pollyanna De Lima, Economist at IHS Markit and the author of the report, does not expect GST to derail consumer spending and has forecast real GDP growth at 7.3% for 2017-18.
In line with the June month PMI, fresh investments fell sharply in the June quarter of FY18. According to the statistics collated by research firm CMIE, Indian firms announced only 448 new projects, of an aggregate investment of Rs 1.35 lakh crore, in the June quarter. This was far lower than the average quarterly announcements of Rs 2.2 lakh crore seen in the past three years. Similarly, the aggregate value of projects scrapped in the June quarter was Rs 2.4 lakh crore. This figure was just Rs 35,000 crore during the March quarter.
It is important to note that fresh investments are a good indicator of the confidence of companies, both in the private and public sectors.
When we met a couple of private sector banks in South India, a common response was:
There is no demand for credit, at least in the manufacturing and the core sector - there are no fresh investments.
No wonder, growth in bank credit in FY17, at 5.1%, has turned out to be the slowest in over 60 years.
Besides, banks are focusing on resolving stressed assets in the steel, power and telecom sector, instead of lending to new projects.
Vivek Kaul highlights this issue in his diary:
As of March 2017, the gross non-performing advances ratio or the bad loans ratio for banks stood at 9.6 per cent. This basically means that for every Rs 100 of loans lent by banks, Rs 9.6 was not being repaid by the borrowers. A loan is categorised as a non-performing advance once the repayment from the borrower has been due for 90 days or more.

In comparison, the gross non-performing advances ratio had stood at 9.2 per cent in September 2016. Over a period of six months, the ratio has jumped by 40 basis points. One basis point is one hundredth of a percentage.

Given that nearly one-tenth of the bank loans have been defaulted on, it is safe to say that Indian banks on the whole are in a generally precarious position. The situation becomes even more bleak if we look at the government owned public sector banks.
The biggest multiplier effect in the economy will come from the revival in private sector capex and for that, capacity utilisation must improve. While the hope is that a good monsoon would lead to better consumption demand, which would lead to better capacity utilisation across industries, one will have to first wait and see how good it is. Any impact will only be felt around the festive season.
Indian stocks traded marginally lower today with the Sensex lower by 33 points at the time of writing.
The BSE Mid Cap and Smallcap indices, however, were trading slightly higher and were placed higher by 0.1% each. Gains are largely seen in energy stocks, metal stocks and realty stocks.
04:55

Today's Investing Mantra

"The stock market is a no-called-strike game. You don't have to swing at everything - you can wait for your pitch." - Warren Buffett

This edition of The 5 Minute WrapUp is authored by Rahul Shah (Research Analyst).
Today's Premium Edition.
Six Simple Steps to Stay Safe Online
Securing your online presence could mean the difference between safeguarding your savings and seeing them wiped out by a cyberattack.
Read On... | Get Access
Recent Articles