The Trade to Make the Most of India's US$ 5 Trillion Potential
Jul 4, 2019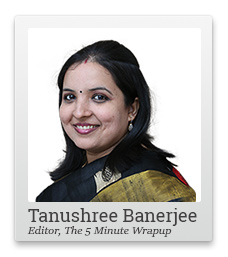 For Dr Manmohan Singh, they were banking, inflation and jobs.
For Yashwant Sinha, Jaswant Singh and P Chidambaram they were human capital, banking and jobs.
For Pranab Mukherjee they were inflation, human capital and environment.
And for Arun Jaitley, they were jobs, human capital and infrastructure.
Wondering what am I referring to? These were the most oft-repeated words in the Budget speeches of ex-Finance Ministers, since 1991.
Special: Your Chance to Witness a Rare Investing Opportunity Ends in 2 Days
Any guesses which word could be most repeated in Nirmala Sitharaman's Budget speech on July 5?
Of course, apart from the popular terms like jobs and infrastructure.
My guess is it could be India's '5 trillion dollar economy'.
---

Advertisement

---

Our Most Successful Summit EVER

We are glad to inform you that this time we break all our past records.

10,064 people watched Richa Agarwal's One Stock Crorepati Summit LIVE.

At the Summit, Richa talked about some stocks that have made a select group of people Crorepatis. They invested in just one stock and ended up becoming Crorepatis in the long run.

At the Summit, Richa also revealed her formula to identify such potential RARE stocks.

Plus, she also released her special report, 'One Stock Crorepati: How to Get Rich With This Little-Known Indian Stock'.

But what does surprise us is that you missed it.

Anyway, you are in luck…

We've arranged for you to watch the recording of the MEGA Summit right now…

Not only that…you can claim all the benefits you have missed.

But you must hurry…because this recording can be pulled back at any moment.

Watch now…
------------------------------
Simply because, the promise of economic revival of the current government rests on its plan to get India to a US$ 5 trillion economy by 2024. So, reform measures, within or outside the Budget will be focused on this ultimate goal.
Not that the goal will be easy to achieve. GST, Jandhan, Aadhaar, Digitisation and Bankruptcy Act could become the pillars to lay the foundation of a US$ 5 trillion economy.
But to double India's GDP within five years, the government will have to be on an overdrive rather than resting on its laurels.
India must sustain the feat of being the world's fastest highway building economy. This could revive infra lending and create jobs. It could improve capacity utilization in other sectors. And make the Rs 100 lakh crore infrastructure outlay plan more feasible.
Reforms in agriculture and building infrastructure across the agriculture value chain would be necessary to address the biggest pain points of the economy.
The direct tax mop-up in fiscal 2018, at 6% of GDP, touched a decadal high. But increasing India's tax payer base consistently would be necessary to rid the economy of fiscal paralysis.
Improving Taxpayer Base Necessary for a US$ 5 Trillion Economy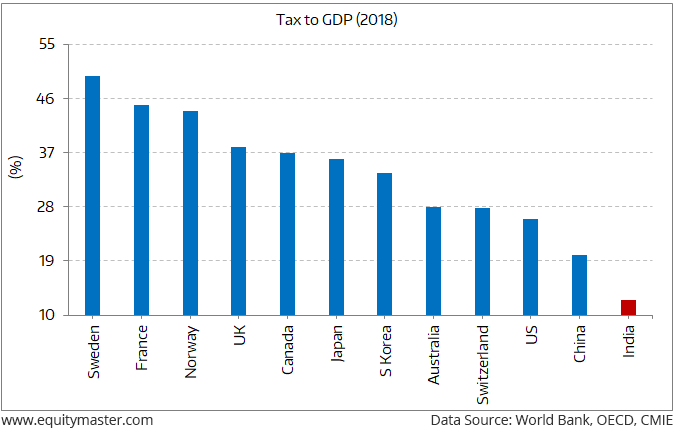 That's not all.
Pulling the financial sector, particularly NBFCs and PSU banks, out of the bad debt mess will be one of the toughest task to move towards the US$ 5 trillion goal. The Bankruptcy Act could make the cleanup faster. But it would also mean big jolts for real estate and other debt laden sectors.
The corporate earnings growth necessary for a 5 trillion economy cannot come without innovation. The push towards innovation will have to be backed by adequate capital from private sector and foreign investors.
Last but not the least, the need to address India's defence modernization is imperative. As is pollution control. Especially if the economy must move into a new orbit. Manufacturing defence equipment in India and shift towards electric vehicle will need persistent efforts on the part of the government.
It is certainly wishful thinking to believe that all these goals would be seamlessly achieved. Or that India's GDP would be perched above the US$ 5 trillion mark by the next elections.
But I believe being anchored to India' GDP goals could be the biggest mistake that stock market investors could make.
You would rather focus on the plan, progress and execution.
To put it differently, it is neither the upcoming Budget nor the timeframe for India's US$ 5 trillion GDP goal that should worry you.
Instead look for stocks that could be the biggest beneficiaries of the economic tailwinds over the next five years. Be it manufacturing, agriculture, defence or even financial sector cleanup, a few businesses will stand head and shoulders above the rest.
And buying those stocks as and when the stock markets goes through temporary turbulence could be your best wealth creating bet. Not just for the next five years, but possibly for a lifetime.
Long term foreign investors are already recognizing and acting on this opportunity. Since 2014, the Sensex rose about four times the MSCI Asia-Pacific Index, one of Asia's major indices. So, pension funds coming into Indian stocks over the next five years could be a multiple of the past.
This is an opportunity to act on what I am calling the Rebirth of India. Something that investors seeking to create permanent wealth for a lifetime simply cannot afford to miss.
And to get started with this very long-term trade on India's US$ 5 trillion potential, here are seven stocks to act on immediately.
Warm regards,



Tanushree Banerjee
Editor and Research Analyst, The 5 Minute WrapUp
PS: Dear reader, Tanushree believes in 10 years, India could emerge as a global economic power. The Rs 5 trillion dollar economy will be an important milestone on that journey. To find the top stocks to buy on this journey, click here.
Recent Articles