Would Buying Coke Along with Warren Buffett have been a Good Idea?
Jul 5, 2017
In this issue:

» Increasing Drug Approvals by USFDA
» Mark Faber's Prediction of a Financial Crisis
» ...and more!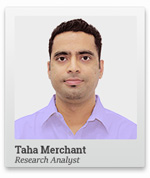 Warren Buffett probably talks about his investment in The Coca-Cola Company more than any other.
Coke had been dominant for decades. It had an iconic brand that consumers loved. It had a highly efficient global distribution network, a highly profitable business, and a strong management to boot. Its fundamentals ticked all the right boxes.
The 1987 market crash brought Coke stock down, and that was the clincher. Buffett loaded up...and how.
He invested about US$1 billion in early 1988. This meant snapping up 6.2% of the company's shares, making it a star in Buffett's portfolio and his largest holding.
What followed over the next ten years has become legend. From US$2.4 at the start of 1988, the stock shot up to US$44 by mid-1998. For other investors, Coke's allure wasn't just the massive gains but Buffet's conviction and the extraordinarily large position he took in this one stock.
The gains in the stock coupled with his big allocation to it meant that Coke turned out to be a game-changing experience for Buffett.
A Cherry Coke brandishing Buffett left no opportunity to tell tales of how wonderful the Coca Cola Company was. And reams of books have been written about his suave investment in Coke.
And it was. Until Buffett decided, perhaps due to size constraints, to adopt the 'buy-and-hold-forever' mould of investing. This implicitly meant ignoring subsequent valuations, whatever they may be.
During 1998-2000, Coke touched valuations of almost 100 times price to earnings. Buffett ignored.
Coke didn't hit those levels again for a good part of the next two decades.
Today, the stock is still at US$45...where it was in 1998 (and only very recently has it managed to claw back to this level). This is a compounded annual gain of about 10.5% since 1988.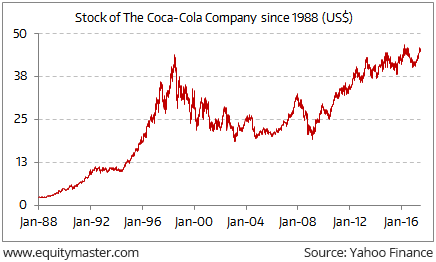 The chart shows the perils of buying and holding forever irrespective of valuations.
For even when the fundamentals of a company remain solid, the risk-reward odds for an investor constantly change along with the changing valuations of the stock.
Keeping a stock in your portfolio with a blind-eye towards its prices could lead to huge opportunity costs for an investor.
Even long-term investors need to keep an eye on valuations and reassess the odds from time-to-time.
Editor's Note: Our Benjamin Graham-inspired service Microcap Millionaires keeps an eagle-eye on valuations and is quick to book profits if a stock runs up too much too soon. Following this strategy since the service's inception in 2014 has beat the benchmark index by a factor of three to one. Become a Microcap Millionaire subscriber today.
02:30

Chart of the Day

Speaking of valuations, the BSE Healthcare Index is down 16.5% in two years. This is a mighty fall compared to the benchmark index, which is up 11% during the same period. A downgrade in the earnings estimates has led to a selloff in the pharma space, which has led to a contraction in the price to earnings ratio (PE) of the pharma index.

The PE ratio of the Nifty Pharma Index for a five year period stands at 46 times. This ratio has contracted to 35 times currently. The headwinds being faced by this sector, have led to such lethal contraction.

USFDA alerts on Indian pharma companies have increased over the past few years. Regulators used to visit the plants every two years. Now they come every eight months. Increasing inspections has led to a total of 41 import alerts in the past eight years - 33 of them (80%) in just the last four years (2013-16). This clearly signifies increased USFDA scrutiny on Indian pharma firms. If that wasn't enough, increasing pricing pressure in the generics segment has dented realizations.

In this dull scenario, there appears to be some respite as the USFDA has expedited the drug approval process. Drug approvals for Indian companies have gone up 50% in the period from January to June 2017 compared to the same period last year.
Expediting Drug Approval Process to be a Positive for Industry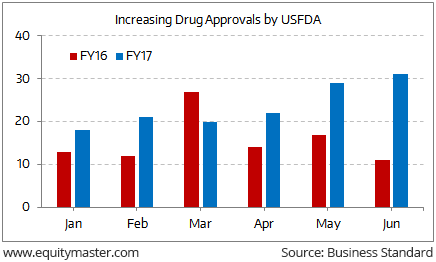 While short-term pain is expected, companies with strong R&D capabilities and compliant plants (subscription required) will do well over the long term. The uncertainties make it important to be stock specific in the sector. It is important to look for companies that have the competence and staying power to overcome the challenges facing the sector.
In the latest issue of The India Letter (subscription required), we have identified a pharma stock which we believe will outlast others in the long run.
Mark Faber - often referred to as also known as 'Dr Doom' for his bearish stance on the world economy - is predicting a near-term financial crisis. His call is based on the huge debt levels prevailing in the world economy. He says there is a credit bubble that will lead to inflated asset prices. And when this bubble bursts, there could be huge corrections in the prices of these assets.
Dr Faber is particularly bearish on US stock markets and expects a huge correction in the near term. This view comes at a time when the US stock market is in a great bull run and valuations have exceeded the 20-year median price to earnings ratio of 16.4 times.
In India, the benchmark index, S&P BSE Sensex, is trading at a price to earnings of 22.3 times. Valuations seem a bit stretched here too. Unless earnings pick up in the coming quarters, a correction to the index seems likely. In such times, it's important to be extremely disciplined about the businesses you buy. Compromising on quality could prove fatal.
At the time of writing the Indian stock market was trading marginally higher with the BSE Sensex up 35 points. While, the BSE Mid Cap index was trading higher by 0.8%. The stocks in the telecommunication space were trading in green while that in pharmaceutical space took a beating.
4:56

Investment Mantra of the Day

"Investors making purchases in an overheated market need to recognize that it may often take an extended period for the value of even an outstanding company to catch up with the price they paid." - Warren Buffett

This edition of The 5 Minute WrapUp is authored by Taha Merchant (Research Analyst).
Today's Premium Edition.
The Only Listed Cybersecurity Stock in India
Growing frequency and magnitude of cyberattacks could result in a tailwind for the cybersecurity sector.
Read On... | Get Access
Recent Articles