After Disappointing Budget, Here's a Document that Concerns Largecap and Smallcap Investors
Jul 8, 2019
The latest Union Budget was disappointing.
Market participants are clearly giving it a thumbs-down.
As I write, the Sensex is down nearly 500 points.
After the Modi government returned to power with a thumping majority, there were high hopes that the Budget would offer some bold plans and a clear roadmap to steer the economy to a high growth path.
But while the Budget seemed good in intent, it lacked content and action plans.
Live Now: One Stock Crorepati Summit. Click Here To Join...
At a time when the economy is facing serious challenges on multiple front - slowing growth, liquidity and solvency crisis in the NBFC sector, high unemployment, drying capital investments by the private sector, we needed more than just ideas and intentions.
After all, ideas are free. Execution is what really matters. If there's no clear plan of action, we're clueless about which way we're headed.
But there's more bad news for investors...
The Modi government has been introducing more and more taxes for stock market investors.
For instance, in the Union Budget 2018, the Modi 1.0 government punctured the bull rally by reintroducing long-term capital gains (LTCG) tax after 14 years.
Earlier, investors had a strong incentive to stay invested for the long-term. But that incentive nearly disappeared as short-term capital gains (STCG) are taxed at 15%, and long-term capital gains at 10% for gains above Rs 1 lakh.
Death Knell for Share Buybacks?
In the latest Budget, the Modi government has announced yet another move to draw more taxes from investors.
First, let me offer you some background...
Over the last three-odd years, many listed companies have changed the way they reward their shareholders. After dividends started attracting more taxes, more and more listed companies preferred the more tax-efficient buyback route to return cash to shareholders.
As reported by Business Standard, 171 companies have bought back shares worth Rs 1.33 lakh crore (1 lakh crore = 1 trillion) in the past three financial years.
Since I launched my premium newsletter Insider in 2017, I have been cherry-picking the best investing ideas for my readers. Among other investing ideas, I have been guiding my readers to take advantage of share buybacks using a lesser known SEBI regulation that gives a big advantage to small shareholders.
Many of my readers have made handsome gains by following my guidance on several buybacks including Tata Consultancy Services (TCS), Infosys, Wipro, Just Dial, and many more.
As I was perusing through the Budget Speech document on Friday, I came across a small paragraph that spelt bad news for buyback traders. Here's what it said:
Preventing tax abuse

In order to discourage the practice of avoiding Dividend Distribution Tax (DDT) through buy back of shares by listed companies, it is proposed to provide that listed companies shall also be liable to pay additional tax at 20% in case of buy back of share, as is the case currently for unlisted companies.
In other words, the Finance Minister has proposed to extend the buyback tax at 20% to listed companies as well.
Companies who distribute profits to their shareholders in the form of dividends pay the Dividend Distribution Tax.
What is the current rate of Dividend Distribution Tax?
The DDT rate is 15%. However, considering surcharge and education cess, the effective rate comes to 20%.
As such, the Finance Minister's proposal puts buybacks and dividends at par. So, the companies that had been carrying out buybacks may now go back to paying dividends as buybacks wouldn't offer the tax arbitrage they did before.
Overall, this is a negative for shareholders as the companies will have to bear the tax burden whether they choose the dividend or the buyback route.
Nonetheless, my readers are not worried because there's no dearth of money-making opportunities out there. In fact, last Thursday I recommended my readers to exit a winning trade with 34% gains in just nine days. (See more in today's Chart of the Day).
--- Advertisement ---
LIVE NOW: One Stock Crorepati Summit

We're LIVE now... Don't waste another minute...

Click Here To Join...
------------------------------
After Budget, Here's the Other Document I'm Looking At
After a phenomenal bull run in 2017, smallcaps witnessed a severe crash in 2018.
There were three key factors that took the wind out of smallcap stocks: lofty valuations, weakening fundamentals, and a regulatory pin that burst the smallcap bubble.
One of the key factors that triggered a flight of money out of smallcap stocks in 2018 has been the categorization and rationalization of mutual funds by the Securities and Exchange Board of India (SEBI).
In a circular dated 6 October 2017, the market regulator laid out guidelines to bring in more transparency, simplicity and standardization in the Indian mutual fund industry.
Of the three key changes introduced by the capital market regulator, the one that hurt small-cap stocks the most was this...
In order to ensure uniformity in respect of the investment universe for equity schemes, SEBI decided to define largecap, midcap and smallcap as follows:
Largecap: 1st - 100th company in terms of full market capitalization
Midcap: 101st - 250th company in terms of full market capitalization
Smallcap: 251st company onwards in terms of full market capitalization
This new definition of the stock universe according to market capitalization is one of the causes behind the outflow of money from smallcap stocks.
Earlier, the definition of the stock universe for a specific scheme was at the discretion of the fund house. So, there could be two largecap funds from two different AMCs having different stock universes. This also led to mis-selling of products.
Since last year, that definition has been made uniform by the SEBI. So, any largecap fund now has to pick stocks from the universe outlined by the capital market regulator. If any stocks drop out of that category, then the fund has to rebalance its portfolio accordingly.
In the bull rally of 2017, a lot of mutual funds significantly increased their exposure to smallcap and midcap stocks, which were the darlings of the stock market then.
The sell-off in smallcap and midcap stocks was, partly, attributable to the rebalancing of portfolios by fund houses to align with the new guidelines.
So, after a period of irrational exuberance in the Indian stock markets, the SEBI's guidelines acted as a speed-breaker for smallcap and midcap stocks.
What Next?
Since over a year, mutual funds are required to adopt the list of stocks prepared by AMFI (Association of Mutual Funds of India) in this regard. This list is updated every six months based on the data as on the end of June and December of each year.
Subsequent to any updation in the list, mutual funds would have to rebalance their portfolios in line with the updated list, within a period of one month.
As per valueresearchonline, among diversified equity mutual fund schemes, there are 108 largecap focused open-ended funds as on 30 June 2019. In contrasted, open-ended funds focused on smallcaps are just 17.
It's clear that currently the markets are biased towards largecap stocks. So, stocks that enter this category may stand a chance to gain.
The latest list for period ended 30 June 2019 has just been released.
Over the weekend, I was studying the latest list and identifying stocks that have moved in and out of the three categories. I'm going to share the list of these stocks in today's Insider.
Chart of the Day
The first half of 2019 hasn't seen a lot of activity in the IPO market.
There have been just 8 IPO on the main board. None of them mega-sized IPOs.
Despite lacklustre activity in India's primary markets, there have been attractive money-making opportunities for attentive investors.
In my premium newsletter Insider, I'd recommended applying to the IPO of Polycab India and the more recent IPO of IndiaMART InterMESH.
Both IPOs were subscribed many times over. And both gave handsome double-digit returns on the listing date.
Top 3 IPO Gains in 2019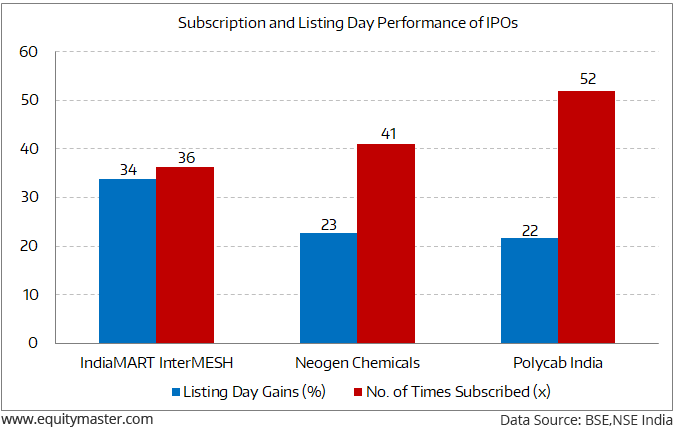 In fact, in case of IndiaMART InterMESH, a host of brokerages gave an 'Avoid' or 'Neutral' view on the IPO. However, I noticed a few signs that hinted at the possibility of listing gains.
At Insider, while my core aim is to identify the big trends and money-making opportunities in the stock markets, I believe there's no harm in pocketing quick gains when opportunities arise.
Warm regards,



Ankit Shah
Editor and Research Analyst, Equitymaster Insider
PS: Dear reader, forget about the budget. Tanushree's top 7 stocks aren't going to be affected negatively. They are her high-conviction, long-term picks... The best stocks in the market. Find out more about these stocks here...
Recent Articles