Why the Markets Got the Budget Wrong and You Shouldn't
Jul 9, 2019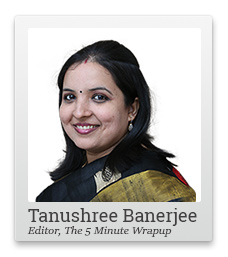 As I write this, the Sensex has shed over 1,200 points in two trading sessions. Before this makes you nervous, take note of two facts.
One, the correction was not entirely unexpected. After the election euphoria died down, the markets were supposed to shift focus back to the economy and corporate earnings. With neither offering enough solace, valuations were bound to take a knock.
Two, globally markets have been trading weak over past two sessions. The US market is anticipating an aggressive rate cut by the Federal Reserve later this month. France has issued its first-ever 10-year bond at a negative borrowing rate. So, growth concerns are taking a huge toll on equities world over.
Revealed: How to Get Rich with Just 3 Stocks
Expecting that Modi 2.0's maiden Union Budget could immediately bail out the Indian economy was too much to ask. And the absence of quick dole outs by the government to prop up the economy did not go well with the markets.
But I believe, what the markets essentially got wrong with the Budget was its assessment of execution versus promises. It mistook the US$ 5 trillion GDP to be a goal merely on paper.
Doubling the size of the economy to US$ 5 trillion is an ambitious target. No doubt about that. But such lofty goals are a must have to get the Indian economy firing on all cylinders.
Just as building 40 kilometers of highway per days seemed impossible five years back. And we are already building over 30 kilometers per day. Moving closer to the goal each year.
Now, the first thing that the government needs to arrange is long term funds to stick to its promises. Be it investment in infrastructure, agriculture or healthcare, paucity of funds can be a big hurdle.
The only two ways to raise substantial funds are:
Long term foreign investments
Liquidation of non-core assets
Fortunately, the Budget had a plan in place to address both.
--- Advertisement ---
Tomorrow is the Last Day...

Thousands of our readers learned about the biggest opportunity of this decade at Richa's emergency summit 'Rebound Riches.'

Richa believes, if you miss it now... then you might possibly have to wait for a decade... before such a huge opportunity reappears.

Since you took special interest in knowing about it by registering for Richa's summit...

We've preserved the replay for you. But we'll take it offline by tomorrow.

So, you've got less than 48 hours to find out about this once-in-a-decade opportunity.

Go here to learn about the biggest opportunity of this decade...
------------------------------
Attracting more FDI, pension money and selling stakes in as well as assets owned by PSUs are on the government's radar.
Investments in infrastructure from such funds will be far more sustainable than forcing PSU banks to lend for them.
Also, the government's plan to raise funds overseas leaves a lot of room for the private sector to borrow in the domestic markets.
And again, instead of exposing themselves to currency risks, Indian entities would be able to raise funds here at competitive rates.
So, if the Budget disappointed markets for lack of cues on near term upsides, it may not be a bad thing for you dear reader.
What you must keep in mind is that the Indian economy will have to make a structural shift to move into the US$ 5 trillion orbit. That there are some irreversible trends that are already taking the economy in that direction. And while the markets may be myopic in recognizing such trends, the opportunity is ripe for you to act on them.
This is an opportunity to act on what I am calling the Rebirth of India. And even as the markets misread the near-term cues, I will keep telling you if the Rebirth of India is on track. Stay tuned.
Chart of The Day
One theme I strongly believe will play out over the next decade is the credit growth in India.
Retail and corporate credit are expected to grow by multi-fold over the next few years.
The growth I foresee will be due to two reasons. Expanding GDP and credit penetration.
Rising Credit Growth in India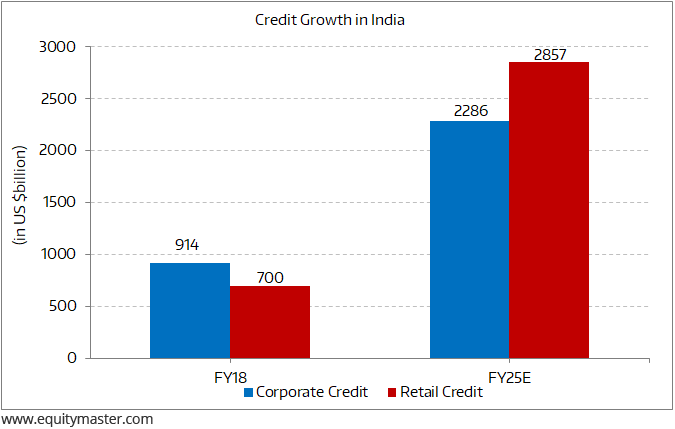 Recent reforms like Jan Dhan, Mudra Yojna have helped Small and Medium Enterprises (SME's) and self-employed professionals to gain access to loans.
Credit penetration is also expected to increase in this segment from current levels.
Over the past few years, a lot of banks and NBFCs have started lending to this segment.
Strong well-established financial services players will benefit the most from this trend.
Warm regards,



Tanushree Banerjee
Editor and Research Analyst, The 5 Minute WrapUp
PS: Dear reader, Tanushree believes this is the right time to buy the best 7 stocks in the market before they run up. Read more about these 7 stocks here...
Recent Articles