Even with GST, This Time Is Not Different
Jul 10, 2017
In this issue:

» Infrastructure Project Delays on a Decline
» GST Impacts Consumer Spending Patterns
» Market roundup
» ...and more!
Recently, Kunal and I travelled to a small town in Gujarat to meet a small-cap company. Even in that sleepy town, the tsunami that has flooded Indian stock markets was evident. Big signs selling huge returns and promoting capital markets flashed everywhere.
As realty, gold, and fixed income assets lag recent market returns, all the greed has found its way to stock markets, sloshing them with money, lifting the good, the bad, and the ugly alike.
Normally, a liquidity surge should bring caution. But markets want to you to believe this time is different.
A lot of statistics and arguments have been pulled to support this hypothesis.
Topping the list is that the current rally has the support of domestic investors, reforms (GST), and a likely earnings recovery.
None of these is very convincing to me.
Let's start with the earnings recovery.
Not only it is already priced in, leaving little upside potential, but it's turning out to be a mirage: Once you think you're almost there, it fades farther into the horizon.
And ironically, GST, which has given the market rally fresh legs, is likely to push any earnings recovery even farther away. While GST is a long-term positive for the formal sector, the sense we get from meeting managements of listed companies is that there will be a phase of supply chain disruption and confusion before things smoothen out. And that this phase could last two to three years.
As for the argument that the rally will sustain because of the support of domestic investors, I believe we are looking at partial statistics. While markets are hailing the rise of the retail investor, foreign investors have not lost their clout yet.
As an article in The Hindu suggests, domestic institutions own at least 20% of the free float. However, the FPIs still lead with a 40% share. The last six months have been one of the strongest phases of foreign inflows into India. In the past, all such phases have been followed by a peak and then a good market correction. The rally is unlikely to be resilient if foreign investors decide to leave.
So should you stay away from the market? Or swim with the tide?
The answer is neither. Better to follow a system that aims for consistency not recklessness. Rahul Shah and his Microcap Millionaires team have been employing their system since February 2014. And I can't recall a period where the strategy hasn't been well ahead of the benchmark index.
As per their latest update, total outperformance vis-a-vis the Sensex is a fabulous 101.1%. This is commendable considering Sensex itself is up 51.2% in the same period.
It is remarkable how much long-term advantage people like us have gotten by trying to be consistently not stupid, instead of trying to be very intelligent. - Charlie Munger
The Microcap Millionaires system has no need for future forecasts or valuation targets. These could just be a projection of the analyst's sentiments and biases anyway. Their system is humble in its approach, and simply aims to ensure enough margin of safety to not only ride the upside but survive the downside...with remarkable consistency.
Editor's note: If you missed the microcap rally this year, it's not too late. The most recent Microcap Millionaires report has several buying opportunities you can act on right away.
03:10

Chart of the Day

India over the past decade and more has been grappling with the twin problems of project delays and cost overruns. Execution delays are believed to be long held pain points for the economy. As per Financial Express data, cost overrun faced by central-sector infrastructure projects rose from 12.6% in 2008 and peaked at 20% in 2014. In addition, under-implementation projects were facing time overruns peaking at 51% in 2013.

Well, there has been some good news in this regard. The share of projects facing implementation delays almost halved since 2013.
Infrastructure Project Delays Witness a Significant Decline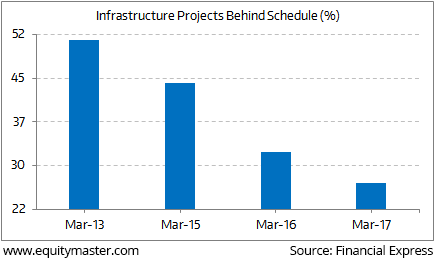 Primary reasons for cost escalation was driven by high land acquisition costs, changes in scope of projects, time overrun etc. Time overrun, in turn was due to delay in land acquisition and obtaining environment clearances, lack of infrastructure support and project financing delays.
The Modi led government has implemented various policies since 2014 to tackle these issues and expedited removal of bottlenecks and approval delays. And this is showing results. Increased focus on public spending on projects and completion of stalled projects has resulted in a steady rate of improvement in ongoing projects. Increased efficiency in project implementation augurs well for the economy and will help India reign in the twin problems of project delays and cost overruns.
The implementation of the Goods and Services tax i.e. GST across the country has completed a little over a week. Despite extreme polarization of views regarding the effectiveness and impact of GST on the Indian economy, the long-term view is that the country will benefit from the simplified tax regime. The short term though is expected to be chaotic and volatile. In fact, there already seems a perceptible shift in consumer lifestyle pattern trends. Consumers in general believe that grocery and discretionary spends such as clothes and eating out have become more expensive after GST. Interestingly, the last week before the GST implementation saw a huge flurry of discounts and promotional activities by companies to drive consumer spends.
Short term chaos apart, we think GST has the potential to bring out positive changes in the entire consumption landscape. In fact, India could see a wave of industry consolidation wherein the organized sector will gain market share over the unorganized players. The new tax regime will result in inclusion of unorganized players that did not pay taxes till now, and thus reduce the price gap between organized vs unorganized. According to us, GST is a catalyst and will provide a level playing field to the organised players in sectors with a high proportion of the unorganized segment. Consumer preference shift due to transformation of our tax regime has the potential to draw out few big winners in the long run. The markets don't seem to be factoring all of this while they are evaluating some businesses.
After opening the day on a strong note, share markets in India have continued their positive momentum. Sectoral indices are trading on a positive note with stocks in the telecom sector and IT sector witnessing maximum buying interest.
The BSE Sensex is trading up 205 points (up 0.7%) and the NSE Nifty is trading up 60 points (up 0.6%). The BSE Mid Cap index is trading up by 0.4%, while the BSE Small Cap index is trading up by 0.6%.
04:55

Today's Investing Mantra

"Only when you combine sound intellect with emotional discipline do you get rational behavior." - Warren Buffett

This edition of The 5 Minute WrapUp is authored by Richa Agarwal (Research Analyst) and Rohan Pinto (Research Analyst).
Today's Premium Edition.
Should You Apply for the Latest Sovereign Gold Bonds Issue?
The government's latest issue of Sovereign Gold Bonds 2017-18 - Series II offers interest at the rate of 2.5% per annum.
Read On... | Get Access
Recent Articles