Budget an Icing on the Cake for This Smart Money Backed Affordable Housing Stock
Jul 10, 2019
What is the one point that stood out in the Budget 2019?
Maintaining fiscal prudence?
Taxation on Buyback?
Raising minimum public shareholding to 35%?
Government borrowing overseas?
Or perhaps additional tax burden on super-rich?
No doubt, the above points are important.
Some from the long-term perspective and some of them from the near-term perspective.
But for me, it was the government's thrust on affordable housing.
Affordable Housing Takes Centre Stage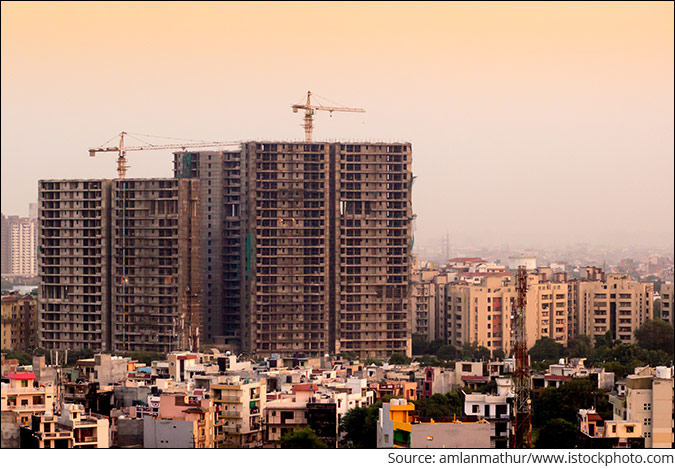 The government has been consistent with its efforts in addressing affordable housing.
In the earlier budgets, the government has given infrastructure status to the affordable housing segment. Similarly, they increased the carpet area and redefined income definitions.
This year's budget was no exception. The government has provided further incentives to drive affordable housing.
It has proposed interest deduction up to Rs 3.5 lakh for affordable housing priced below Rs 45 lakh. This was Rs 2 lakh earlier.
Cumulatively, this will result in a benefit of around Rs 7 lakh for first-time homebuyers.
This includes interest deduction up to Rs 3.5 lakh, tax exemption on the principal of Rs 1.5 lakh and subsidy of Rs 2.3 lakh under the Prime Minister Awas Yojna.
The government has also addressed an important concern on liquidity.
The government will provide a one-time six months' partial credit guarantee to public sector banks to buy high-rated pooled assets worth Rs 1 trillion from NBFCs. This will provide the much-needed liquidity to NBFCs.
Similarly, the availability of land remains the biggest challenge in the affordable housing space. In this budget, the government tried to address this critical issue.
The government suggested the use of land parcels held by central ministries and public-sector enterprises. The use of the government's land parcels for public infrastructure and affordable housing will narrow the demand-supply gap.
In 2015, the government launched the Pradhan Mantri Awas Yojana scheme. The purpose of the scheme is to provide affordable housing to urban and rural poor with a target of building 60 million houses by March 2022.
It seemed to be an audacious target at that time. But the government walked the talk.
In the past five years, the government has completed building 15 million rural houses. In the next three years, the government will create another 19.5 million houses.
Not to mention, the pace of development has also picked up. The average days of completion have seen a drastic reduction from 314 days in FY16 to 114 days in FY18.
No doubt, affordable housing is one of the most straightforward growth stories in India.
The government's financial and policy thrust and regulatory support will further accelerate the demand.
This will help the real estate sector to come out of the slump.
It's not surprising that in FY19, the affordable housing segment saw the majority of launches and demand.
In Smart Money Secrets, we have recommended one such real estate player.
The company is into affordable and middle-income residential projects. The company is showing good signs of revival.
In fact, the company has set an ambitious target of doubling sales this year.
What makes this company stand out in a very risky industry, is its conservative management which believes in the timely delivery of projects.
The management is focused on delivering existing projects despite facing tough times. This has created a strong brand name and goodwill for the company.
This stock is a part of our five best stock picks of super investors that we recommended in our special report - The Thousand Crore Club.
In this report, you will find details of the top 5 stocks favoured by a highly elite group of stock market investors, the super investors of India.
To conclude, the real estate sector has multi-layer effects on several industries.
This includes housing finance companies, cement, plywood and furniture industry, tiles and sanitary ware industry, consumer durable industry etc.
I believe there will be an acceleration in economic activity due to pick-up in affordable housing.
This is despite the further delay in capex revival.
Affordable housing is at the centre stage of India's real estate. This story is likely to unfold for multiple years.
Chart of the Day
The real estate sector witnessed several headwinds in recent times.
Demonetisation, RERA, GST... all came in its way.
Project delays as well as delays in getting possession have shaken the confidence of home buyers.
And finally, the NBFC crisis struck a massive blow. It sucked out liquidity and brought loan disbursals to a grinding halt.
Due to all these reasons, the number of developers has reduced and this has created consolidation in the market.
Today's chart shows a sharp decline in the number of developers in major Indian cities.
Supply-Side Consolidation in the Real Estate Industry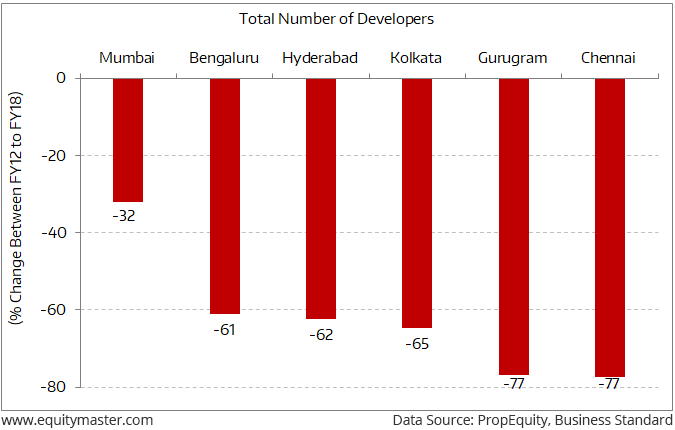 Typically, such a reduction in investment in an industry, i.e. contraction of supply, paves the way for a recovery of profits.
From a supply perspective, the competitive intensity has reduced due to leveraged balance sheets of many developers.
This, in turn, has resulted in subdued launches and stalling of existing projects, thus overall reducing inventory and consolidation in the sector.
With this, the share of organised market players is expected to go up in the medium to long term.
This is a huge opportunity for long term serious players in the sector.
Warm regards,


Sarvajeet Bodas ,
Co-editor and Research Analyst, Smart Money Secrets
PS: Radhika Pandit and Sarvajeet Bodas, co-editors of Smart Money Secrets, are getting ready to recommend an exciting new stock. If you haven't subscribed to Smart Money Secrets yet... you can do so here.
Recent Articles