How to Avoid a 90% Loss Suffered by This Super Investor
Jul 12, 2018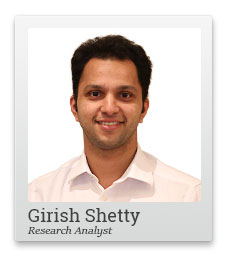 If you can, get your hands on the Forbes May 2015 edition, on the cover page you will see a smart and suave man - Bill Ackman. The title on the cover says, 'Baby Buffett'.
Ackman is a Harvard graduate. His career was on a rapid rise skywards.
His firm Pershing Square Holdings returned 40.4% in 2014 against the benchmark S&P 500 returns of 13.7%. No wonder the media was going gaga over him.
Call it a co-incidence or getting jinxed, the comparison with Buffett was the starting point of his troubles. It has been a rocky road ever since.
The next three years saw Pershing Square return -20.5% (2015), -13.5% (2016), and -4% (2017). In comparison, the S&P 500 Index has returned -0.7%(2015), 11.2%(2016) and 18.4%(2017).
His biggest mistake?
Valeant Pharmaceuticals, where Ackman had invested around US $4 billion, went down by more than 90%.
Mistakes are bound to happen in the investing world. Even the best can go through a period of underperformance. The important thing is to learn from them.
--- Advertisement ---


Don't Buy Any Blue Chip Before Reading This…

We both know that Blue Chips are some of the safest stocks in the stock market…

And we also know that for BIGGER Gains, the answer lies in solid small caps…

But what if you could take some risk and get both?

Yes, we are talking about a Special category of small caps which are effectively GIANTS in their small niche and thus, offer a lot more safety than other small caps. PLUS, they also offer the great money-making potential that lies in small caps…

We call such small caps - Junior Blue Chips - And we have 3 Junior Blue Chips you could consider adding to your portfolio right away.

Click here for full details…
------------------------------
After his experience of Valeant, this is what Ackman learnt...
'Management's historic ability to deploy capital in acquisitions and earn high rates of return is not a sufficiently durable asset'.

A company that constantly grows through acquisitions might not be able to sustain such growth for long. Even if that company has done so successfully in the past. Ackman referred to Valeant which was constantly growing through acquisitions rather than bringing out new innovative products. In the Indian context, Tata group, despite its stellar record faced a lot of trouble post the Tata Steel-Corus deal.

Intrinsic value can be dramatically affected by changes in regulations, politics or other extrinsic factors we cannot control, and the existence of these factors is a highly important consideration in position sizing'.

A company can be affected dramatically by policy, regulations or other external factors beyond its control. Again, Valeant got pulled up by drug authorities in the US for over pricing its drugs which caused a great deal of damage to its stock price. Indian pharma companies have suffered a great deal in the past 2-3 years due to regulatory issues.

'A management team with a super long-term investment record is still capable of making significant mistakes'.

While past execution record is important, it still does not guarantee a rosy future. Infosys' stellar past record couldn't prevent it from getting mired in corporate governance issues.

'A large stock price decline can destroy substantial amounts of intrinsic value and the perception and reputation of a company'.

Recent auditor issues with KRBL, Inox Wind, Vakrangee, and others might have done irreparable harm to their reputations.
Ackman's honest admission to these mistakes was refreshing. It also makes us realise the dangers of blindly following super investors.
Imagine the number of people who would've followed 'Baby Buffett' into Valeant Pharmaceuticals. They would've been left with less than 10% of their investment in less than a year.
Look at the Indian context. I know mid and small caps have fallen a lot recently.
Have you also walked into some of these traps along with a super investor?
To stay clear of such mistakes, Kunal, who has repeatedly warned readers of The 5 Minute WrapUp, has designed a proprietary tool, the Smart Money Score.
He, along with Sarvajeet, recommend stocks to premium subscribers only when a potential stock checks out on the Smart Money Score.
Their search for quality has helped them shortlist a company where they believe they've identified a success pattern in its business.
Chart of the Day
On 30 December 2017, we wrote to you about India being the top performer among emerging markets.
If the first half is anything to go by, the trend looks set to continue.
For the year till date, India has outperformed its emerging market peers yet again. While the Indian stock market index has returned 7.2%, the Chinese index has declined by 15.6%.
India Outperforms Other Emerging Markets in 2018
But, is this a false dawn?
Indian mid and small caps have fallen by 12.8% and 14.8% this year.
Even in the Sensex, majority of the gains are due to only eight out of the thirty stocks. Tanushree calls them Sensex Dominoes.
Rising crude oil prices, rising interest rates, Donald Trump's trade war, and the strengthening of the US dollar are the main reasons for the fall in emerging markets. Foreign investors feel much more comfortable moving their funds to developed markets in the current scenario.
These factors are unlikely to improve any time soon.
Also, the Indian general elections coming up next year. It's time to brace yourselves for a lot of volatility and uncertainty in the near term.
But that doesn't mean you can't find safe stocks in this market. Tanushree certainly can. She believes, during times like these, the best thing you can do is to identify stocks that can ride out the storm.
In fact, just last week, Tanushree identified two such stocks for her premium StockSelect subscribers.
If you haven't signed up to receive such excellent safe stock recommendations, you can do so here.
Regards,

Girish Shetty
Research Analyst, ValuePro
PS: For over 16 years, our Safe Stocks recommendation service, StockSelect, has guided its subscribers towards financially sound futures. Today, you have the chance to get access to its proven research and recommendations that generated double, even triple digit returns. Click here to begin your journey towards a wealthier life...
Recent Articles