2 Stocks from Super Investor Sanjay Bakshi's Portfolio You Can Bet On...
Jul 12, 2019
2018 was a terrible year for the stock markets. The Sensex gains were in single digits. The Smallcap index was battered.
This year has also been quite volatile with wild swings in the indices.
The exit polls predicting a Modi win saw the Sensex surge around 1,400 points in a single day.
And then we had Manic Monday this week. The Sensex lost around 790 points - the sharpest fall since October 2018 - as Nirmala Sitharaman's maiden budget sent jitters among market participants.
--- Advertisement ---
How to Generate Regular Payouts Without Touching Stocks

How would you feel about making Rs 15,150 in 10 minutes?

Or Rs 17,650 in 3 hours 11 minutes?

Or perhaps Rs 21,950 in 3 hours 3 minutes?

And do it without buying or selling any stock...

Well, India's #1 trader Vijay Bhambwani could show you a way to potentially make regular payouts like these every few days.

And on 10th July, 5pm sharp, he will go on camera to reveal his secret to thousands of viewers...

Block your free seat to see how he does it
------------------------------
If it is any consolation, dear reader, these swings in the stock markets have spared no one. Not even the big investors, or the super investors as we call them.
One of the super investors we closely track for Smart Money Secrets is none other than Prof Sanjay Bakshi. An ardent practitioner of value investing, Prof Bakshi has his own fund called the Valuequest India Moat Fund.
Prof Bakshi is not investing in the markets for the short term. Being a true value investor, he is investing in good quality businesses that boast of moats or competitive advantages for the long term.
We had recently conducted an interview with Prof Bakshi for our show Investor Hour. One of the many interesting things that he talked about was the perception of how markets behave. In his earlier days when he was studying in the London School of Economics, the courses focused on teaching the concept of efficient markets.
But legendary investor Warren Buffett has a completely opposite view. He believes that markets are inefficient and a true value investor needs to take advantage of these inefficiencies while picking stocks. This is a tenet that Warren Buffett has talked about in his letters to his shareholders.
And these letters have certainly played a big role in shaping up Prof Bakshi's investing philosophies. As they have shaped ours.
GET: India's #1 Trader Just Released His Latest Book on Successful Investing. Grab a VIRTUALLY FREE Copy Now.
Markets have a tendency to become too optimistic or too pessimistic. So the excessive fear that is prevailing in the stock markets currently is a perfect opportunity to go shopping for some good quality stocks.
Indeed, Prof Bakshi has often stated when stock markets are extremely prejudiced against what you know to be a wonderful business, that very prejudice creates a strong investment opportunity.
Is Prof Bakshi buying actively in this current environment? Sarvajeet and I are certainly closely keeping an eye out for any new stock that he could potentially pick up or any bulk or block deal he could possibly enter into.
The Instant Income Summit: India's #1 trader reveals his secret
Meanwhile, for Smart Money Secrets, we have already picked up two stocks that are part of Prof Bakshi's Valuequest Moat Fund.
The first stock is a company that enjoys the competitive advantages of economies of scale and customer stickiness.
The other stock is of a company operating in an industry where the entry barriers are high and where its unique business model has allowed it to generate healthy cash flows.
Both these stocks have scored highly on our Smart Money Score. And have healthy financials to match.
If you haven't subscribed to Smart Money Secrets yet, you can sign up here.
Chart of the Day
Even as the markets remain volatile, the big investors or the super investors are seasoned enough to not be perturbed by the fear all around them.
They will certainly be actively looking to pick up bargains for their funds. And that includes Prof Sanjay Bakshi's Valuequest Moat India Fund as well.
Meanwhile, let's take a look at two stocks that Prof Bakshi holds and which we have also recommended for Smart Money Secrets.
Both of them have strong business models with competitive advantages and robust financials.
We believe both these stocks have potential to deliver strong gains going forward.
How the 2 Stocks from Prof Bakshi's Portfolio Have Fared...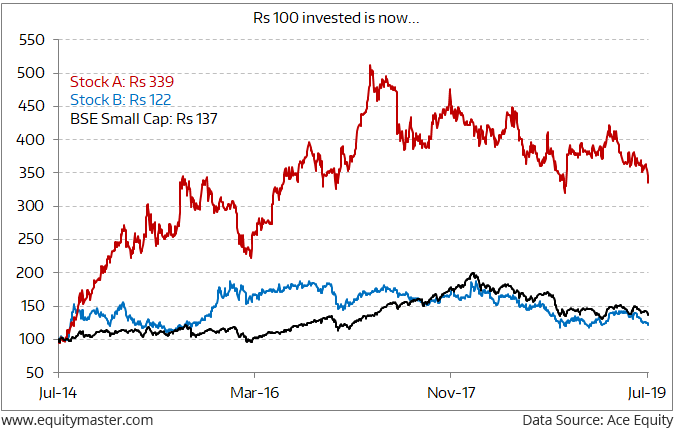 Warm regards,



Radhika Pandit
Co-editor and Research Analyst, Smart Money Secrets
PS: Radhika Pandit and Sarvajeet Bodas, co-editors of Smart Money Secrets, are getting ready to recommend an exciting new stock. If you haven't subscribed to Smart Money Secrets yet... you can do so here.
Recent Articles