Ride the Bull Wave with These Perfect Proxies to India's Growth Story
Jul 15, 2017
In this issue:

» A Proxy to Ride Rise in Affordable Housing
» Should US Decision on Interest Rates Influence Your Investing
» Market roundup
» And more!
In his best-selling book, One up on Wall Street, Peter Lynch wrote, 'Invest in what you know.'
Lynch is one of the most quoted investing legends...and one of the most misquoted.

There is no dearth of articles and stock tips quoting him and promising future multibaggers. Mr Lynch would probably cringe seeing his name tagged to these tips, most of which would fit nowhere in his investing philosophy.
A great service or popular brand need not always translate into a great investment for shareholders. Take for instance ecommerce companies.
Online shopping is barely a decade old. Yet, it has changed the way we shop. A lot of people who had never set foot in shops or malls have become online shopaholics. Had these companies been listed, I would not have been surprised to see brokerages recommending Flipkart and Snapdeal, quoting the trend, Lynch and the obvious knowledge that these companies are direct plays.
But would Peter Lynch have recommended them?
I don't think so. Rise in online shopping has not done much good to ecom companies.
They are just burning more cash...and spilling red all over the bottomline. As per The Economic Times, the combined losses of Flipkart, Amazon, and Snapdeal stands at Rs 118 billion - enough to allow ISRO to go to Mars twenty-four times, or so the paper calculates.
The big funds are waking to the ground realities and have successively marked down the valuations of companies like Flipkart.
As new themes and new-age companies unfold and as the rising markets continue to offer them an ideal environment to go public, we won't be surprised to see trending stories put down as the investing rationale to unsuspecting investors, with little regard to financials and fundamentals of course.
A vigilant investor will always dig deeper and look for the real beneficiaries of the trends.
For example, the real gainers of the ecom revolution have been delivery companies like Blue Dart. The stock is up 539% in the last ten years (even after accounting for the correction in the last few months). Had you identified the trend and Blue Dart a decade ago, you would have beaten the Sensex by 426%.
Indirect beneficiaries are not just limited to new-age trends.
Last year at Hidden Treasure, we recommended a company that offers packaging solutions to leading players in the paints and lubricants industry. At the time of recommendation, a key growth trigger for the company was its entry into the food and FMCG industry (as a packaging supplier). Already, the company has added clients such as Mondeliz, Vadilal, Kwality, Amul, Conagra, and Cadbury.
It is up 136% since recommendation. As a perfect proxy to ride India's growth and consumption story, we believe there is still plenty of steam left in the stock.
And it's not the only one. Years of research have led us to identify the common characteristics of 'perfect proxies' to ride big gains.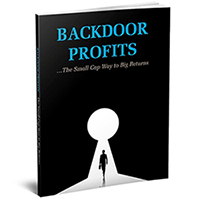 In a new special report, we share the secret to finding in perfect proxies and reveal three proxy stocks that we believe have the potential to ride the bull wave.
To know more about these opportunities before everyone else, download Backdoor Profits - The Small-Cap Way to Big Returns.
02:45

Chart of the Day

One of the interesting themes that markets have been betting on for some time is affordable housing. As per a report by realty consultant and adviser Knight Frank India Pvt. Ltd, the affordable housing segment has seen a substantial increase in new launches in the first half of 2017. Across eight large cities, homes priced below Rs 5 million comprised about 71% of the total launches between January and June 2017. This was 52% in the corresponding period in 2016.
Affordable Housing Gaining Traction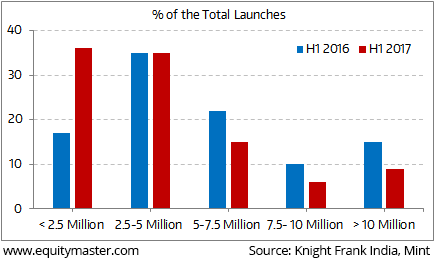 With India's high growth in population and massive migration from small towns and cities to metros, affordable housing has assumed a significant place. Increasing middle class, increasing urbanisation, a renewed focus on the sector by the government and rising income and aspirations are all key demand drivers in the affordable housing story.
But is it a good time to invest in real-estate companies?
Despite good prospects, investing in real estate companies is risky. Debt-ridden balance sheets, an uncertain regulatory environment, and project delays create uncertainty in this space.
We believe there is an indirect and relatively safer way to bet on the sector. Last year, The India Letter team recommended a housing finance company that is set to ride on urbanization megatrend. The regulatory and demographic tailwinds are further set to strengthen this megatrend in the coming years. Click here for more details...
Now, the Goods and Services Tax (GST) became the order of the day at the start of this month. And all these months we have been subjected to a relentless propaganda by the government and the supporters of the GST, on how it will change our world, only for good.
Our colleague Vivek Kaul, has studied the finer aspects of the GST and predicted what could go right and wrong.
Download his special report - The Good, the Sad and the Terrible (GST).
If signs from the US Fed are anything to go by, we won't see an interest rate hike anytime soon. Federal Reserve Chairman Janet Yellen indicated a gradual increase in interest rates. Now how does this impact emerging markets like India?
It is important to understand the short term impact Fed rates can have on the emerging markets. Fed rate is the interest rate that the US Fed is willing to provide for banks in the US. Banks use this rate for their borrowing and lending activities. It increases savings deposits from borrowers, increases borrowing rates for customers.
Emerging markets like India generally have higher interest and inflation rates as compared to developed nations like US.
As a result, a lot of financial institutions borrow money from countries like US since it's cheaper. They invest that money in India since rates are higher.
With US Fed increasing interest rates, the interest rate difference between US and India comes down. As a result, risk-averse investors are likely to shift their money from countries like India to the US. The usual scenario after a Fed rate hike has been that of sharp fall in equity indices, a weaker rupee and sustained foreign fund outflows.
But India has recently become resilient to these interest rate changes. Strong domestic inflows have negated the impact of foreign fund outflows.
As Rahul Shah, Co-Head of Research writes in Equitymaster Research Digest (Subscription Required):
"If such a small move sounds unworthy of your attention, you would be right. The hype and hoopla surrounding Fed meetings is irritating at best and dangerous at worst. Long-term investors would do well to avoid getting swayed by such events."
Data from the past one year shows that BSE Sensex did not move more than 1% on either side after Fed announced its interest rate policy. When the US central bank hiked rates in December 2016, Sensex tripped only 0.3%, while after the rate hike in March it actually rose by 0.7%.
While the Fed rate hike whenever it happens might have a short-term impact, long term investors needn't be worried about the prospects of share market in India.
Global financial markets ended the week on a positive note with an upward boost from Brazil, Hong Kong and Indian share markets, which were up 5%, 4.1% and 2.1% respectively. While the US markets ended the week marginally lower by 0.2%, major European indices like German Dax and London's FTSE 100 share markets also ended the week on a positive note.
In the news from global financial markets, Markets participants were closely monitoring Fed Chair Janet Yellen's testimony to congress this week.
Yellen indicated the Fed would gradually increase interest rates and begin to reduce its US$4 trillion portfolio of treasury bonds and mortgage-backed securities this year. Ms Yellen also said that 'rates won't have to rise much further to get to neutral'.
Inflation remains a major concern in the US. It's still a bit below the Fed's 2% target.
Meanwhile in eurozone, the ECB policymakers suggested quantitative easing will continue for another couple of years. This lead to a sharp drop in the euro on Thursday.
Last week, the ECB noted that it might end its easy money policies. But this week, policymakers gave conflicting opinions.
Most of the economic problems we see today have been fueled by the easy money policies that central banks have adopted around the world. However, sooner or later, we hope to see the end of easy money.
On the commodities front crude oil traded in an uptrend during the week. After witnessing a volatile start to the week, the commodity ended the week on a positive note and was up 5.5%. The
Back home, Indian stock markets continued their positive momentum and ended the week at a record high level. The BSE Sensex was up 2.10% and the NSE Nifty was up 2.28%.
Performance During the Week Ended 15th July, 2017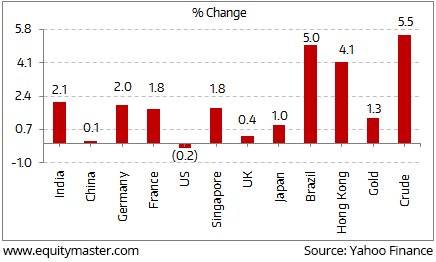 04: 55

Weekend Investing Mantra

"If I was running $1 million today, or $10 million for that matter, I'd be fully invested. ... It's a huge structural advantage not to have a lot of money. ... The universe I can't play in has become more attractive than the universe I can play in. I have to look for elephants. It may be that the elephants are not as attractive as the mosquitoes. But that is the universe I must live in.". - Warren Buffett

This edition of The 5 Minute WrapUp is authored by Richa Agarwal (Research Analyst).
Today's Premium Edition.
Today being a Saturday, there is no Premium edition being published. But you can always read our most recent issue here...
Recent Articles