These Are the Best Stocks for the Next Decade
Jul 19, 2018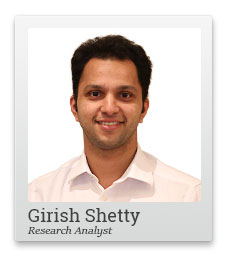 I was talking to a friend the other day. He runs his family's restaurant business.
He was whining about the competition in the industry. He told me about the cost of staying competitive in today's times.
One interesting thing he said caught my attention.
He has to pay around 20-22% to send his food for delivery through a famous food delivery startup. Yes, that's right. It costs 22% of his sales just for picking up the food and delivering it to the customer.
I asked him, if he has a margin of 22% on his food sales.
He said no. But, since most of the home delivery orders from customers are through this app, he stands to lose customers to a competitor if he opts out.
The tech startup initially provided these services for free. Then it built up a sizeable customer base. Now, customers find it convenient to order from their smartphones rather than searching for the number of the restaurant and calling up to order.
In other words, once the startup had enough users on its app, it started to squeeze the restaurants. The competitive advantage shifted from the restaurants to the startup.
This is just one small example. Can you imagine your life right now without Ola, Paytm, Redbus, Big Basket, BookMyShow, Zomato? These are all Indian tech start-ups.
Were these guys around 10 to 15 years back?
No. It took them just a decade to become a part of our daily lives.
--- Advertisement ---


Top 3 'Regulation - 31' Stocks to Buy

Kunal Thanvi, editor of Smart Money Secrets, has just released a special report. Research Analyst, Kunal's special report is called…

Top 3 'Regulation-31' Stocks.

Now, if you're wondering …

What exactly is 'Regulation 31'?

How does it guide us towards stocks which could potentially turn into multi-baggers in just a few years?

How can you get full details on these 3 'Regulation 31' stocks?

Click here to get all the answers.
------------------------------
And this is just the beginning. The next decade will throw up many more tech startups doing things we can't even imagine now.
Yes, most of these are 'inspired' by tech companies already present in US, Europe, and other developed countries. But they've successfully adapted that technology to cater to the Indian mindset. And they've done a pretty good job of it.
How does this matter to an Indian investor though?
A look at the US markets gives us a peek into the future. Among the top five companies by market capitalisation, three - Amazon, Alphabet (Google), and Facebook - started out as tech startups.
Think about what could happen a decade from now. It won't be a surprise to see the Indian companies occupy the top most positions in the Sensex and Nifty.
There are already startups disrupting healthcare, food, education, travel, logistics, and finance. They are backed by venture capitalists and able founders. A few of them are bound to click and make it big.
Once they achieve a large enough scale, they are bound to dominate the Indian market just like their counterparts in the US do.
We already have a few listed tech startups in India. But I think it's just the tip of the iceberg. In the coming years, we'll see a lot more interesting stocks from this space.
As part of ValuePro, I look for stocks that are futuristic and one can do well for a decade and more.
I think we are entering a very interesting phase in the Indian market as these startups grow bigger and more important in our daily lives.
Chart of the Day
A look at the returns from the US tech giants tells a lot about the impact of technology.
They are popularly known as 'FANG' stocks - Facebook, Amazon, Netflix, and Google. Since listing, these stocks have given multifold returns to their shareholders.
Impressive Returns of 'FANG' Stocks
One advantage for tech companies over other sectors is an interesting concept called the network effect.
In simple words, this means, as these companies grow and attract users, they become more beneficial to customers. This in turn makes them more popular and they attract even more users.
For example, users are likely to stick to Facebook since most of their contacts are there at one place and connectivity is easy. Same with Google where the more you search, the better the algorithm becomes and is more beneficial for future users.
This network effect has become a big economic 'moat' for these tech companies to ward off competition. Indian tech companies are slowly but surely taking advantage of this network effect. With their focus on acquiring more and more users, some are likely to develop large impenetrable moats that can last for a very long time.
Regards,

Girish Shetty
Research Analyst, ValuePro
PS: A volatile market such as the one we are living through now reminds you just how crucial it is to build a foundation of safe, quality stocks in your portfolio. That's something Tanushree Banerjee excels at - let her help you build your portfolio into your legacy. Subscribe here.
Recent Articles