Good Guys Will No Longer Finish Last...
Jul 19, 2019
My parents lived the first two years of their married life in Iran.
Iran was a different country back then. The Shah was the ruler proclaiming himself to be the King. Plus, he favoured Westerners, itself a cause for many problems. But that is a story for another day.
My father was an architect working with an American firm. It was a plush job and he was doing very well.
But the good life was short lived. The winds of the Iranian Revolution started blowing. The Shah was toppled from his seat of power to make way for the Ayatollah.
And my parents had to flee. Back to India, to Mumbai.
Luckily my father had already invested in a flat in the city many years earlier. So there was an extended family to come back to. And a home to settle in.
But that was only the beginning.
My father had to re-build his career as an architect from the scratch. And that was the tough part.
You see, starting out on your own has its fair share of challenges. And one of the biggest challenges my dad faced was having to deal with the local municipal body (the BMC in Mumbai) on a fairly regular basis. Dad, is a good guy, a decent man. The BMC, as we know, is an organization riddled with corruption.
As a young child growing up back then, one of the earliest memories of the idea of corruption was my mother telling me this:
"In the BMC you are expected to cough up money if you want the files (in this case my father's designs) to move from one desk to another."
And I am sure, in this regard, every Indian will have his own unique story to narrate.
Indeed, over the years, we as Indians, have let the fact of corruption seep deep into our psyche. It had become another way of life.
But perhaps for the first time ever the Modi government is trying to decisively change that.
It began with demonetization and the attempt to curb the menace of black money.
Then, the Real Estate Regulation Act or the RERA was introduced in 2016 to protect home buyers.
In the latest Budget, the FM announced a surcharge on cash withdrawals exceeding a certain limit. Also, efforts are being made to reduce direct interface with the Income Tax authorities, another hotbed of corruption.
We still have a long way to go. But it's still a strong start. And the intent to clean up by the government is quite visible.
If more progress is made on this front, it could be a big game changer. Not only for the aam aadmi but also for corporate India. More specifically real estate.
BSE Realty Showing Signs of Revival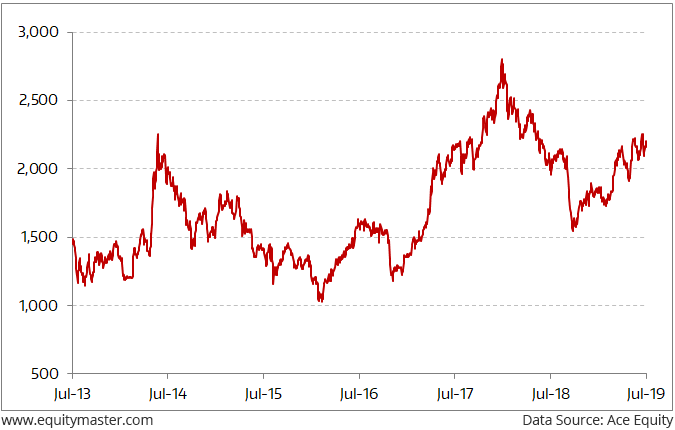 Prof Sanjay Bakshi, one of the 40 super investors whom Sarvajeet and I closely follow for Smart Money Secrets, also strongly believes in this.
Recently, he was a guest at the Equitymaster Investor Hour.
Prof Bakshi highlighted how a lot of wealth destruction over the years happened because of cheating and gaming the system. That is all changing. The Modi government is going all out after crooks. So the incentive to cheat is coming down. And that is a very encouraging sign.
It means that honest people like you and me who earlier suffered the competitive disadvantage of rampant cheating can start breathing a little easier. They can hope for a fairer system.
And it will be a huge positive for the good guys. As Prof Bakshi rightly pointed out - some of the true wealth creators in the past have been good guys. So attempts to clean up the system will only benefit them more.
I can't help but agree. Real estate, where dishonest practices have been the cause of heartaches for home buyers, is going to see a cleanup. And the good guys in the real estate sector will certainly stand to benefit big time.
Warm regards,



Radhika Pandit
Co-editor and Research Analyst, Smart Money Secrets
PS: Radhika Pandit and Sarvajeet Bodas, co-editors of Smart Money Secrets, are getting ready to recommend an exciting new stock. If you haven't subscribed to Smart Money Secrets yet... you can do so here.