Sensex 40,000: Why You Must Dump 'Arthritis' Stocks
Jul 21, 2017
In this issue:

» Technology is Disrupting the Two-Wheeler Market
» Bad Loan Pangs Refuse to Die
» Market Update
» And more...
Most men his age read newspapers for politics, sports, and business. Most likely in that order. My dad, however, is different. He goes straight to the pharma news. And for good reason. He has worked for almost every large pharma company in India. And retired from one less than a decade back.
So recently, Dad has been reading a lot about pharma stocks. He finds investor apathy towards these companies perplexing. Having worked for pharma companies for nearly four decades, Dad knows they are models of stability... No matter what happened to India's GDP, he could count on his job and paycheck.
Dad even invested in a few pharma stocks (mostly companies he worked with) at early stages. Resilient to the economic slowdowns of the late 1990s and 2008, Indian pharma companies are famously indifferent to economic calamity. So, Dad has never really felt the jolt of a market crash.
Which explains why, to him, pharma stocks are like bonds. The largest ones are stable, mature, reliable to a fault. Companies with a fabulous past. They have grown for decades. They've had a real R&D budget right from the start. And most importantly, the size of their market only keeps growing.
And so Dad keeps wondering aloud: What is it that investors are worried about?
Since financial jargon is not his cup of tea, I tried to explain the problem with an ailment Dad is very familiar with - arthritis.
No doubt, large, mature companies have had a glorious past. The pharma and consumption companies especially have seen growth across economic cycles. Some of them might even continue to grow for the decades to come, regardless of near-term problems.
But some are showing signs of 'corporate arthritis' and old age.
Their sales have become stagnant. They try to squeeze slightly higher earnings through cost-cutting, but that only takes them so far. And investors are worried whether these old stocks have much of a future.
If, and that is a big if, they innovate the next wonder drug, the best pharma stocks may find takers. Or, if they convince US regulators that their facilities are better than their American or European counterparts.
So maybe my dad is right and smart pharma investors have nothing to worry about. But if you own a large, mature company that digs out coal or offers landline telephone connections or branch banking, worry you should indeed. For the days of growth and stability are in the rearview mirror for these companies.
Every decade, a few large, mature companies become 'arthritis stocks'. Despite their stability over decades, they stiffen in the face of competition and technological advancements. Their products no longer find takers. Investors, slowly and then quickly, dump them. Until at last, withered and wheel-chair bound, they are rolled out of the index, never to enter again.
Remember I told you about Sensex 40,000? That's where the index will be if it moves up another 25% from where it is today.
I have no doubt this 25% upside is coming. Maybe not in months but in years.
However, this will not be the case for investors who cling to arthritis-prone stocks. Even if the businesses are large, mature, and stable, their stocks may not have the stamina (read: earnings power) to hold on to their place in the Sensex.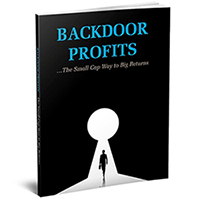 If you are an investor who's losing interest in old, arthritis-prone companies, you need a way to get into profits another way. What you might need, is what my colleague Richa Agarwal calls 'backdoor profits'. Richa and her team are known for traipsing around the country digging out little-known companies they call Hidden Treasures, a batch of small caps that could lead to big profits.
Get Richa's new FREE report, Backdoor Profits: The Small-Cap Way to Big Returns, which will tell you about these stocks.
02:30

Chart of the Day

In today's business world, technological adaption and innovation are the only ways to remain relevant and log growth. The changing dynamics in the two-wheeler industry bears testimony to this fact. Scooters started losing their supremacy from 1997-98 onwards after motorcycles saw a technological makeover. But in the past few years, scooters are once again in the spotlight all thanks to technical advancement that has reignited demand.

Scooters have considerably improved on the convenience and fuel efficiency fronts over the years. Features such as tubeless tyres, unisex appeal, better mileage, absence of gears combined with a push button start have considerably added on to its appeal among women. Moreover, scooter makers have also launched brands targeting men.

The steadily growing demand for scooters is changing the dynamics in the two-wheeler industry. Scooters acquired nearly one third share of the domestic two-wheeler market in FY17 for the first time in over a decade. As a matter of fact, Honda Activa scooter from Honda Motorcycle & Scooter India (HMSI) stable surpassed the traditional bestseller bike Hero Splendor and became the largest selling two-wheeler brand in the country last fiscal.
Scooters Make a Smart Comeback in Two-wheeler Market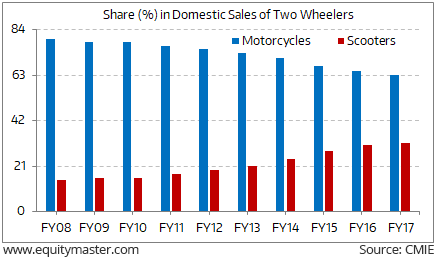 Motorcycles, on the other hand, are bearing the brunt of the twin effects of rural slowdown as well as growing prominence of scooters. In the past three years (FY14-FY17), the motorcycles segment was the slowest performer logging growth of less than 6% whereas scooters surged by 55% during this period. It is important to note that the market size of scooters in volume terms is still half that of motorcycles. Of the 17.6 million two-wheelers sold in the country in FY17, 11 million were motorcycles whereas 5.6 million were scooters.
But the growing importance of scooters cannot be overlooked and is spilling on to financial performance. Thus, TVS Motors, the second largest scooter player in the country, reported double-digit growth in earnings in FY17. However, bike manufacturer, Bajaj Auto, eroded its earnings during the fiscal. Factors such as stiff competition in the bike segment and absence in the scooter segment is weighing down on its growth.
The government has been trying hard to resolve the bad loan crisis plaguing Indian banks. However, despite the various regulatory and legal armory given to banks to deal with defaulters, they may still have to take a hit on their balance sheets. As per rating agency, Crisil, banks may have to take a haircut to the tune of Rs 2.4 trillion to resolve the 50 largest stressed assets in the system. Haircut essentially means forgoing interest and principal repayments on a loan account. The 50 loan accounts are primarily from the metal (30%), construction (25%) and power (15%) sectors and account for half of the gross non-performing assets of Rs 8 trillion as on 31st March 2017.
The bad loans in metal and construction sectors would require an aggressive haircut of over 50%. Additionally, banks will be required to make an incremental provisioning of around 20% over and above the provisions made so far. Needless to say, public sector banks will be hit the hardest if they indeed take a haircut. As several small state-run banks are already struggling with weak capital positions and depleting earnings from high credit costs, writing off a part of the bad loans may put a question mark on their future growth and survival.
Indian equity markets opened the day on a flat note and gained momentum thereafter. At the time of writing, BSE Sensex was trading higher by 122 points and NSE-Nifty was higher by 35 points. Both the mid cap and small cap indices are trading up by 0.3% and 0.4%, respectively. Stocks from the IT and energy sectors are witnessing maximum buying interest.
04:56

Investment Mantra of the Day

"Most people get interested in stocks when everyone else is. The time to get interested is when no one else is. You can't buy what is popular and do well." - Warren Buffett

Editor's note: There will no issue of The 5 Minute Wrapup on 22nd July 2017.

This edition of The 5 Minute WrapUp is authored by Tanushree Banerjee (Research Analyst) and Madhu Gupta (Research Analyst).
Today's Premium Edition.
My First Microcap Millionaires Pick for You
This stock passes some of the most vital filters of Rahul's Graham-style stock-picking system.
Read On... | Get Access
Recent Articles