What No One is Telling You About Chandrayaan 2
Jul 22, 2019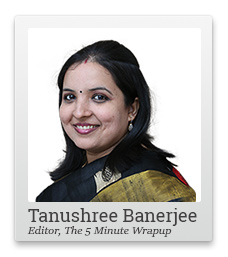 Remember the scene from the movie 3 Idiots in which Prof Sahastrabuddhe shows his new batch of students a special pen? It was a pen that is apparently used by astronauts in space.
Well, the idea of using such a pen in space is not entirely fictional.
In fact, one of the first stories my school teacher had narrated about Apollo 11 was on the role of felt tip pen. The pen had played a lifesaving role on the first manned mission to the moon exactly five decades ago. Neil Armstrong had mistakenly damaged the circuit breaker switch with his backpack, in the cramped lunar module. The legendary astronaut had then used his felt tip pen as a circuit breaker.
Chandrayaan 2, if successful today, will have its own set of stories, that scientists may recall for decades to come.
After all, this Indian lunar mission will have plenty of firsts to its credit.
It will be a lunar mission that no country has ever attempted - to go to the Moon's south polar region.
It will be India's first soft-landing on the lunar surface.
It will be the first expedition by ISRO in attempting a soft landing on the lunar surface with home-grown spacecraft.
But most importantly, the insights from this mission could bring a paradigm shift in how the world looks at India as a space power.
The media could be flooded with information on Chandrayaan 2 in the days to come.
But here is something that probably no one would be telling you.
Commercial space technology is today a US$ 350 bn industry globally. And Indian space organisations, ISRO and DRDO, with their recent achievements, are extremely critical players.
In 2017, Indian Space Research Organization (ISRO) successfully launched record-breaking 104 nano-satellites into orbit. That too from a single rocket! Countries including Germany, Korea, Belgium, Argentina, Indonesia, Israel and Italy leveraged on India's rocket launching abilities.
In March 2019, the DRDO led Mission Shakti launched an anti-satellite missile. It showcased India's prowess in defense technology in space.
The launches cemented India's reputation as a thrifty satellite producer and launcher. And allowed India an entry into the burgeoning private sector space technology.
More importantly, the launches confirmed the Modi government's commitment to making India's space technology most sought after and commercially viable.
Buoyed by its string of recent successes, the government has been increasing ISRO's budget every year. Even then, the current budget of US$ 1 bn is just about 5% of NASA's budget. Also, ISRO's revenue through commercial launches are just about 0.6% of the global satellite launch services market.
But can entities like ISRO compete with global players like Space X?
Reckon this.
The cost of a satellite launch with ISRO is typically US$ 3 m. Space X would do the same at 20 times higher cost at US$ 62 m.
The attractiveness of India's low cost space technology to the world, is therefore, undeniable.
India's Low Cost Advantage in Space Tech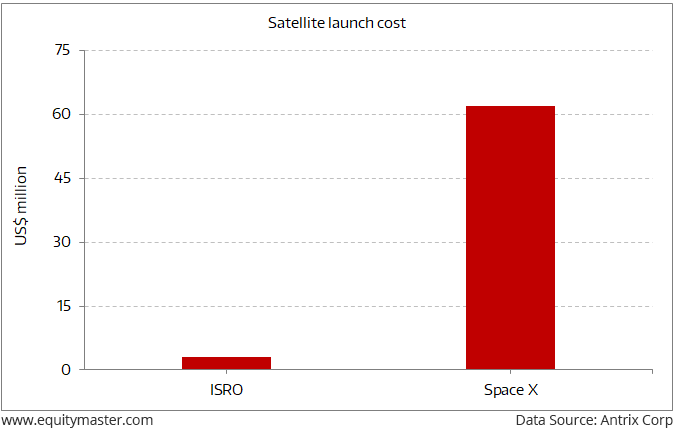 Can you imagine how big the opportunity could be?
Especially, if the government can make India's space technology prowess commercially available?
ISRO has already begun technology transfer to companies and industry consortiums. Companies like Tata Advanced Systems, Bharat Electronics, Godrej Aerospace, L&T, Amara Raja Batteries and Hindustan Aeronautics already have tie-ups with the space research entity.
The joint ventures are not just involved in defence projects. But they are using ISRO's technology for heavy engineering, electric vehicle manufacturing, and even water management.
The recent formation of New Space India Limited (NSIL), the commercial arm of ISRO, is just the beginning. The coming decade could see India move into an entirely new orbit. And its prowess in space technology will certainly be one of the tailwinds.
So how can you make money out of this, dear reader? After all, space technology is only one of many big changes I'm seeing in our country.
I will discuss all this in an exclusive web summit with Equitymaster's CEO, Rahul Goel and I'll tell you how to profit from them.
Watch this space!
Warm regards,



Tanushree Banerjee
Editor and Research Analyst, The 5 Minute WrapUp
PS: Dear reader, Tanushree believes this is the right time to buy the best 7 stocks in the market before they run up. Read more about these 7 stocks here...