I Spoke to Tanushree About India's Demographic Dividend. This is What She Told Me...
Jul 23, 2019
Like many of you, the very first thing my dad reaches out for in the morning is the newspaper. Not one, but two - one English, one Gujarati.
But his love affair with the newspaper doesn't end soon. He carries it to the breakfast table too.
By then, he has scanned through the entire paper and read the key stories. So, as we settle down for breakfast, he starts breaking the big stories to us.
--- Advertisement ---
New FREE Guide: Find the Next Crorepati Stock in this Futuristic Industry

Tanushree Banerjee, the co-head of research, just released her new guide:

Find the Next Crorepati Stock in this Futuristic Industry

And she has agreed to make it available for free for a limited time.

If you've not claimed your free copy, then do so now. It might not remain free for long. One more thing…

Tanushree has also discovered one stock from this futuristic industry… which she strongly believes has the potential to make you a crore or more.

She'll reveal more details about this stock in her first-ever 'One Stock Crorepati MEGA Summit'

We expect this to a huge event… with more than 10,000 people attending it LIVE.

You simply can't miss it.

Click Here to Download the Guide & Block Your Seat Now. It's Free.
------------------------------
Mom, who until now, had been busy assisting the housemaid and packing my sister's lunch, is the first one to react. She reacts with shock or concern, depending on the content of the news.
Her reaction gives my dad the instant cue to offer his "expert" opinion on the matter. He dissects the news story, analyses it, identifies the root of the problem, and gives his verdict.
We're so used to seeing dad lead this daily ritual, that I can tell what he's going to say in the end:
'Our biggest problem is overpopulation.'
The news story could be about anything - frauds, farmer suicides, building collapses, pollution, water crisis, floods, droughts, and so on.
For my dad, the root cause of all the problems in India are overpopulation...
'There are way too many people on the table. How are we to feed so many mouths?'
--- Advertisement ---
20,000 Shares of THIS Stock Gifted in 1990 Are Now Worth Rs 130 Crores

In 2017, Ravi made headlines by calling into a leading business news channel with a surprising announcement – his grandfather had left him 20,000 shares of only one stock.

And on the day of his call – these shares were worth Rs 130 crore.

Can you guess which is this company?
It's MRF.

Ravi's story is one of the amazing stories of becoming Crorepati from a single stock.

But the question is, how to find that one stock that could make one a crorepati?

Well, we've already discovered one.

And we'll reveal details of this 'crorepati' stock in our 'One Stock Crorepati' MEGA summit on 20th December

Register NOW and Block Your 'Crorepati' Seat…
------------------------------
It's difficult to disagree with dad.
Yesterday morning, in a change of routine, I read out the headline from The Times of India to my dad:
'India enters 37-year period of demographic dividend...'
He took the paper from my hand and considered the story for a moment. But he was quick to dismiss it, as I expected.
'I don't see any dividend. It would be better to call it demographic disaster instead. When you have advanced machines, automation, and artificial intelligence to do all the work, you don't need so many humans. They're a burden'
Later at work, I sat across Tanushree at the office lunch table. I told her about my dad's misgivings about India's demographic dividend.
Here's a glimpse of the conversation that followed...
Tanushree: I get where your dad comes from. But this debate around demographic dividend is not at all new. I remember the time when I was in B-school. This was one of the most debated subject.

Me: I agree... This was such a hot topic back then.

Tanushree: You know how cautious I am. For a long time, I sided with the critics of the idea of demographic dividend. From what we saw in the papers, it seemed nothing was working in favour of India. But it took me a lot of time and study to realise that this was not a binary argument.

Me: Yes, true. What's your view now?

Tanushree: Let me ask you a question, if you don't mind. How many people are there in your family?

Me: Six - my granny, dad, mom, sister, wife, and me.

Tanushree: Okay. Tell me how many earning members did you have in your family ten years ago.

Me: Just my dad. My mom has always been a homemaker. My sister and I were studying back then.

Tanushree:Tell me how many earning members do you have now...

Me: Four - my dad, sister, wife, and me.

Tanushree: Do you see that from one earning member out of six, you now have four? That's a four-fold jump! In fact, three of you still have a long career path ahead of you. Your incomes are likely to continue to grow in the coming years and decades.

Me: Wow! I hadn't thought about it that way. Until now, the concept of demographic dividend was so abstract. Now, I can see it. It has happened in our family. And we can see dividends... :)

But is my family a fair representative of the rest of India?

Tanushree: It's not. Imagine millions of other Indian families having the demographic dividend work for them.

Me: But with all the news about unemployment and economic slowdown, isn't it a farfetched dream?

Tanushree The problem with news is that there's an undue focus on all the bad news. But everything is not about gloom and doom.

I'm also not saying that India will march on to become a first world developed country. It's not going to be all hunky-dory.

Unlocking the demographic dividend is no cakewalk. But even if we manage to unlock a part of it, the opportunity for investors will be huge.

It's not something that will unfold all a sudden. But there's hope. And I'm backing my hope with a lot of research.

For the past few years, I have been studying and tracking several megatrends in the economy. From where I see, there are several powerful catalysts currently underway. These catalysts have the potential to lift India into a higher orbit of economic growth.

I could go on and on. But remember this most important thing...

The news media gets rewarded for reporting what has already happened. The investor gets rewarded for betting on what hasn't happened yet, but is likely to unfold in the future.

I'm convinced about India's demographic dividend. The more important point is how to make money out of it. On that point, Rahul Goel and I have planned an online summit to let our readers know all about the big money-making opportunities I can see coming.
I must say, Tanushree has got me intrigued. With all this talk of the short-term sell-off in the stock market, we must not lose sight of the big picture. I'm eagerly waiting for Tanushree's summit. I might just recommend it to my dad!
Chart of the Day
There's been a heavy sell-off in the Indian stock markets following the Union Budget 2019. Since the Budget announcement, investor wealth worth Rs 8.8 lakh crore has been wiped out.
The biggest sellers in the ongoing correction are foreign investors.
Why are foreign investors dumping Indian stocks?
One of the main reasons is the higher tax burden on the super-rich in the form of additional surcharge.
All individuals and association of persons (AOPs) come under the purvey of this additional surcharge.
Why does this bother foreign investors?
Here's the thing - several foreign portfolio investors (FPIs) are structured as AOPs, limited liability partnerships and trusts.
As such, if they earn over Rs 2 crore a year, they will be subjected to the higher tax surcharge.
So, for a foreign investor earning between Rs 2 crore and Rs 5 crore, the effective tax rate goes up from 35.88% to 39%. And those earning more than Rs 5 crore income in India, the tax rate goes up from 35.88% to 42.74%.
FPI were hoping that the Finance Minister would relax the tax burden for them. But Nirmala Sitharaman stayed her ground and rejected the pleas. Here's what she suggested them to do instead: 'FPIs should consider the option of structuring themselves as companies rather than trusts to avoid paying the increased surcharge announced in Budget 2019.'
Nonetheless, FPIs have been on a selling spree in the latest month.
Foreign Investors Turn Net Sellers After Five Months of Buying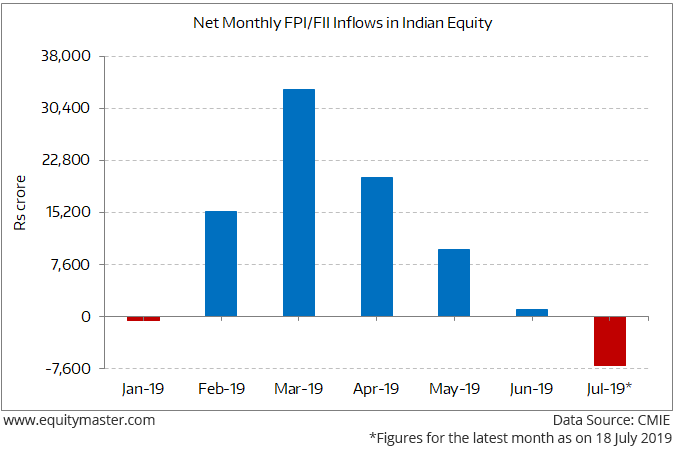 The chart of the day shows the net monthly flows of foreign investors in the Indian stock markets.
In the month of July, foreign investors have so far sold off equities worth Rs 7,143 crore.
It's certainly not a small amount. But one must also see the sell-off in the larger context - foreign investors have been net buyers of Indian equities in 2019.
Since the start of the year, their net investment in Indian equities is worth Rs 71,937 crore. They have been net buyers in five out of seven months.
So, the ongoing sell-off should not be seen as foreign investors exiting India for good. They will come back when the valuations get more attractive to compensate for the higher tax burden.
Warm regards,



Ankit Shah
Editor and Research Analyst, Equitymaster Insider
PS: Dear reader, the next decade could be an era of exponential gains. This book will show you how...
Recent Articles