Insider Leaks Equitymaster Stock Picks
Jul 25, 2017
In this issue:

» India Becomes Fastest Growing Market for passenger vehicles
» Slowdown in Bank Lending in MSEs and Retail Segment
» Market Roundup
» And More...
It's true...
Equitymaster HQ has been infiltrated at the deepest level.
Our best ideas have been stolen.
Stock picks have been leaked.
And the leaks will continue. You can be sure of that.
More on this in a minute.
But first, the merits of starting young...
When asked about the extraordinary success of Warren Buffett and Berkshire Hathaway, Charlie Munger said 'it started with a young man reading everything when he was ten years old, becoming a learning machine. He started this long run early. Had he not been learning all this time, our record would be a mere shadow of what it is.'
Starting early is a big advantage.
I can't claim to have started as young as ten. I was certainly a bit older than that when I first encountered Messrs Buffett and Munger. And though our office is filled with some very good stockpickers, this is true for most of my colleagues, too.
Except Ankit.
All of 23 when I met him, Ankit Shah (no relation) was wise beyond his years. And that wisdom, thanks to his insatiable, Buffett-like thirst for knowledge, has only compounded over the years.
A conversation with Ankit is always fascinating...sometimes exhausting. Not one for superficial understanding, I've seen him at management meets bombarding promoters - question after question after question - until he gets to the very core of the issue...and the poor promoter wished he'd never gone into business.
Even I've had to recheck assumptions on the back of something Ankit said or asked.
Where does he get his wisdom? How does he cultivate his always-fresh perspective? I don't know. Perhaps it has something to do with his practice of vipassana and other meditative techniques.
All I know is that I read everything Ankit writes.
Reading him not only makes finance enjoyable. It takes it to another level. He has a way of unlocking new doors in his readers' minds. If you have read his work, you know what I mean.
So why am I now talking about Ankit?
Believe it or not, he's the guilty insider.
For the past few weeks, Ankit has been leaking valuable stock picks to his readers. But they weren't his stock picks. No, he infiltrated our research teams and spied on their activities.
Because we trust him, Ankit has access to our best investment ideas. This is confidential information we take great effort to guard on behalf of our paid subscribers.
And Ankit has been 'borrowing' our best stock picks and sending them to his readers!
More on this throughout the week.
02:30

Chart of the Day

India is the fastest growing market for passenger vehicles (PV) among the top seven car markets. China continues to be the world's biggest auto market by volume.

During January- May 2017 period, India's PV sales expanded by 11.3% YoY. This came when the top two markets, China and the US saw a declining trend where volumes declined by 2.6% YoY and 9.8% YoY respectively. India's double-digit growth was led by companies like Maruti Suzuki, Hyundai, Honda and Tata Motors.
India Tops Growth in PV Sales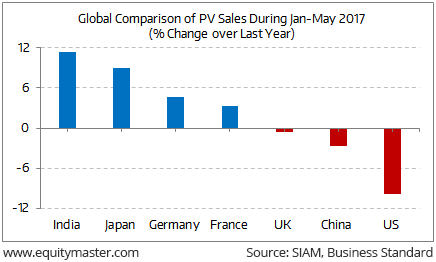 The double-digit growth came despite the auto industry witnessing some turbulent time in the last six months as demonetisation put a pause on a great run. Towards the end of fiscal year, a Supreme Court order banning the sale of vehicles that don't conform to Bharat Stage IV emission rules saw some fire sale.
Nevertheless, the blip is expected to be temporary. Reduced vehicle prices post GST, low interest rates, attractive discounts and expectation of good monsoons, will provide support to the industry.
Another interesting aspect of growth is low penetration of PVs in India, which is currently pegged at 19 vehicles per 1000 people. In comparison China penetration stands at 76 per 1000, UK 455 per 1000, Germany 544 per 1000, USA 360 per 1000.
It is important to note that developed markets such as USA, UK and even China have reached the saturation point and are slowing down, enabling developing markets like India to grow at a faster pace.
As per Market research firm JD Power, Indian passenger car segment is expected to grow by over four-fold in 2020 and expects India to grow into the third-biggest car market.
In news from the banking sector, as per an article in Business Standard, growth in credit to micro and small enterprises (MSEs) in the manufacturing sector declined to -2.2% and -0.5% in FY16 and FY17 respectively. The sharp decline came as non-performing assets (NPAs) in the MSE sector started rising. As per CRISIL, the gross NPA trend in MSE priority sector loans of the top five public sector banks has increased from 5.4% to 12.6%. Whereas, it was range bound at 1.8%-2.4% for private banks.
As per the latest article by Vivek Kaul, banks are witnessing a slowdown in the retail lending as well.
Between May 2016 and May 2017, the total amount of retail loans given by banks stood at Rs 1,94,533 crore. This was down by around 15 per cent to the amount of retail loans given by banks between May 2015 and May 2016. This, despite the fact that interest rates on retail loans have come down dramatically in the post demonetisation era. You can get a home loan now at an interest of as low as 8.35 per cent per year.

A major reason for this slowdown in retail loans are housing loans, which form the most significant part of retail loans.

Lower interest rates on home loans haven't helped much. The only explanation of this lies in the fact that high real estate prices continue to be the order of the day across the country.
Vivek concludes by saying:
What does this tell us? It tells us very clearly that things have deteriorated even on the retail loans front. People take on retail loans only when they are sure that they will be able to continue repaying the EMIs in the years to come (unlike corporates).

This is another good indicator of the overall slowdown in the Indian economy, which has happened in the post demonetisation era.
With the private sector spending remaining week, it is even more critical for the government to ramp up public spending in infrastructure and put more money into the pockets of the people to revive credit growth. Not to mention, there is an urgent need for a solution to the bad loan burden of banks, which is necessary to encourage further lending, particularly for the PSU banks.
At the time of writing, the Indian stock market was trading marginally higher with the BSE Sensex up 31 points. While, the BSE Mid Cap index was trading higher by 0.3%. The stocks in the Banking space were trading in green while that in Capital Goods space took a beating.
04:55

Investment Mantra of the Day

"Investors making purchases in an overheated market need to recognize that it may often take an extended period for the value of even an outstanding company to catch up with the price they paid." - Warren Buffett

This edition of The 5 Minute WrapUp is authored by Rahul Shah (Research Analyst).
Today's Premium Edition.
Bitcoin Is Up 23,000% Since Our Global Expert First Bought It
The rise of cryptocurrencies has been so astronomical that it dwarfs even some of the best gains in the stock markets.
Read On... | Get Access
Recent Articles