Why Did This Zen Investor Go Rogue?
Jul 26, 2017
In this issue:

» New RBI Provisioning Norms to Hit Banks' Earnings This Fiscal
» Spate of Insurance Companies' IPOs This Year
» Market roundup
» And more!
He may not seem impressive at first sight.
Short and unassuming...perhaps a bit too Zen for a corporate office (he prefers a t-shirt to a tie and a few minutes of meditation to coffee)... Ankit Shah presents a calm, if not casual, face to the world.
But beneath the cool exterior lies an intelligence, originality, and warmth rare in the world of stock analysis.
The guy always seems to be ahead of the curve. He was the first to introduce our readers to Charlie Munger. And I will always be grateful to him for introducing me to Nassim Nicholas Taleb. (Not personally, of course. I mean his books such as Black Swan. But now that Ankit is editor of Vivek Kaul's Inner Circle, he probably could introduce me to Mr Taleb in person!)
If Ankit wasn't an analyst, he'd probably be a teacher. He is a natural communicator with a strong desire to educate and empower those around him.
Actually, I take that back. Ankit is a teacher. He was the co-creator of Equitymaster's Secrets, an extremely well received online learning course covering the A to Z of value investing. Ankit told me he could barely keep up with the emails thanking him for making value investing so approachable (he responds to every email).
And by the way, he is a believer in value investing - through and through. He was reading Charlie Munger long before most of us knew how to pronounce the name.
With interests ranging from stocks, real estate, gold, FDs, bitcoins, and cryptocurrencies to behavioral investing, alternative healing and meditation, he is also a bit of a polymath.
So why would this sweet bookish Zen investor go rogue?
As Rahul Shah told you yesterday - a bit playfully - Ankit has been sharing valuable investing ideas from our various premium services including Microcap Millionaires, Peak Profit Alert, and my own Hidden Treasure with his readers.
I think the answer is simple: Ankit cares about his readers. He has always wanted to provide them with the best information, the best analysis, and the best stock ideas. And with his vast network, penetrating analysis, and overwhelming desire to educate, he was in a position to do just that. So he did. Case closed.
But wait...that's not the end of it.
Our CEO may have been annoyed at first, but he was quick to see the value in this. And he eventually came around to the idea of allowing Ankit to offer these cherry-picked investing ideas from across our services as well as exclusive macro insights from Ankit's global network to his readers in a new premium daily newsletter.
More on this throughout the week. Stay tuned...
02:15

Chart of the Day
Asset Quality Deteriorates Further for Banks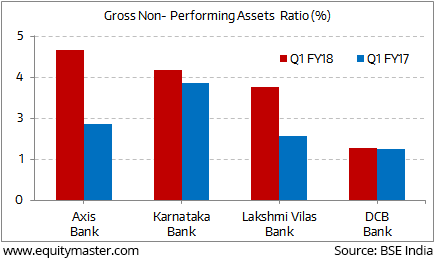 When it rains, it pours. This can't be truer for any sector other than banking at the moment. If first quarter FY18 results of banks are anything to go by, there's a long painful road ahead. Axis Bank reported a gross non-performing asset (GNPA) ratio of 5.03%, a rise of 249 basis points year on year. Other regional players like Karnataka bank and Lakshmi Vilas Bank also reported deteriorating asset quality numbers.
Apart from these banks, PSBs are also expected to report similar or even worse numbers. The Reserve Bank of India (RBI) recently identified 12 largest bad loans for resolution under the bankruptcy code. State Bank of India (SBI) is the lead banker to 6 of these 12 accounts.
While the final solution would be liquidation of these 12 major defaulters, how much value will their lenders i.e. PSBs get from selling them remains to be seen. It is likely that these defaulters would have already sold their most productive assets to stay afloat.
The RBI also expects the average GNPA ratio to increase to 10.2% by March 2018. It indicated that if macroeconomic conditions worsen, this number could go up.
Bad loans at public sector banks have grown by more than Rs 1 trillion since April 2016 to Rs 6 trillion as of 31 December 2016. Banks such as IDBI Bank and UCO Bank are already facing regulatory curbs due to worsening asset quality. On the other hand, private sector banks such as Yes Bank and ICICI Bank was recently in the news for under-reporting of bad loans.
Although RBI is showing urgency in tackling the NPA issue, a lot more needs to be done by lenders too to stop the rot.
The recent run up in the markets has prompted a spate of activity in the Insurance sector. IDBI Federal Life Insurance, a joint venture between IDBI Bank, Federal Bank and Ageas is exploring a 100% stake sale.
After ICICI Prudential Life Insurance successful IPO in September 2016, other giants are keen on getting their insurance arms listed. SBI Life Insurance is likely to raise Rs. 85 -90 billion via the IPO route this year.
HDFC Life has also filed for an application with the Insurance Regulatory and Development Authority of India (IRDA) to seek approval for its IPO.
While insurance companies make for an interesting business model, the life Insurance industry in India is quite competitive. At present, there are 23 private players in this space apart from the giant i.e Life Insurance corporation (LIC) of India. The industry has seen de-growth during the period 2010-2015.
Moreover, the industry is tightly regulated.
So it is hardly surprising that the insurance companies are trying to raise money at a time when market optimism is at its peak . As per The Economic Times, at least fifty more companies are likely to come out with IPOs this year, raising between Rs 400 and Rs 600 billion.
It makes sense for an investor to look at valuations closely for these companies.
A careful evaluation of each IPO on its merits - its fundamentals, and most importantly, valuations - is the only way to spot future multibaggers. To learn how to navigate the tricky world of IPOs, do read our special report on finding money-spinning IPOs.
The Indian stock markets were trading higher at the time of writing with realty stocks and metal stocks leading the gains. At the time of writing, the BSE Sensex was trading up by around 119 points while the NSE Nifty was up by around 37 points. The BSE Mid Cap index is trading up by 0.4%, while the BSE Small Cap index is trading up by 0.6%.
04:56

Investment Mantra of the Day

"Risk comes from not knowing what you're doing." - Warren Buffett

This edition of The 5 Minute WrapUp is authored by Richa Agarwal (Research Analyst) and Girish Shetty (Research Analyst).
Today's Premium Edition.
How to Buy Bitcoin in India
Is it legal to trade bitcoin in India? How is the bitcoin price determined in Indian rupees? What are the various costs involved? And more...
Read On... | Get Access
Recent Articles