I'm No Rogue Analyst... I've Just Managed A 'Jugaad'
Jul 27, 2017
In this issue

» Reduction in Losses of Power Distribution Companies
» Finance Ministry's Advice to Public Sector Banks
» And More!
They accused me of 'going rogue'.
They said I 'leaked' our research team's best ideas to my readers.
They even said I wasn't very impressive to look at!
Well...
I don't see anything wrong with that...except that last one.
The way I see it, I've just managed a smart jugaad for my readers.
Let me explain...
When someone asks me when I became interested in value investing, my stock answer is:
From the time I was born.
You see, value investing and jugaad are in my DNA.
Of course, I studied the nitty-gritties of how to evaluate companies and analyse financial statements during my college years.
But I have no doubt that my 'rogue' behaviour is genetic.
Some people think I'm a miser. It's true; I don't wear expensive clothes or fancy watches. My phone is really old. I'm over 30...and have never owned a car.
But you see, I come from a middle-class Kutchi bania family. We're simply programmed to be value conscious, low-cost innovators.
When my grandfather came to Mumbai as a boy, he had nothing except the bania gene. And he went on to build a solid business from scratch.
If I were to nail the key bania principles, these would be the top five:
If you are frivolous with a single rupee, you will be with a million rupees.
There is a jugaad (a low-cost innovative solution) for everything.
No matter how rich you get, keep your expenses on a tight leash.
Know the difference between assets and liabilities. Invest in the former, minimise the latter.
Save. Invest. Reinvest. Avoid debt.
So you see, I'm programmed to seek more bang for every buck. It's almost crime against nature for me to be frivolous with money.
Even when I was a teenager, when my classmates were playing video games on their expensive Play Stations, I'd be scouring the roadside booksellers near Flora Fountain and Churchgate Station for dusty, dog-eared, second-hand paperbacks.
Among the pages of those books piled high along the city footpaths...in exchange for a few ten-rupee notes...I was able to spend time with the greatest minds in the world - Warren Buffett, Peter Lynch, George Soros, Nassim Nicholas Taleb...
Let me ask you... Which is better value: a few rupees to learn from Warren Buffett, or a few thousand rupees to play some video game?
The investing legends only reinforced my bania roots.
I was thrilled to learn that Buffett still lives in the same house he bought decades ago...that he still drives himself to work...that he still eats at the same old hamburger joints. His wealth increased multifold, but he never let his expenses run amok.
My forefathers would have loved this man!
So it all came full circle for me. My work allows me to harness my natural 'miserliness' to identify winning opportunities for my readers.
And what I've been doing lately...'stealing' my network's best investment ideas...is merely a natural extension of that.
Simply put: I couldn't help it!
Am I guilty?
Yes.
Would I do it again?
Absolutely!
My colleagues and publisher are recognising how valuable these 'EquityLeaks' are for my readers...and I've convinced them to let me keep doing it.
I have been vindicated.
Rather than being condemned, my colleagues have given me the green light for the most exciting project I have taken on till date.
So what is my latest jugaad all about?
Very soon I will enter the witness box and reveal all.
Stay tuned...
03: 00

Chart of the Day

Not long ago, in 2015, the Indian power sector was in a dismal state. Acquiring coal was a daunting task for the power generation companies. And even when they could, they weren't able to sell their power to the power distribution companies (DISCOMs). DISCOMs are the enterprise which purchase power from the generation companies.

DISCOMs had accumulated massive losses of Rs 3,800 billion. Drowning in huge losses, the DISCOMs simply didn't have the financial ability to buy power.

However, things seem to have changed since the introduction of the Ujwal Discom Assuarance Yojana (UDAY) scheme, which aims to revive the DISCOMs.
Improving Operating Efficiency of DISCOMs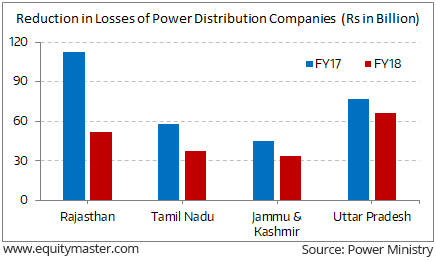 First, the re-allocation of coal blocks and the rationalisation of coal linkages led to a situation where not a single power plant faced coal shortages. This is in contrast to the 2014 power crisis when two-thirds of major power plants had critical coal stocks of less than seven days.
Second, the implementation of UDAY has caused states to raise power tariffs. A hike in power tariffs does not bode well for the ruling political party. So for a long time, DISCOMs, usually a state government undertaking, did not hike tariffs. However, the UDAY scheme states that, if the DISCOMs continue to bleed after FY17, the state government concerned would have to take on the DISCOMs operating losses.
With this threat, the state governments have become more willing to hike tariffs. This has led to a significant improvement in DISCOM finances.
For example, DISCOMs in Rajasthan, Tamil Nadu, and Uttar Pradesh have been able to reduce their losses by 54%, 35%, and 14% in FY17 as compared to a year ago.
Improved DISCOM health could prove to be a major boon to the power sector and could go a long way in helping the government achieve its goal of power for all by 2022.
In a recent move, the Finance Ministry has advised the public-sector banks (PSUs) which have financed the loan in a consortium to collectively dispose of their bad loan to asset reconstruction companies (ARCs).
The ministry believes that selling the bad loans collectively to ARCs would fetch better realizations than selling it on a piecemeal basis.
The directive comes at a time when the bad loans at public sector banks have increased more than Rs 1 trillion since April 2016 to Rs 6 trillion as of 31 December 2016. Banks such as IDBI Bank and UCO Bank are already facing regulatory curbs due to worsening of asset quality.
Although the RBI and government is showing urgency in tackling the NPA issue, a lot more needs to be done by lenders too to stop the rot.
At the time of writing, BSE Sensex was trading higher by 184 points. Sectoral indices were trading on a positive note with stocks from FMCG and banking sector witnessing maximum buying interest.
04:50

Investment Mantra

"Rule No. 1: Never lose money. Rule No. 2: Never forget Rule No. 1." - Warren Buffett
Today's Premium Edition.
Don't Buy Bitcoin Until You See This Chart
Apurva and I agree: This is a must-watch for anyone with the slightest interest in buying bitcoin.
Read On... | Get Access
Recent Articles