Why We're Allowing Daylight Robbery of Our Research
Jul 28, 2017
In this issue

» Pharma Companies get Breather
» Law to Deter Defaulters
» Market Update
» And more...
Well, the 'rogue analyst' came clean yesterday. Ankit's 'jugaad' confession could make even the most value-averse heart melt.
It's not for nothing that Rahul, Richa, and I allowed Ankit into the inner sanctum of our research.
As Richa pointed out on Wednesday, Ankit is unique in the world of equity analysis. His original perspective has helped shape some of our very best recommendations over the years. Put simply: We value his input. And so do our subscribers.
But in light of his recent actions...why did we decide to allow him access to our research?
It's a good question.
At first, it seemed to us Ankit was proposing daylight robbery. And daylight robbery it is...
But then we realised Ankit is, at heart, a bit of a Robin Hood. His intention to 'leak' our ideas is noble...and having been core to our team for years, he knows what, why, and how much to share to benefit his reader.
Remember, most analysts are not generalists. That would hardly allow us to drill deep into our ideas. Most analysts I know, therefore, are experts in a specific segment (such as auto or tech) or approach to the markets (such as value investing or momentum investing).
So, while most of the research team is laser focussed on a few investing ideas - ideas that appeal to us most...ideas that we believe could create life-changing wealth for our subscribers - Ankit has the advantage of a bird's eye view.
Ankit is on a quest to be a Munger-like 'expert generalist'. That is, he's a value investor. But if you join him for lunch on any given day, you can quiz him on his latest views on bitcoins, quantum physics, evolutionary biology, neuroscience, behavioural economics, psychology... Whatever you're interested in, Ankit probably has a view. And one that could change the way you see things.
It's this expert-generalist approach that allows him to cherry pick the very best ideas with cool reserve (rather than the obsessive single-mindedness of your typical analyst).
His mantra is simple...
Draw on that palette of diverse knowledge to recognise patterns and connect the dots across multiple disciplines.
For instance, to understand why pharma stocks are correcting, Ankit doesn't just read my macro view on pharma. He asks our chartist, Apurva, how the pharma charts are aligned. He checks with Rahul to see if his systems are throwing up any pharma bargains. Then he connects the dots.
This is not something most analysts are wired for.
So as Ankit laid out his defence recently, it became clear that his jugaad...these 'insider leaks' from across our services...offers his readers tremendous value.
Rahul, Richa, and I would rather drill deep into our research ideas than connect dots across disciplines, assets, and thought processes.
So, if Ankit's jugaad offers a way to bring it all together, we can overlook the daylight robbery.
So, is Ankit just 'stealing' our ideas. Or is there more to this insider than we know? I think it's best you hear about it from him. He has promised to share the details of his jugaad tomorrow.
Stay tuned...
02:30

Chart of the Day

By the way, there is an interesting development that will give Ankit enough fodder to gain fresh perspectives on pharma companies. In recent times, pharma companies were bogged down by mounting pressure from US Food and Drug Administration (USFDA) to adhere to quality standards at their manufacturing plants. In the past three years, the USFDA raised numerous regulatory concerns resulting in import bans and suspension of new drug approvals from facilities of Indian pharma companies. But what has come as a breather is a sharp pick-up in new drug approvals in 2017. During the period January-July 2017, 129 approvals for generic drugs were made. This is 45% higher from 89 approvals made in the corresponding period last year.
USFDA sweetener for Indian Pharma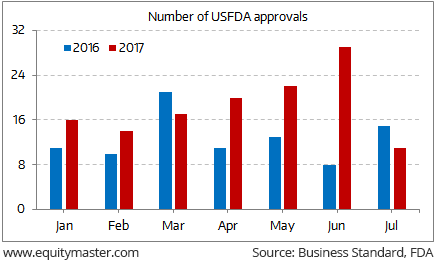 As per the Indian Pharmaceutical Alliance, the pace of drug approvals has gained momentum after they complained to FDA about delays last year. Approvals for drugs have also picked up after USFDA concerns at some of the manufacturing units were addressed. Companies such as Divi's Laboratories, Cadila Healthcare, Sun Pharmaceuticals and Dr Reddy's Laboratories got regulatory clearances for some of their plants during the year. But several companies are still grappling to resolve FDA concerns. Some facilities of Wockhardt, IPCA and Sun Pharma are still under import alert whereas a few units of Divi's Laboratories and Dr Reddy's have received warning letters. However, FDA's move to speed up generic drug approvals in a bid to reduce healthcare costs is likely to provide some earnings relief to domestic pharma companies.
The government is leaving no stone unturned in averting future bad loan problems of banks by creating a stringent atmosphere for potential loan defaulters. After the passage of the Insolvency and Bankruptcy Law empowering RBI in stressed asset resolution, SEBI is working on a rule to make it mandatory for listed companies to disclose loan repayment defaults. This would mean that whenever a company fails to make interest and loan installment payments on time it will have to inform stock exchanges. If this SEBI rule indeed becomes a law then companies will not be able to defer their payment dues, taking advantage of the 90-day window period, only beyond which the loan gets classified as non-performing in the banks' books. In other words, this is a proactive measure that will nip the problem of willful company defaults in the bud. And will pave way for better asset quality management at banks.
Indian equity markets opened the day in red and continued to remain in the negative territory. At the time of writing, BSE Sensex was trading lower by 172 points and NSE-Nifty was lower by 34 points. Both the mid cap and small cap indices are trading up by 0.5% and 0.4%, respectively. Stocks from the healthcare and telecom sectors are witnessing maximum buying interest.
04:56

Investment Mantra of the Day

"We simply attempt to be fearful when others are greedy and greedy only when others are fearful." - Warren Buffett

This edition of The 5 Minute WrapUp is authored by Tanushree Banerjee (Research Analyst) and Madhu Gupta (Research Analyst).
Today's Premium Edition.
Women and Technology Are Behind This Disruption in Two-Wheelers
Resurgence in scooter demand is changing the dynamics in the two-wheeler industry.
Read On... | Get Access
Recent Articles