A First-Hand Insight into the EV Disruption from a Remote Location in Andhra Pradesh
Jul 31, 2019
The AGM season is here!
I've been attending annual general meetings (AGMs) of some very high-quality companies. It's certainly been a deep learning experience.
If you've been to AGMs, you'll know that you get to ask questions to the top management.
Yes. Directly to the managing director, CEO and the Chairman. They listen to all the questions patiently and answer them.
Special: How To Become A Crorepati From A Single Stock
But what do people ask?
Normally, shareholders ask for more dividend payments, bonus shares, gifts etc.
But some shareholders ask really tough questions.
They grill the management about capital allocation decisions, related party transactions, key revenue drivers, new business opportunities, and capital expenditures.
I want to share my experience of one AGM in particular. It was really special.
Why?
The company is foraying into the Electric Vehicle (EV) space.
It has even set up a pilot plant! Here, the company will assemble battery packs with lithium-ion technology. This is to serve the 2-wheeler and 3-wheeler EVs.
Urgent: Why 3 Tiny Companies Could Be On The Verge of a Rebound...
Similarly, development work is underway for E-bus and passenger car segments too.
But just attending the AGM was a tough task for me.
I had to travel to a remote location in Andra Pradesh. It was difficult to get there.
Travelling to this Remote AGM was Difficult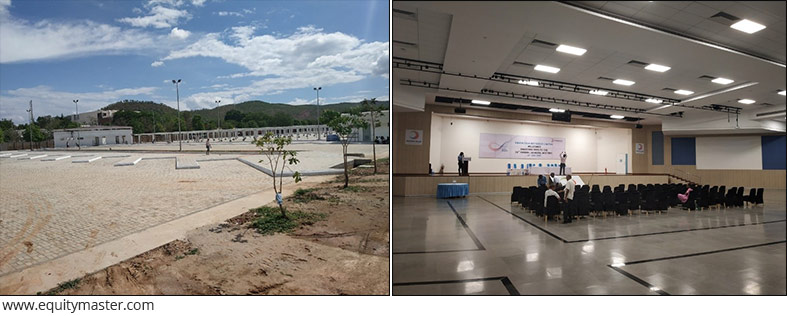 But it was totally worth it.
Why? Allow me to explain...
The company is preparing a road map to foray into the EV space. To begin with, the management is focused on the e-rickshaw.
E-rickshaws have gained significant traction in tier-2 cities. They are replacing the cycle rickshaw for last-mile connectivity.
--- Advertisement ---
Urgent Announcement: AN EXCLUSIVE SPECIAL BROADCAST

We very rarely do this at Equitymaster: Conducting a Mega Summit to reveal the details of a one high potential stock.

You see, our Head of small cap research, Richa Agarwal, has found potentially the best money-making opportunity of the decade...

This opportunity is so BIG that she has decided to do an EXCLUSIVE SPECIAL BROADCAST at 5 pm on 22nd August to reveal the details of this once in a lifetime opportunity...

The great news is that if you act now, you can get access to this special broadcast for FREE.

All you need to do is register and block your seat for right now...

We are expecting this to be the biggest event in Equitymaster's history...

In fact 4,000 people have already claimed their seats for this special broadcast!

So, make sure you do not miss out on this very rare opportunity...

Join 4000+ people and block Your Free Seat for the One Stock Crorepati MEGA Summit Now!
------------------------------
This is a good opportunity for the company due to the high replacement cycle of e-rickshaws and the large presence of unorganised players.
They're ready with the first flat plate battery for e-rickshaws.
Similarly, they've developed several lithium-ion products too and are in talks with several e-rickshaw OEMs.
Now if you're thinking this is an opportunity to make fast profits, think again. The management is very careful about investing in the EV space.
You see, investing early could be risky. The company will end up with a huge asset base and high interest cost.
On the other hand, investing late would be a case of missing the boat. However, at this stage, the risk of investing early is higher than the risk of investing late.
That said, the management is actively looking at many opportunities such as e-rickshaws, electric bikes etc.
Overall, I got positive vibes of the management's capabilities to ride the EV boom in India.
My colleague Tanushree also believes in this company.
In fact, she believes the demand for lithium-ion batteries from both the automotive and industrial sectors will be a big tailwind for this company.
This is a key technological catalyst for the Rebirth of India which she is closely tracking.
In fact, this stock is one of the 7 stocks she has picked for her premium subscribers.
Tanushree will be talking about the Rebirth of India (and the 7 stocks) in an exclusive online summit on 8 August at 5 P.M.
You can book your free seat for the summit here.
Chart of the Day
Despite the slowdown in the auto sector, the sales volume of electric vehicles (EVs) are growing at a robust pace.
Look at the chart below.
Electric Vehicle Sales on a High Growth Trajectory!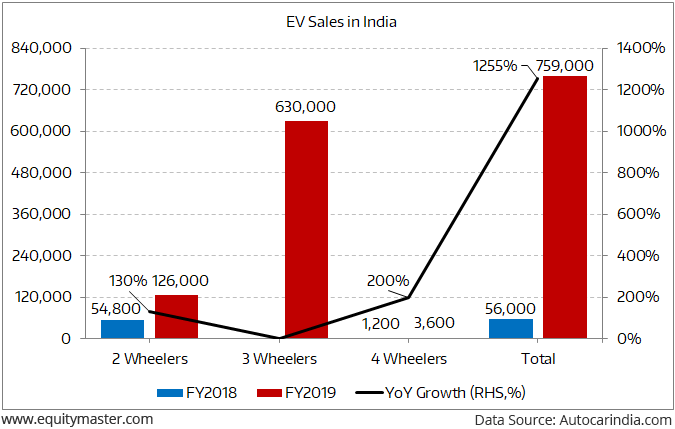 Electric-2 wheelers sales volume registered rose 130% YoY in FY19. 4-wheeler EVs grew by 200% YoY.
Similarly, electric three-wheelers reported the highest sales volume of 630,000 units. It is important to note that the electric three-wheeler industry has been growing without government support.
The base is quite low compared to the internal combustion engine (ICE) vehicle sales. However, you cannot ignore the growing momentum in EV sales.
The recently announced government incentives will give a further boost to EV sales.
Warm regards,


Sarvajeet Bodas ,
Co-editor and Research Analyst, Smart Money Secrets
PS: Tanushree will be live talking all about the huge money-making opportunity called Rebirth of India in an exclusive online summit. She has already identified 7 great stocks to ride this boom. Book your free seat for the summit here.
Recent Articles