A Contrarian Explains How to Separate Prosperity from Safety
Aug 1, 2017
In this issue:

» Core Sector Growth Falls to 0.4% in June
» SBI Cuts Rate on Savings Account
» Market Roundup
» And More...
In his 2008 letter to shareholders, Warren Buffett wrote:
Last year I made a major mistake of commission. Without urging from Charlie or anyone else, I bought a large amount of Conoco Phillips stock when oil and gas prices were near their peak. I in no way anticipated the dramatic fall in energy prices that occurred in the last half of the year. I still believe the odds are good that oil sells far higher in the future than the current $40-$50 price.

But so far I have been dead wrong. Even if prices should rise, moreover, the terrible timing of my purchase has cost Berkshire several billion dollars.
Was Conoco Phillips a bad stock?
I don't think so.
The big mistake Buffett made was that he confused prosperity with safety.
His investment in Conoco Phillips was during a prosperous time for the oil and gas industry. Oil prices were near the peak. The world was consuming record oil, and energy companies were making money by the fistful.
Buffett, of all people, should have known that, during prosperous times, profits receive a big one-time boost. They come in abnormally higher.
So you can see how assuming these earnings are normal and assigning them a safe valuation multiple could easily lead you to overpay. And that's exactly what happened to Buffett.
Buffett, however, suffered only a part of the damage that comes from confusing prosperity with safety.
Conoco Phillips is a good business with a great long-term track record. But what if even the underlying business is of suspect quality and is profitable only because there is prosperity all around?
This would be a huge double whammy. Your investment could go down all the way to zero.
Buffett's teacher Benjamin Graham once made the following point:
Observation over many years has taught us that the chief losses to investors come from the purchase of low-quality securities at times of good business conditions.

The purchasers view the good current earnings as equivalent to 'earning power' and assume that prosperity is equivalent to safety.
Buffett assumed Conoco Phillips' good earnings were the new normal and valued it based on those earnings. He thus made the fatal mistake of confusing prosperity for safety.
In my Microcap Millionaires service, my team and I take steps to minimize this error.
First, we value companies based on their book values rather than current earnings. Book value doesn't change as much as earnings do during prosperous times. This makes them much less prone to errors of judgement.
Second, during prosperous times, we are only minimally invested in stocks (25% of the portfolio), because so few good quality stocks are available at safe valuations.
This way, even if we do confuse prosperity with safety, the damage to the overall returns is manageable as we we're only 25% in stocks as opposed to 80% or 100%.
The result is a 3x outperformance of the Sensex and closing 90% stock picks with gains
As a value investor, I am always contrarian in nature and never assign too high an earnings multiple to any stock.
But, I still do the smart thing and make sure the earnings itself are safe, and not a result of prosperous times. Or better still, consider the book value.
A contrarian approach can be just as foolish as following the crowd. What one needs to be is a smart contrarian.
Can you be a smart contrarian?
Editor's Note: By the way, two new IPOs have just hit the Indian primary markets! If you, like everyone, are wondering whether to apply or avoid the IPO, you will want to see Ankit's Insider IPO report...
02:30

Chart of the Day

The output of eight core industries slowed down in June as the total output moved up marginally by 0.4% as against an increase of 4.1% in May 2017. The combined index of eight core industries stands at 121 in June 2017, compared to 120.5 in June 2016. The eight core industries comprise 40.27% of the weight of items included in the Index of Industrial Production (IIP).
Slowdown in Manufacturing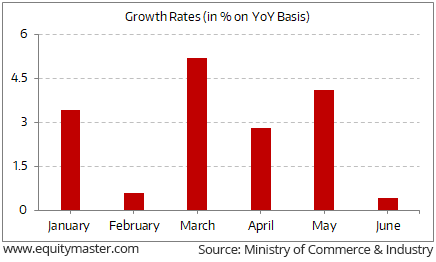 The slowdown in on the back of a decline in output of coal, refinery products, fertilizer and cement.
The previous low was recorded in November 2015, when the sectors' output had declined by 1.3%. Coal production, petroleum refinery production and cement production declined by 6.7%, 0.2% and 5.8% respectively in June 2017 as compared with the corresponding month of last year. On the other hand, steel production, Natural gas production and Electricity generation increased by 5.8%, 6.4% and 0.7% respectively. During April-June period of the current fiscal, growth of the eight core segments slowed down to 2.4% from 6.9% in the same period last year.
The above data clearly indicates a subdued picture of industrial growth in June 2017. PMI data also highlighted a slowdown in growth across India's manufacturing sector during June 2017. As per the survey report, challenging economic conditions, water shortages and the implementation of the GST reportedly hampered growth.
Nevertheless, growth recovery is expected to accelerate in the second half of 2017. This will be on the back of a resumption of production after GST, normal monsoons and lower lending rates.
Yesterday, State Bank of India (SBI), the country's largest lender, cut the interest rate on savings account deposits from 4% to 3.5%. SBI cited a decline in the inflation rate, high real interest rates, abundant liquidity and muted credit growth to justify its rate revision.
The Reserve Bank of India (RBI) raised the interest rate on savings bank deposits by 0.5 percentage points, to 4%, way back in April 2010 and deregulated these rates in October 2011. Most banks kept savings bank rates constant over the past six years. Whereas, few private banks such as Kotak Mahindra Bank, Yes Bank and IndusInd Bank increased their saving bank rate to grab market share and scale up their CASA (current account saving account) base.
As per the bank's management, the choice before the bank was to either raise the marginal cost of lending rates (MCLR) or cut savings bank interest rates. It chose the latter to avoid a further deceleration in already weak loan growth.
SBI move marks a shift towards market-based pricing for savings deposit. Will others follow? Other large banks may be encouraged to follow suit, which will bring down the banks' cost of funds.
If shipping is a cyclical industry, then the shipyard business takes it to the next level.
Consider this. Twenty-seven private shipyards in India are reeling under massive losses due to a mountain of debt and lack of work. Even international players - the Big Three i.e. Hyundai Heavy Industries, Samsung Heavy Industries and Daewoo Shipbuilding & Marine Engineering (DSME) - are incurring losses. In fact, DSME, the world's second-largest shipbuilder by revenue is facing bankruptcy.
It in this environment that Cochin Shipyard is coming out with an IPO. So, should you subscribe to this IPO? Do the company's fundamentals justify the price it is asking?
We have released an in-depth analysis along with a clear apply or avoid view on this opportunity...
Click here to get access to this report.
At the time of writing, the Indian stock market was trading marginally higher with the BSE Sensex up 37 points. The BSE Mid Cap index was trading higher by 0.4%. The stocks in the Banking space were trading in green while that in Capital Goods space took a beating.
04:55

Today's Investing Mantra

"When we own portions of outstanding businesses with outstanding managements, our favorite holding period is forever." - Warren Buffett

This edition of The 5 Minute WrapUp is authored by Rahul Shah (Research Analyst).
Recent Articles