The Real Reason for ITC's Stock Price Crash
Aug 2, 2017
In this issue:

» Manufacturing growth experiences GST woes
» RBI on track to cut key interest rates
» ...and more!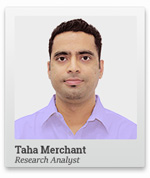 On 18 July, shareholders of this 'blue chip' company woke up to a sea of red. That day the stock saw its biggest fall since 1992. Investors were left aghast.
With its almost 13% crash, cigarette major ITC's stock hardly displayed blue-chip behaviour. The fall meant a massive Rs 450 billion hit to the stock's market cap - in one day.
And the fall from the high earlier this month was even worse at 20%.
Reports from some quarters forecast even steeper falls still. MNC brokerage CLSA cut its target price for ITC from Rs 417 to Rs 285. That's almost a third of its value wiped off in one fell swoop.
The reason?
The Goods and Services tax (GST) Council announced a hike in the cess on cigarettes the day before.
But this wasn't really the reason. It was what happened before.
And I'm going to be frank with you. ITC was already an obscenely priced stock.
But that hadn't stopped excitement over GST rates reducing the tax on cigarettes from taking the stock even higher. So much so, it surged to a record high of Rs 353 on 3 July - a trailing twelve-month price-to-earnings of almost 42 times! ITC shareholders completely ignored the fact that the government has long had an aggressive stance on cigarettes, raising the tax on them almost every year.
Investors were betting GST had brought an end to this. And they considered no other possibility.
Indeed, investors were in no mood to keep even the slightest margin of safety to absorb the unexpected. In the process, ITC became a 'priced-to-perfection' stock. Its price factored in all the good, and ignored all the potential negatives.
The result is for you to see.
Worse still, this is not an isolated case. The markets are brimming with 'priced-to-perfection' stocks these days.
When markets enjoy a sustained up-move, it gives investors a lot of comfort. They start to think of stocks as highly stable! But this is a deceit. They were, are, and always will be at their core fluid and volatile beasts. And ever at the mercy of the vagaries of the business world that spare no one.
Companies can only run from these vagaries, but they can never hide. And that's why I avoid priced-to-perfection stocks.
Because blue chip or no blue chip, when bad news comes knocking and stock prices crash, it's much like a red-hot knife sliding through butter.
Editor's Note: Small cap, Blue chip, IPO? System-based strategies, cryptocurrencies, fixed deposits?
What's caught Ankit's eye this week?
Ankit is the Equitymaster Insider. His work gives him access to the best investment ideas across twelve premium services. And now Ankit has been cleared to share these ideas with his readers...
Every day the markets are open, Ankit will scan the markets and the best financial research across his global network, and once a week he'll give you his very best cherry-picked investment idea.
Get on Ankit's Insider list now.
03:30

Chart of the Day

GST also hurt India's manufacturing sector as the new tax regime caused a marked disruption in the country's manufacturing sector. This brought the, Nikkei India Manufacturing Purchasing Managers' Index (PMI) down to 47.9 in July, its lowest since February 2009.

PMI is a monthly measure of the country's manufacturing sector output. A reading above fifty indicates expansion, while any score below the mark denotes contraction.
Manufacturing PMI at Eight-Year Low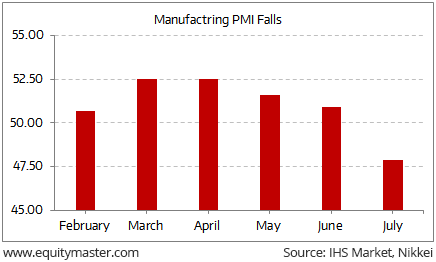 PMI data indicated a slowdown in new orders and manufacturing activity, with firms scaling back production in July on account of GST.
The slowdown, however, was largely expected as the imminent implementation of the new tax regime prompted destocking and supply chain disruptions across sectors fearing uncertainties about the changes.
On the bright side, the downturn is expected to be temporary as the Future Output Index, which measures manufacturers' expectations about future production, is at an eleven-month high, indicating producers are optimistic the downturn will not last. Outlook remained positive as clarity regarding GST is expected to support growth going forward.
Furthermore, muted inflationary pressures from the PMI data could give the Reserve Bank of India (RBI) leeway to cut its policy rates in its monetary policy review today. The RBI is widely expected to cut rates by 25 basis points on the back of declining inflation rates.
Retail inflation measured by the consumer price index (CPI) touched a historic low of 1.5% in June, much below the RBI's April-September range of 2-3.5%. Core inflation, which excludes volatile food and fuel costs, also fell below the 4% medium-term target.
In the previous policy meeting, the RBI kept the repo rate at 6.25% for the fourth straight time citing risk to inflation and awaiting more inflation data. The latest inflation developments are expected to provide more clarity add to the case for the RBI to cut interest rates.
After opening the day on a flat note, Indian equity markets continued to trade near the dotted line. At the time of writing, the BSE Sensex was down 20 points and the NSE Nifty was down 16 points. Sectoral indices are trading on a mixed note with the metal and capital goods sectors leading the losses.
04:55

Today's Investment Mantra

'You only have to do a very few things right in your life so long as you don't do too many things wrong.' - Warren Buffett
Recent Articles