Coal India and LIC Could Unleash the Next Big Money Making Opportunity...
Aug 2, 2019
When I got married and moved into my new home, naturally my mother had a lot of advice to give me.
Managing domestic helps was the crucial one. In Indian households and particularly in today's times, having a bai and cook is essential.
But it's very important, my mother informed me, to be clear cut about what you want them to do. You have the resources. But to have the work done effectively, you must have a precise set of instructions ready for them.
Special: How To Become A Crorepati From A Single Stock
In a sense, the same can be said for how companies run.
Efficiently managed companies, with a clear sense of their goals and objectives, tend to perform better than others. This reflects in the numbers. And ultimately in shareholder returns as well.
Unfortunately, a lot of companies in the Public Sector Undertaking (PSU) space fare badly on this front.
Take Coal India. It has the world's largest coal reserves. That means it has abundant resources. Demand for coal has not waned. And yet, the company consistently fails to meet this demand and overall expectations.
The company has consistently fallen short of its targets. What more, it has not been able to meet its revised targets either. Meanwhile, imports of the fuel have surged.
It does not make sense. If Coal India is blessed with sufficient resources, why is India still importing coal?
Clearly, inefficiency is the root problem here.
Is Coal India's Underperformance Set to Change?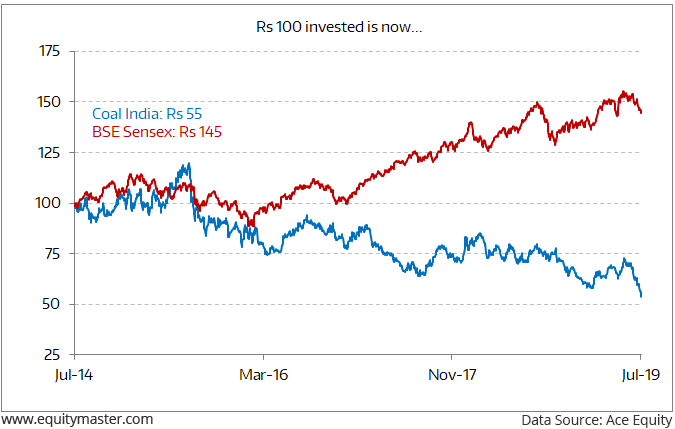 The Modi government is looking to change this. The government needs funds. Disinvestment is going to be one of the sources of these funds.
So it only makes sense to bring in more transparency in how Coal India operates.
Urgent: Why 3 Tiny Companies Could Be On The Verge of a Rebound...
One of the proposals that is being considered is spinning off units of Coal India into separate listed companies. What will this achieve? One, it will fill up the government coffers. Second, it will bolster competition. Competition is a strong motivation to get any organization in top shape.
That is as far as Coal India goes.
Let's take Life Insurance Corporation (LIC). It is India's biggest insurance company. But it has also become India's biggest investment firm.
Over the years, LIC has become notorious for coming to the rescue of the government now and then. Especially, when the government cannot find enough buyers for the financial securities that it wants to sell.
Again this needs to change. Listing LIC will make a big difference here.
Coal India and LIC are two different entities in different businesses. But the common problem that both face is the opaqueness of their businesses. Also, both have not really been living up to potential.
Hence, the urgency of reforms is critical.
--- Advertisement ---
Urgent Announcement: AN EXCLUSIVE SPECIAL BROADCAST

We very rarely do this at Equitymaster: Conducting a Mega Summit to reveal the details of a one high potential stock.

You see, our Head of small cap research, Richa Agarwal, has found potentially the best money-making opportunity of the decade...

This opportunity is so BIG that she has decided to do an EXCLUSIVE SPECIAL BROADCAST at 5 pm on 22nd August to reveal the details of this once in a lifetime opportunity...

The great news is that if you act now, you can get access to this special broadcast for FREE.

All you need to do is register and block your seat for right now...

We are expecting this to be the biggest event in Equitymaster's history...

In fact 4,000 people have already claimed their seats for this special broadcast!

So, make sure you do not miss out on this very rare opportunity...

Join 4000+ people and block Your Free Seat for the One Stock Crorepati MEGA Summit Now!
------------------------------
Listing LIC and the separate arms of Coal India will be a crucial reform. It will bring in greater transparency in the structure of both companies. They will have to meet the rigours of corporate governance standards.
All this will bode well not only for the customers, but also for shareholders.
After all, greater transparency and better corporate governance are the right ingredients for a big jump in shareholder returns. Just as firmly outlining the tasks your bai needs to complete everyday will ensure that your house is shipshape.
So, breaking up and privatizing loss making PSUs and listing the profitable ones is going to be a big trend that is going to play out in the coming years.
My colleague, Tanushree Banerjee, firmly believes so. She opines that it will be a key trend in the transformation she is calling the Rebirth of India.
She will be talking about the Rebirth of India (and her top 7 stocks to buy) in an exclusive online summit on 8 August at 5 P.M.
You can block your FREE seat for the mega summit here.
Warm regards,



Radhika Pandit
Co-editor and Research Analyst, Smart Money Secrets
PS: Tanushree is ready to reveal details of the huge money-making opportunity called Rebirth of India in an exclusive online mega summit on 8 August. She has already picked 7 great stocks to ride this historic boom. Book your free seat for the summit here.
Recent Articles