This 60-Year Old Smallcap Company Could Be Our Next Recommendation
Aug 12, 2019
The AGM season is on in full swing.
Two weeks back, I wrote about my trip to a remote village in Andra Pradesh.
It was a good learning experience.
In such AGMs, you get to understand the management's perspective about the capital allocation, evolving technology, spotting opportunities etc.
--- Advertisement ---
FREE Event on Equitymaster's New Project

On May 17, we are holding a FREE event to reveal Equitymaster's Great Indian Wealth Project.

At this event, we'll reveal the details of your first stock for a potential Rs 7 crore in long-term wealth.

Seats for this event are filling up fast.

Since there are limited seats, we urge you to register at the earliest.

Click here for free sign-up
------------------------------
Last week, I attended an AGM just a few miles away from my office. It is one of the few companies boasting of return ratios above 50% for several years.
A Non-FMCG Company With FMCG-like Numbers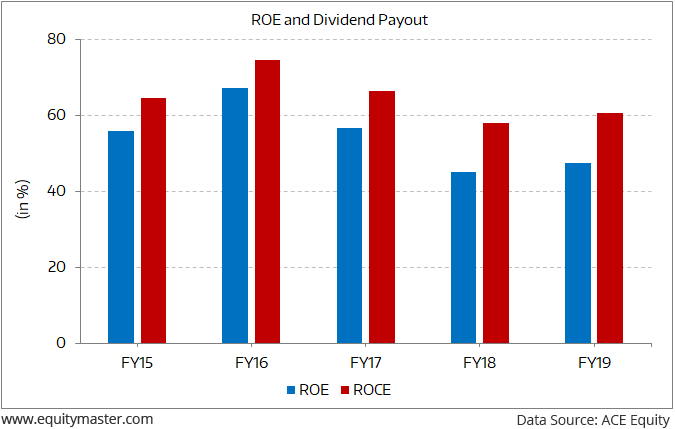 The company ends up paying almost all the profit as dividends. The dividend payout ratio is almost 80% of the net profit.
Discover Now: One Stock for Potentially Life-changing Gains
How did they achieve this?
It's all because of a capital-efficient business model.
Allow me to explain...
The company requires a minimum capex. Due to the asset-light nature of the business, it can sweat its existing assets at the best rate in the industry. Not to mention, the strong brand name it has in the market for its product.
To understand this, let me quote the chairman's speech.
'We really believe in serving our customers who trust our company. This prevents us from picking up doubtful merchandise from China, putting our name on it and increasing our revenue. What we do, we try to do well and we will only do other things once we do them well.'
The management also shared an interesting insight on this aspect. It's a typical MBA case-study problem...
The company's supplier has strong bargaining power. Similarly, some of the company's buyers, e.g. large format stores try to squeeze them when it comes to margins, delays in payments etc.
--- Advertisement ---
How to Earn a Fortune in Gold, the Smart Way

Gold is on 'the verge of a decadal run' says Vijay Bhambwani, India's #1 Trader and Editor of Fast Profits Daily at Equitymaster.

He says gold has the potential to generate staggering gains in the coming years...And those who are betting on gold right now will hit the jackpot.

But wait.

While gold is an attractive investment destination, there's a very specific way to play this opportunity...

A way that ensures you rake in maximum profit and perhaps hit the jackpot...while minimizing potential pitfalls. Thankfully, Vijay - India's #1 Trader - can guide you step-by-step in the upcoming gold rush and help hit the jackpot just at the right time.

Sure, you don't want to be an average trader. That's not how you make a fortune.

Here's how you can get Vijay's guidance...
------------------------------
In such a situation, what does the company do? Here's the management's answer:
'If you look after end customer's requirement, neither the biggest supplier nor the big buyer can pressurize you.'
The focus is on the customer.
The management looks at the market from the customer's perspective. This helps them understand their customers' evolving needs.
That's how this company developed its brand over the last 60 years.
'But what about the growth and new product launches?' a shareholder asked.
Pat came the reply:
'We have no problem with the late entry in new products. But we have to be the best. Google was not the first engine. It was the eighteenth.'
And that's not all...
The company focuses extensively on product quality. Products go through rigorous testing. Not just the finished product, but every aspect of the product - the raw material, the packaging is tested.
Here's what the management had to say about it:
'Our rigorous testing is well-known amongst our dealers and that is why, when we launch any new product, there is a huge response from them.'
So far so good...but what about working capital requirements?
High receivables can create a vicious cycle of more borrowing, leading to higher finance cost. In severe cases, a cash crunch forces the closing of doors.
No chance of that happening with this company!
In early 2010, they refused to supply to a large retail chain due to a history of delayed receivables.
And due to high customer demand, the retail chain had to give in. Now, the company sells to the retail chain with a bank LC (letter of credit) in place.
Clearly, they have a strict policy when it comes to selling products.
Don't sell to people who don't have the capabilities of paying.
And they run a tight ship on collections too. As per the management, the company has a record of collecting almost 100% of its dues.
I found, the way in which this 60-year old small-cap company operates is clearly differentiated.
No channel stuffing.
No extended receivables to boost sales.
No unnecessary capex.
Believes in its strategy - choosing what not to do.
Extensive focus on product testing.
Sending its channel partners to advanced management programmes. I mean, which small cap company does that?
I believe, the management has set a gold standard when it comes to corporate governance.
Will this be our recommendation this month?
Well, it certainly makes our shortlist.
A strong brand, robust balance sheet, excellent management, and strong distribution network are some of the reasons.
And its financials show the characteristics of any big FMCG player.
But we have other high-quality companies on our shortlist as well. This has become possible due to the recent market correction.
So, watch this space!
We may or may not recommend it but I believe, this is the right time to look at quality companies available at attractive valuations.
I will share more examples with you. Stay tuned!
Warm regards,


Sarvajeet Bodas ,
Co-editor and Research Analyst, Smart Money Secrets
PS: Sarvajeet Bodas and Radhika Pandit, co-editors of Smart Money Secrets, are getting ready to recommend their next stock. If you haven't subscribed to Smart Money Secrets yet... you can do so here.
Recent Articles