Interest Rates Are Low. Buy Solid Dividend Stocks Instead
Aug 13, 2019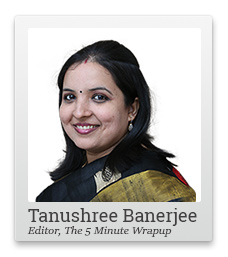 Have you heard of Walter Schloss?
He is one of the most respected value investors ever.
Warren Buffett famously included him in his list of Superinvestors. They learnt the art of investing from Buffett's guru, Benjamin Graham.
What was different about Schloss?
For one, he did not attend college. He took investment courses taught by Graham at the New York Stock Exchange Institute. His analyses, were neither complex nor conventional.
--- Advertisement ---
You Owe It to Yourself to Watch This Video... [Goes Off Air at 11:59 PM TOMORROW]


The below life-changing video goes off at 11:59 PM TOMORROW sharp.

So I suggest you click on the play button below and watch it right away.

You'll repent later if you don't...because the opportunity revealed in it is so amazingly powerful.

Click here to watch it now...

------------------------------
So much so that Benjamin Graham himself often did not take Schloss' recommendations too seriously.
One of the first stocks Schloss recommended to Graham was a company called Haloid. It had the rights to a promising new process called xerography.
But what got Schloss really interested in it was the dividend. The company had been paying a dividend all through the 1930s US great depression and bear market.
Graham declined the idea. His rationale? The stock wasn't cheap enough at US$ 21.
We all know this company. We have all used its products.
Haloid changed its name to Xerox Corporation.
--- Advertisement ---
How to Claim Bhambwani's 'Fast Profits' Book, Free

Today, we are going to show you how you can claim a hardbound copy of Vijay Bhambwani's Fast Profits book, virtually FREE.

This book is worth Rs 1,950.

But today you can claim it for virtually nothing.

How?

Just read the full details here...
------------------------------
Years later, Graham was holding shares of American Research and Development. The entity was spinning off some of its holdings. One of them was Xerox.
Schloss' rationale for buying the stock yet again was based on the simplicity and consistency of cash flows. Graham declined the idea again as the stock then sold at US$ 50 per share.
My point is...the best stocks to buy, need not be the undiscovered ones.
Xerox created wealth for nearly century, paying millions in dividends, before it went defunct. But this fact is often ignored.
The market is typically focused on the most recent star performers.
You will often find the likes of HUL or HDFC Bank being the market darlings for never having a disappointing quarter.
But remember...
It is rare to find companies that survive for decades. It's even rarer to find ones that thrive through most of their survival period.
So, if you do not wish to pay steep valuations for the market darlings, you need to look for the companies with history and consistency on their side.
And they shouldn't be too conspicuous to the market either.
I am talking of companies like Hawkins and City Union Bank. They have a track record of paying dividends for decades.
The dividends such companies pay are especially helpful at a time when globally interest rates are headed lower.
And 'risk-free returns' from debt seem to have gone missing.
Inflation Adjusted Risk Free Returns Are Negligible Globally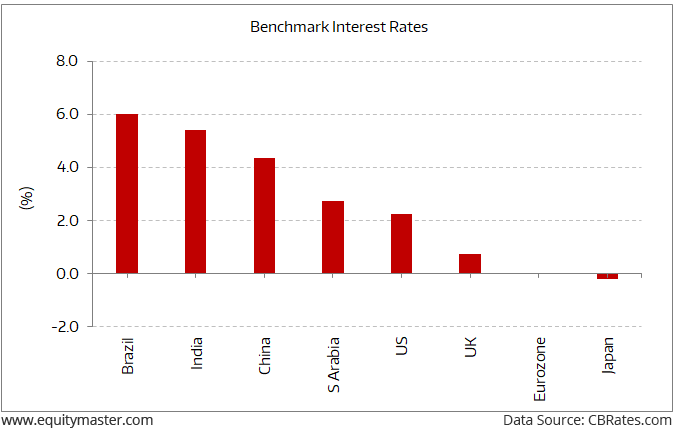 So, should you ignore the big bluechips while chasing dividend stocks?
Well, my views on Sensex 100,000 remain as firm as ever.
I have absolutely no doubt about the direction Indian stocks are headed over the next decade.
And no doubt the earnings recovery will come sooner than later.
But market movements are never linear. It is unrealistic to expect the markets to turn a blind eye to earnings for long.
I'm keeping my eyes peeled for Sensex 100,000 stocks. At the same time, I won't ignore the dividend opportunity in the most consistent stocks.
Big money is made over the long term, not by making more in the good years but by losing less in the bad years.
I believe a healthy dose of dividends from the most consistent businesses can be your best bet.
Warm regards,



Tanushree Banerjee
Editor and Research Analyst, The 5 Minute WrapUp
PS: Tanushree's new special report - Seven Stocks to Profit from the Rebirth of India - reveals her Top 7 stock picks to potentially benefit from this rare economic phenomenon. Don't miss this great opportunity. Get the report at a special price today!
Recent Articles